Belle Grove Plantation
Introduction
In its three hundred plus years, Belle Grove Plantation has stood witness to many of America's greatest historic events and hosted many famous and historical people. Its history includes being among the sites of England's first colonization efforts in the New World in the late 1600's to the American Revolution and the American Civil War. Today, Belle Grove is owned by the National Trust for Historic Preservation and operated by the nonprofit Belle Grove, Inc. The house is also part of the Cedar Creek and Belle Grove National Historical Park, established in 2002 to preserve the history of the Shenandoah Valley.
Images
Belle Grove's manor house, built in 1797 in the Federal style of architecture, popular in Early America.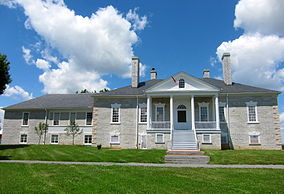 Backstory and Context
Belle Grove Plantation is a late eighteenth century plantation and estate in the northern Shenandoah Valley. The manor was built between 1794 -1797 by Revolutionary War veteran Major Isaac Hite, Jr. and Nelly Madison Hite, the sister of President James Madison (Belle Grove in Middletown, Virginia, should not be confused with the Belle Grove plantation in Port Conway, Virginia, where James Madison was born, which is now a bed and breakfast). The plantation, which grew from 483 acres to 7,500 acres by 1824, encompassed a distillery, mills, and farmlands for wheat, cattle, and sheep. The Hites owned 276 slaves
between 1783 and 1851, according to surviving records including deeds, Census records, tax records, and inventories kept by the Hites.
Belle Grove is believed to have been used as a headquarters by Union General Phillip Sheridan during the Civil War Valley Campaign of 1864 and was in the middle of the Cedar Creek Battle. In the early hours of October 19, 1864, Confederate General Jubal Early attacked the Union forces at Cedar Creek, thinking if they take over the Union headquarters they would be set to advance on Washington. General Sheridan was in route from Washington during the start of the battle but soon after his arrival at the battle site the Union forces defeated the Confederate forces, securing the Valley for the Union and boosting President Abraham Lincoln's chances for re-election.
Today, Belle Grove is a National Trust for Historic Preservation site and the centerpiece of the Cedar Creek and Belle Grove National Historical Park. Visitors to Belle Grove's plantation grounds may tour the Manor House, 1815 icehouse and smokehouse, demonstration garden designed by the Garden Club of Virginia, slave cemetery, and a heritage apple orchard. The creation of the historic park was authorized on December 19, 2002 and the visitor center opened in 2013. Many improvements are constantly being added. At present the Civil War Cedar Creek Battle, Belle Grove Plantation (Union General Phillip Sheridan's Headquarters), Hupp's Hill Civil War Park and History of the Shenandoah Valley are the main attractions at the park.
Sources
"Belle Grove." National Trust for Historic Preservation. Accessed May 2018. https://savingplaces.org/places/belle-grove#.WvNO1y_Mzq0

"Belle Grove Historic Plantation." Belle Grove Historic Plantation. N.p., n.d. Web. 07 Nov. 2014.

"Belle Grove Plantation." Belle Grove Plantation. N.p., n.d. Web. 07 Nov. 2014.

"The Enslaved at Belle Grove Plantation." Belle Grove. Accessed Mary 2018. http://bellegrove.org/about/enslaved

Additional Information