Randyland
Introduction
In 1995, Randy Gilson bought the 100-year-old property that would soon become Randyland for $10,000. Gilson used a credit card to purchase the property and earned the funds to retire the debt by waiting tables at a local hotel. Gilson scoured dumpsters and other sources for discarded materials and repurposed these items to create the building's colorful aesthetic. The building features an array of unusual oddities for visitors to peruse, including tiki torches, florescent lawn flamingos, plastic garden swans, painted lawn chairs, a neon-painted guard lion, and a red suit of knight's armor. Mr. Gilson also painted murals depicting musicians, sunsets, butterflies, ladybugs, rainbows, dinosaurs, flowers, reptiles, and even welcome signs translated into various languages.
Images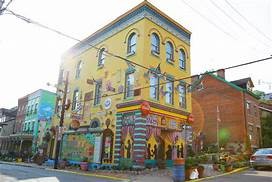 Randy "Mr. Gilson" Gilson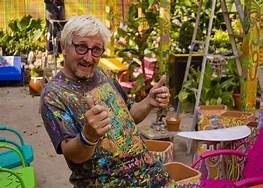 The Multi-Lingual Welcome Sign Mural at Randyland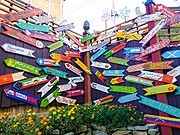 The Painted Suit of Knight Armor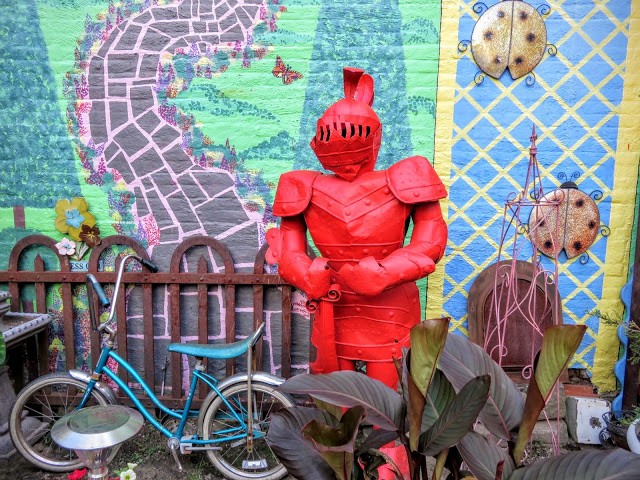 Randy and His Partner, Mac Mcdermott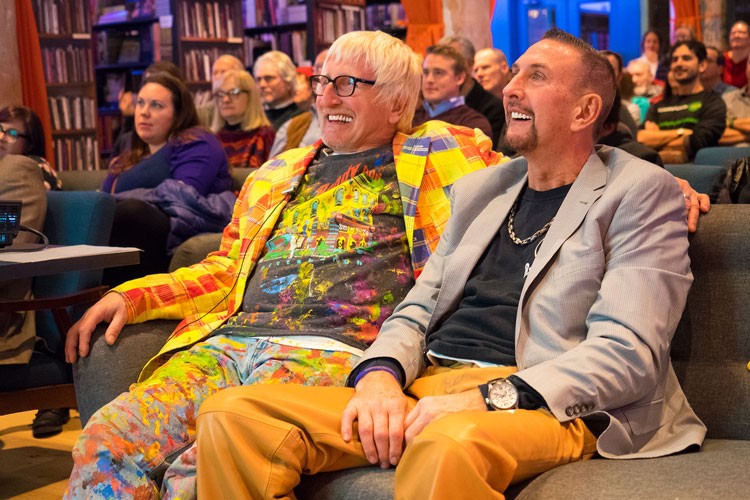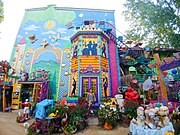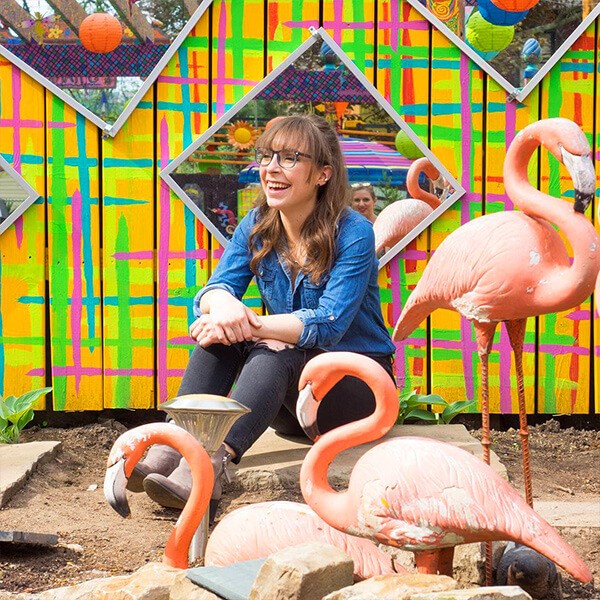 Part of the Northside Mural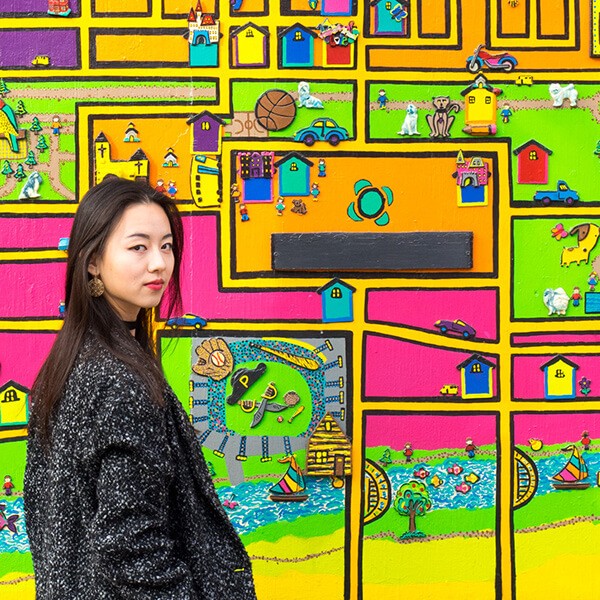 Backstory and Context
Originally from Homestead, PA, Randy "Mr. Gilson" Gilson grew up in poverty and was often homeless. From an early age, Mr. Gilson realized he had a passion for collecting oddities, using his hands to make art, and giving back to others. Around 1982, Mr. Gilson moved to Pittsburgh's North Side where he became a community activist and started guerrilla gardening, an act of planting and cultivating land without legal permission. Over a 30 year span, Mr. Gilson had planted over 50 vegetable gardens and 800 flowerbeds along Manchester, the Mexican War Streets, and other surrounding streets. While working as a hotel waiter, Mr. Gilson purchased the property that would soon become Randyland by maxing out his credit card of $10,000.
For over a 20 year span, Mr. Gilson decorated and refurbished the property by collecting and upcycling oddities and knickknacks, such as lawn chairs, florescent lawn flamingos, garden swans, mannequin heads, tiki torches, a red suit of knight armor, and a neon painted guard lion. As for the paint, Mr. Gilson purchased what he called "oops" paint, which was paint deemed defective by the factory at a discounted price. According to Mr. Gilson, he started painting and could not stop. Over the years, Mr. Gilson has painted dozens of murals around the home, including a hand painted mural of the Northside neighborhood, silhouettes of musicians, a mural of welcome signs translated into several languages, a wall of diamond-shape mirrors, a mural on one side of the house depicting a long, curvy road going up to a yellow castle in the sky. Also, there are various motifs of butterflies, ladybugs, reptiles, smiley faces, flowers, and rainbows throughout the perimeters of the property. Soon, Randyland became a tourist attraction for visitors to come and witness first hand Mr. Gilson's unique artwork and his jovial, generous persona.
In 2016, Mr.Gilson's long-time partner and co-founder of Randyland, Mac McDermott was diagnosed with terminal prostate cancer, and fans of Randyland donated $17,000 for the couple to go on their dream vacation of seeing both the Grand Canyon and California. Unlike Mr. Gilson who is loud, upbeat, and over-zealous with the visitors, McDermott is said to be more reserved and quiet. For example, when he is asked by the visitors who he is, McDermott replies he is simply the "gardener." The couple have been together ever since 1994, and even though Mr. Gilson is considered the visionary of the project, McDermott is the support system behind that vision.
Today, people can come and take pictures and selfies of the different forms artwork that inhabit Randyland for no charge. In addition, Randyland can host special events for people, such as wedding proposals engagement photoshoots, and professional modeling photoshoots. Visitors can even partake in some activities, such as painting furniture and shop around in the gift shop to purchase some Randyland memorabilia. Mr. Gilson wanted a place where people feel a sense of belonging and love, and he is willing to give hugs and words of encouragement to the visitors of Randyland. In an interview, Mr.Gilson stated he would never sell Randyland, instead he wants to turn it into a non-profit museum for the Northside community.
Sources
Compton, Julie. Fans Give Back to Beloved Pittsburgh Artist and Dying Partner, CBS News. March 29th 2017. Accessed October 24th 2019. https://www.nbcnews.com/feature/nbc-out/fans-give-back-beloved-pittsburgh-artist-dying-partner-n739926.
Pittsburgh's Most Colorful Public Art, Randyland. n.d. Accessed October 23rd 2019. https://randy.land/#.
Starr, Pamela. North Side Artist Follows Pathway to his Dream, Trib Live. August 18th 2007. Accessed October 24th 2019. https://archive.triblive.com/news/north-side-artist-follows-pathway-to-his-dream/.
Zorch, Laura. How Randyland, Pittsburgh's Most Colorful Folk-Art Landmark, Came to Be, Thrillist. June 14th 2016. Accessed October 24th 2019. https://www.thrillist.com/travel/pittsburgh/randyland-the-most-colorful-landmark-in-pittsburgh-pa.
Image Sources
https://www.nytimes.com/2017/04/12/travel/pittsburgh-pennsylvania-rust-belt-arts-culture-budget-travel.html

https://www.bing.com/images/search?view=detailV2&ccid=dJyoe0ZJ&id=7FE199F68889EBFEFD8E718E7BA9F82443E08CE6&thid=OIP.dJyoe0ZJ5BmR9BOLAER-ogHaFS&mediaurl=https%3a%2f%2fwww.ikekligermanbarkley.com%2f__data%2f89fff739409fa12daa72e769cc2b0d85.jpg&exph=572&expw=800&q=randy+gilson&simid=608046134237004676&selectedIndex=17&ajaxhist=0

https://en.wikipedia.org/wiki/Randylandhttps://en.wikipedia.org/wiki/Randyland

https://www.sidewalksafari.com/2016/09/mexican-war-streets-pittsburgh.html

https://www.pittsburghmagazine.com/after-23-years-randyland-owners-set-for-dream-vacation/

https://www.bing.com/images/search?view=detailV2&ccid=Pro3Ldpe&id=CD28336915E92C1253F108C1C323A71B01D668D3&thid=OIP.Pro3LdpeFamrtWwClsH6pwAAAA&mediaurl=https%3a%2f%2fupload.wikimedia.org%2fwikipedia%2fcommons%2fthumb%2ff%2ff6%2fRandyland_Courtyard.jpg%2f180px-Randyland_Courtyard.jpg&exph=135&expw=180&q=randy+gilson+courtyard&simid=608031819140563289&selectedIndex=0&ajaxhist=0

https://randy.land/

https://randy.land/

Additional Information