Confederate Rendezvous in Summersvilles during the Jones-Imboden Raid
Introduction
In this vicinity the troops of Confederate General John D. Imboden participated in one of the last engagements of the Jones-Imboden Raid of 1863. In the engagement, on May 13, cavalrymen led by the general's brother Colonel George Imboden succeeded in capturing a wagon train of desperately needed supplies from a portion of the 91st Ohio Infantry and two companies of Union cavalry. These supplies allowed the starving Confederates to gain considerably more energy during their subsequent occupation of Summersville than they might have had otherwise, energy that allowed them to safely evacuate back into rebel Virginia after reuniting with their fellow raiders under General William E. Jones. The raid, which sought to interfere with pro-Union authority in the area and damage the Baltimore & Ohio Railroad, was forced to end largely as a result of lack of supplies, those gained outside Summersville being sufficient only to feed Imboden's men and not Jones'. The Confederates' capture of the wagon train occurred somewhere along this stretch of road, approximately four miles west of Summersville toward Gauley Bridge.
Images
Union camp at Summersville in 1861.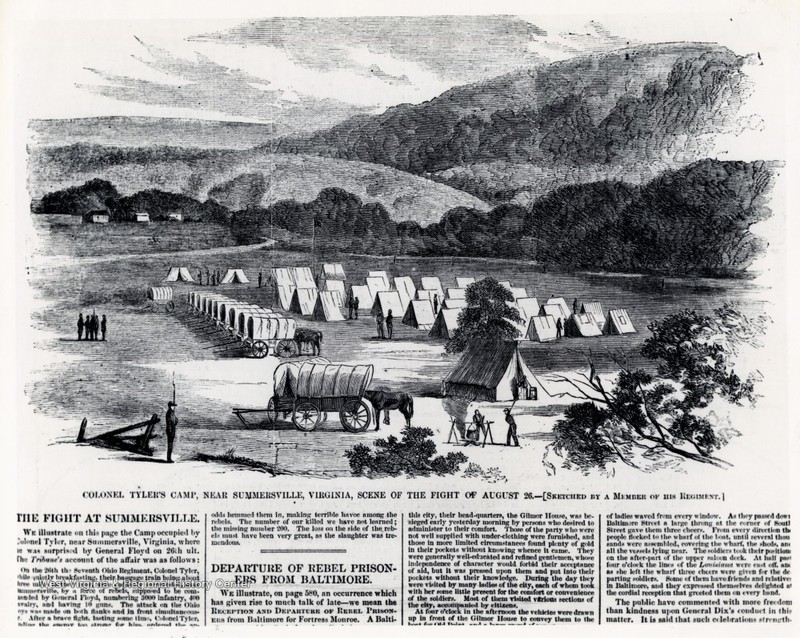 Backstory and Context
While many Confederate leaders considered the Jones-Imboden Raid of 1863 to be primarily intended as a means of disrupting the Baltimore and Ohio Railroad and the Union government of what was soon to be West Virginia, General Robert E. Lee hoped most of all that the raiders would be able to acquire substantial supplies of food for his frequently ill-supplied Army of Northern Virginia. The counties of what was then western Virginia, particularly the Shenandoah Valley, had long served as one of eastern Virginia's main sources of food while that area continued to focus more on cash crops likes tobacco. With much of that region under Federal control after 1861, that source of food was unavailable to the Confederate troops under Lee's command. These supply problems had in part influenced Lee's decision to invade Maryland in the 1862 campaign that led to the Battle of Antietam, a campaign in which the Confederates' extended supply lines ultimately forced them back across the Potomac River into Virginia. With Lee hoping to once more invade the north the following year in order to threaten Washington, D.C. from behind, a campaign that might yet again stretch Confederate supply lines to their breaking point, the issue of supplies loomed once more. With that issue at the forefront of his mind, Lee looked to Generals John D. Imboden and William E. Jones to provide a solution from western Virginia.
So, while Lee maneuvered around Union General Joseph Hooker in the campaign that eventually led to his victory at Chancellorsville, Jones and Imboden invaded the western counties of Virginia in an at least partial effort to keep their commander's men from starving back east. From April 20 into the early days of May the two generals traversed hundreds of miles in a great sweeping circle through what became West Virginia, destroying railroad bridges and trestles, confiscating horses for their cavalry, and requisitioning food and supplies from the local populace. Jones moved from Lacey Springs, Virginia targeting areas in western Maryland and Grant, Preston, Marion, and Monongalia Counties, while Imboden marched from Staunton, Virginia to Beverly in Randolph County before moving on to Buckhannon to rendezvous with Jones. Then, the two split up once more, Imboden moving south to secure their retreat back east and Jones striking west for the oilfields at Burning Springs before turning back to reunite with Imboden in Summersville. After three and a half weeks of such movement the troops of both generals were near starving, their commanders having sought to save as much of the requisitioned food as possible for transportation to Lee's army back east. These conditions had a real impact on the course of the campaign, many of the Confederate soldiers simply deserting to return home in hopes of finding warm food and comfortable beds.
Desperate to keep to his force from disintegrating Imboden pushed toward Summersville as quickly as possible, a task made exceedingly difficult by the poor conditions of mountain roads being flooded by springtime rains. After passing through the seat of Braxton County, Sutton, on May 11, Imboden crossed the Birch Mountains and reached the Birch River in Nicholas County the following day. Then, the general sent his brother Colonel George Imboden ahead of the main body of troops with 200 men of the Eighteenth Virginia Cavalry to ascertain the situation at the county seat of Summersville. After reaching a point three miles from the town the colonel received news that the Federal soldiers there, two companies of cavalry and the 91st Ohio Infantry, were evacuating with all their supplies and sent back to his brother for reinforcements. Fearful that the Federals would escape before the main body of Confederates could reach them, however, the colonel gave chase, riding through Summersville with sabers drawn and continuing west down the road toward Gauley Bridge in the hopes of capturing at least some portion of the Union supplies. Four miles down the road, the colonel encountered the rear guard of the Federal wagon train and immediately charged. The melee that ensued resulted in the capture of twenty-three Union prisoners, 180 mules, and thirty wagons loaded with thousands of pounds of corn, molasses, bacon, and hardtack. When General Imboden learned of his brother's windfall at 2 AM on May 13, he ordered his men into a forced march and reached Summersville to reunite his forces in Summersville at 3 PM. That same day, he sent word back to General Jones that he would be able to offer his men supplies from the wagon train as well.
When Jones' men reached Summersville on May 14, however, they found out that Imboden's men had already plowed their way through the entirety of the supplies gained from the wagon train. With Jones' forces lacking supplies and Imboden's already hungry for more, neither general considered it worthwhile to continue the campaign further. Unaware of these circumstances their superior General Samuel Jones in what is now Greenbrier County, West Virginia offered to send them reinforcements and suggested they move on to an attack against Charleston to the south, an idea that neither Jones nor Imboden considered practicable. Instead, after resting briefly in Summersville, the Confederates pushed out toward Greenbrier County on May 15 to recover the herds of cattle they had gathered during the raid and sent there to graze. They reached their destination four days later and after a short rest Imboden's forces continued towards Staunton, which they neared on May 25. Jones, meanwhile, split off from Imboden in Greenbrier, traveling through White Sulphur Springs, West Virginia, Warm Springs, Virginia, and Mt. Crawford, Virginia before arriving near Harrisonburg, Virginia on May 23. With both generals' arrival back in firmly held Confederate territory, the Jones-Imboden Raid came to an end.
Sources
Ballard, James Buchanan. William Edmondson "Grumble" Jones: the Life of a Cantankerous Confederate. Jefferson, NC. McFarland & Company Publishers, Inc., 2017.
Brown, William Griffee. History of Nicholas County, West Virginia. Salem, MA: Higginson Book Co., 1954.
Collins, Darrell L. The Jones-Imboden Raid: the Confederate Attempt to Destroy the Baltimore & Ohio Railroad and Retake West Virginia. Jefferson, NC: McFarland & Co., 2007.
Glatthaar, Joseph. General Lee's Army: From Victory to Collapse. New York: Free Press, 2009.
"Imboden's Expedition into West Virginia." In United States Congressional Serial Set, 2766:90–106. Washington, D.C.: United States Government Printing Office, 1891.
"Jones' Raid on the Northwestern (Baltimore and Ohio) Railroad." In United States Congressional Serial Set, 2766:107–37. Washington, D.C.: United States Government Printing Office, 1891.
Tucker, Spencer. Brigadier General John D. Imboden: Confederate Commander in the Shenandoah. Lexington: University Press of Kentucky, 2003.
Image Sources
The West Virginia and Regional History Center

Additional Information