Welsh Congregational Church.
Introduction
This historic Youngstown church was constructed in 1861 to serve a congregation that was established in 1845. A landmark in the Brier Hill neighborhood, the church was substantially expanded and renovated in 1887 to accommodate the growing congregation. The building was used by the Welsh Congregation until 1976 when the church was bought by the Messiah Holiness Church of God in Christ. The congregation stopped using the building after a fire in 1997 severely damaged the structure. Since that time, the building has been abandoned, but the current owners, the Catholic Diocese of Youngstown, have partnered with Cityscape, a community development organization, to move the church to Wick Park and restore the historic building.
Images
Welsh Congregational Church as it stands today.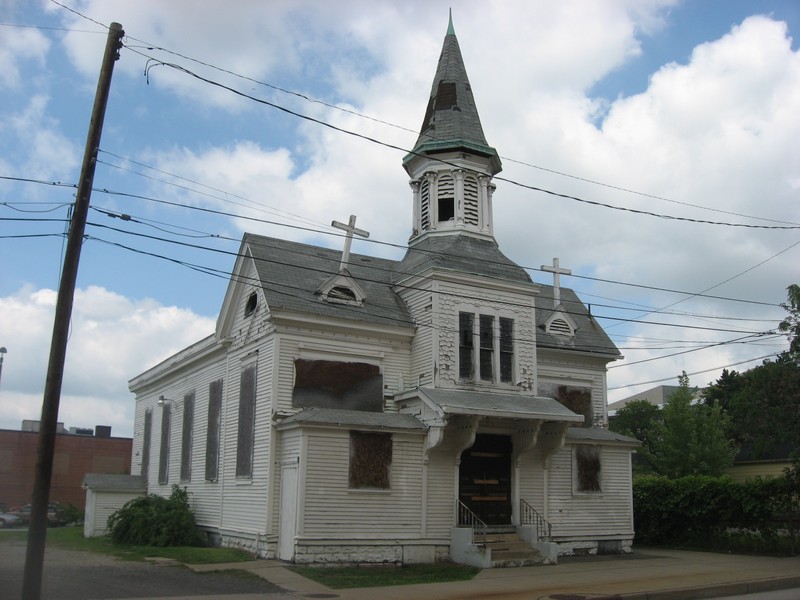 Backstory and Context
The Welsh Congregational Church stands as a reminder of the Welsh roots in the Youngstown Community. The church had its beginnings in 1845 when a group of Welsh immigrants formed a Congregational Church in the Brier Hill area of Youngstown. This organization formed what would be the bones of the church that exists in its current form led by their first pastor Thomas Evans. The church went under construction in 1861, being led by Thomas Davis; the building underwent a significant renovation in 1887 to become the building still standing today.
The congregation worshiped at this site for the next 100 years; however, the church could not last forever. In 1976 the building was sold to the Messiah Holiness Church of God in Christ. Tragedy struck this organization in 1997 when a fire broke out inside the church resulting in extensive damages to the building. Since then, the building has remained abandoned, due to the cost of renovating the structure.
In 2015 the abandoned church was sold to the Catholic Diocese of Youngstown; their goal was to remove the church from the land in order to create additional parking. However, they did not want to destroy the building instead, hoping to move the church to a separate location. This led to collaboration with Cityscape, a nonprofit community development organization. In 2015 Cityscape began their efforts to move the Welsh Congregational Church to Wick Park. The project has been delayed pending funding as of 2019; however, Cityscape is still hopeful to move and renovate the historic church.
Sources
. Welsh Congregational Church Renovation Project, https://ioby.org/. Accessed October 23rd 2019. https://ioby.org/project/welsh-congregational-church-renovation-project.
Williams, Judy. Welsh Congregational Church. Ohio Historic Inventrory. Published July 23rd 1986. National Register of Historic Places.
Trube, Robert. Growing Up in Working Class Youngstown — The Welsh in Youngstown, https://bobonbooks.com/. April 20th 2019. Accessed October 23rd 2019. https://bobonbooks.com/2019/04/20/growing-up-in-working-class-youngstown-the-welsh-in-youngstown/.
Image Sources
https://en.wikipedia.org/wiki/Welsh_Congregational_Church