Occupation of Harrisville during the Jones-Imboden Raid
Introduction
The historical marker at this location commemorates the role of Harrisonville, West Virginia in the Jones-Imboden Raid of 1863. On May 7 of that year, a contingent of Confederate cavalrymen under Colonel Asher Harmon occupied Harrisonville after scattering a small force of local defenders. Harmon's arrival in the town was part of a larger move by Confederate General William E. Jones toward the oilfields at Burning Springs in what is now Wirt County, West Virginia. These maneuvers were among Jones' most successful of the campaign and resulted in the eventual destruction of thousands of gallons of oil at Burning Springs, a resource that was desperately needed by Union forces in the region. The marker here is situated along Myles Avenue near Main Street and is accessible at any time.
Images
Historical marker regarding the Jones-Imboden Raid's presence in Harrisville.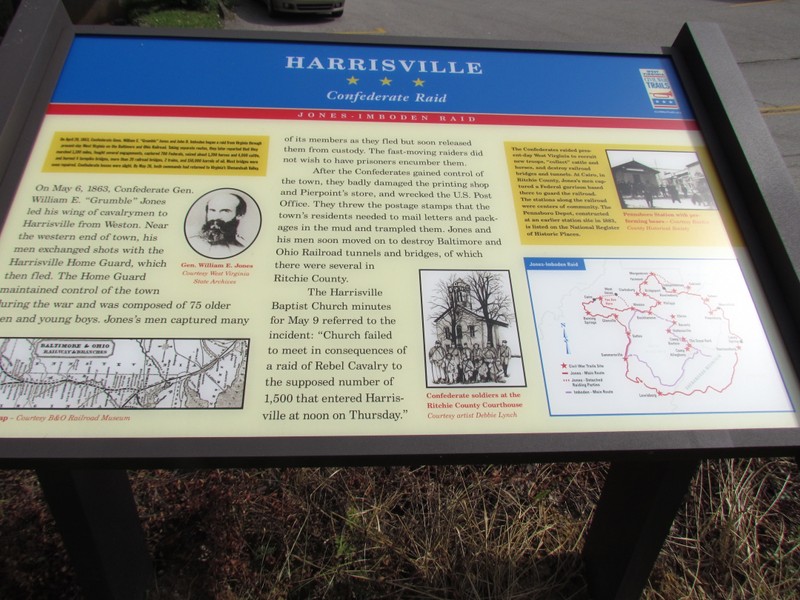 Harrisville in 1884, two decades after the Jones-Imboden Raid's occupation of town.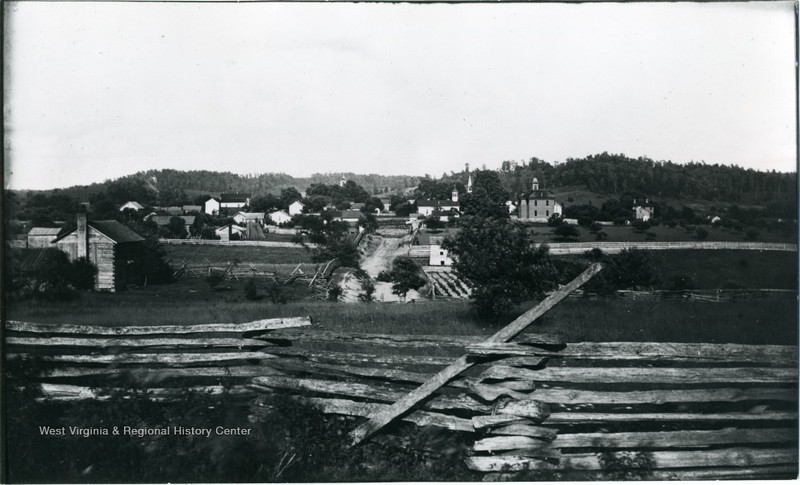 General William E. Jones, Confederate commander during the raid's presence in Harrisville.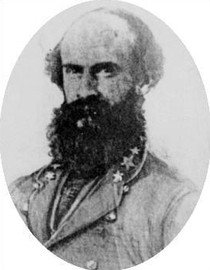 Backstory and Context
The Jones-Imboden Raid of 1863 had several objectives. As early as the winter of the previous year, Confederate leaders had suggested an invasion of western Virginia to destroy the railroad bridge at Rowlesburg in Preston County, a suggestion that had grown by the following spring into a plan to disrupt the entire Baltimore & Ohio Railroad infrastructure in the region. Those same leaders also hoped to intervene in Unionist plans for the western counties' secession from rebel Virginia, plans that would rob the Confederacy of a key source of food and manpower. Finally, with the Army of Northern Virginia under General Robert E. Lee perennially low on food, ammunition, and clothing, the raid's leaders Generals William E. Jones and John D. Imboden were ordered to gather as much of each item as possible. Both Jones and Imboden also ordered their men to confiscate any able-bodied horses they came across, the Confederacy's own equine forces being as starving and ill-supplied as the soldiers they carried.
With these goals in mind Imboden set out along the Staunton-Parkersburg Turnpike on April 20 with 1825 men, while Jones followed the next day to the north from Lacey Springs with around 3500. Imboden planned to overwhelm the small Union outposts along the turnpike on his way to Buckhannon in what is now Upshur County, West Virginia as Jones moved to destroy the B&O Railroad bridges and trestles in Preston, Monongalia, and Marion Counties. By April 29 Imboden had achieved his objectives but was forced to wait in Buckhannon until May 2 for Jones' arrival, the latter struggling in the face of stiffer resistance by Union soldiers and guerillas at Greenland Gap in Grant County, Rowlesburg in Preston County, and Fairmont in Marion County. Eventually, however, Jones reached Buckhannon and together he and Imboden moved with their combined forces to occupy the town of Weston in Lewis County. Once there, the two debated their next steps. They had hoped to attack the Union forces under General Benjamin S. Roberts gathering in Clarksburg, but after realizing that they were grossly outnumbered chose to split up yet again. Imboden would march to Summersville in Nicholas County in order to secure an avenue for their retreat back into Virginia while Jones set out to destroy the oilfields at Burning Springs.
Jones' forces left Weston on May 6 and, as he had done several times already, the general ordered his troops to split into two contingents. The main body, under his own command, would target several key portions of the Northwestern Virginia Railroad that broke off from the B&O Railroad at Grafton and ran all the way to Parkersburg. The second, under Colonel Asher Harmon, was ordered to sabotage the railroad at West Union in Doddridge County twenty-six miles to the northwest. Upon entering Doddridge County, however, Harmon was able to capture a small group of pickets and scouts guarding the road into West Union, from whom he discovered that his target was heavily guarded by portions of the Second West Virginia Infantry under Colonel George R. Latham. Latham had already demonstrated his willingness to hold firm against the Confederates during a skirmish outside Beverly in Randolph County on April 24, a skirmish that had cost the rebels under General Imboden considerable delays in their advance along the Staunton-Parkersburg Turnpike. With Latham's men positioned in a strong defensive line that ran from end of the town to the other and included two brass cannon and his own men exhausted from marching, Harmon chose to decline the opportunity for combat in favor of continuing northwest toward Ritchie County. His men did not walk away emptyhanded, however, managing to capture a small herd of cattle grazing between their lines and Latham's.
After leaving West Union behind them Harmon's men reached the seat of Ritchie County, Harrisville, the following day (May 7). They were greeted outside of town by a force of 75 older men and boys serving in the local militia, who promptly surrendered after a few shots from the Confederates. Once they had occupied the town, Harmon's men acted quickly to requisition any food or horses they could find before moving on to ransack the offices of the local pro-Union newspaper and the Pierpont Company Store owned by the first governor of West Virginia Francis Pierpont. Then, they broke into the U.S. Post Office, threw all of the postage stamps they could find there into the street, and trampled them under the hooves of their horses. This act of defiance against the federal government accomplished, Harmon's men left the town behind them. They then marched four or five miles down the road toward Parkersburg, the seat of Wood County, and camped that night near Cairo.
For his own part, Jones had set out from Weston at 9 AM on May 6, marched to Smithville in Ritchie County, which he reached the following day. From there, he moved on toward Cairo, taking the town shortly after his arrival. In order to capture it, he had ordered a unit of dismounted sharpshooters from the Thirty-Fifth Battalion to advance on the road toward the right while the First Maryland circled around to the rear. Thus surrounded, the small Union force stationed in Cairo quickly surrendered. Jones' men then destroyed three sixty-foot railroad bridges outside the town over the North Fork of the Hughes River and used the remainder of their explosives to collapse a series of short railroad tunnels nearby. These jobs completed, Jones ordered his men to discard the cumbersome iron tools they had used in conjunction with the now depleted explosives and moved back out of town. That night, they reunited with Harmon's men and after resting on May 8 proceeded toward Burning Springs together the following day.
Sources
Ballard, James Buchanan. William Edmondson "Grumble" Jones: the Life of a Cantankerous Confederate. Jefferson, NC: McFarland & Company, Inc., Publishers, 2017.
Collins, Darrell L. The Jones-Imboden Raid: the Confederate Attempt to Destroy the Baltimore & Ohio Railroad and Retake West Virginia. Jefferson, NC: McFarland & Co., 2007.
"Jones' Raid on the Northwestern (Baltimore and Ohio) Railroad." In United States Congressional Serial Set, 2766:107–37. Washington, D.C.: United States Government Printing Office, 1891.
Lowther, Minnie Kendall. History of Ritchie County, with Biographical Sketches of Its Pioneers and Their Ancestors, and with Interesting Reminiscences of Revolutionary and Indian Times. Wheeling, WV: Wheeling News Litho Co., 1911.
Image Sources
The Historical Marker Database

The West Virginia and Regional History Center

Wikipedia

Additional Information