Skirmish at Bridgeport during the Jones-Imboden Raid
Introduction
The historical marker at this site commemorates a skirmish on April 30, 1863 between the Union troops of Company E of the Third West Virginia Cavalry and Confederate raiders from the 1st Maryland Cavalry Battalion for control of what is now Bridgeport, West Virginia. The skirmish was part of the Jones-Imboden Raid, in which Confederate troops under Generals John D. Imboden and William E. Jones aimed to damage the infrastructure of both the Baltimore & Ohio Railroad and the loyalist government operating out of Wheeling. While Imboden marched on a more southerly route Jones proceeded through Preston, Monongalia, and Marion Counties before arriving in Harrison County via Bridgeport, where he sought to destroy a portion of the B&O Railroad and then move against the railroad hub at the county seat of Clarksburg. The Union troops that defended Bridgeport were overwhelmed fairly easily by their rebel counterparts, in large part because the Federal commander in Clarksburg General Benjamin S. Roberts refused to engage the Confederates for fear that he was outnumbered. This decision, based on faulty intelligence, kept Clarksburg out of rebel hands but left the rest of the region largely undefended. Anyone interested in the Confederate seizure of Bridgeport that resulted from Roberts' decision can learn more at this site, open to the public and situated on the southern edge of Simpson Creek.
Images
Historical marker in Bridgeport regarding the Jones-Imboden Raid.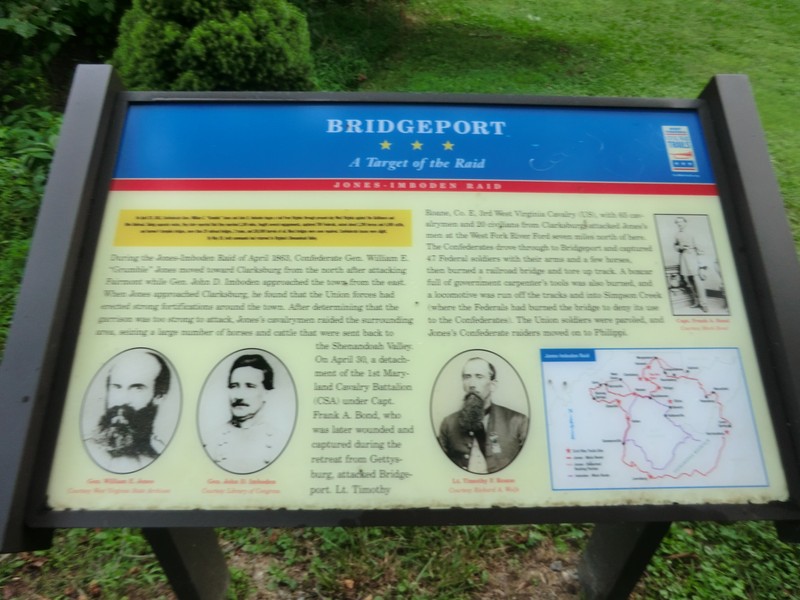 Confederate General William E. Jones, commander during the raid's presence in Bridgeport.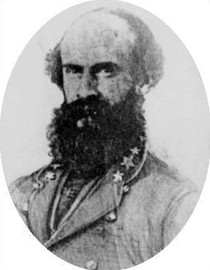 Map of the Jones-Imboden Raid's progress through what became West Virginia.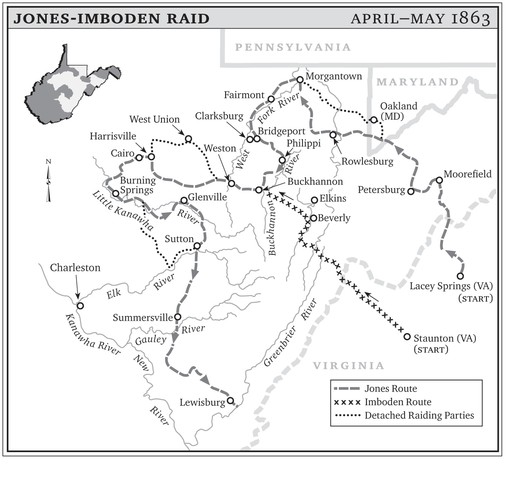 Backstory and Context
Although, the Jones-Imboden Raid began in late April of 1863, Confederate strategists began planning an attack against the counties of what was then western Virginia as early as the winter of 1862. What had originally been proposed as a simple attack against the Baltimore & Ohio Railroad bridge near Rowlesburg in Preston County gradually grew to encompass a two-pronged invasion of the region. The first, under General John D. Imboden set out from Staunton, Virginia on April 20, captured Beverly in Randolph County on April 24, and bivouacked in Buckhannon in Upshur County four days later. The second, under General William E. Jones, marched from Lacey Springs, Virginia on April 21, occupied Morgantown in Monongalia County on April 28, and defeated 500 Union regulars and militia at the Battle of Bridge in Fairmont, Marion County on April 29.
Fresh from his victory in Marion County, Jones moved toward the critical rail hub in Clarksburg, West Virginia, where Federal forces under General Benjamin S. Roberts were gathering. Roberts, who was originally stationed in Buckhannon in Upshur County, chose to believe the numerous civilian reports that claimed the Confederate raiders numbered in the thousands rather than rely on his superior General Henry W. Halleck's reports from Washington, D.C. to the contrary. Fearing that he was grossly outnumbered, Roberts evacuated Buckhannon and retreated to Clarksburg, calling together the nearly 5,000 troops under his command along the way. Once there, he ordered the construction of stout entrenchments to slow the advance of what he still believed to be a numerically superior enemy.
Jones himself, however, knew the truth: that the Federal troops at Clarksburg vastly outnumbered his own. While Roberts commanded 5,000 men, Jones himself had set out from Lacey Springs with 3,500 and had been forced to abandon his infantry and artillery during a difficult crossing of the South Potomac River near what is now Petersburg in what is now Grant County, West Virginia. The 2,200 cavalry troopers he had remaining after the crossing continued to decrease in the trek through Preston, Monongalia, and Marion Counties, with his men falling victim to small engagements with Union regulars, militia, and guerillas that weakened his invasion in dribs and drabs. On April 30 Jones was within four miles of Clarksburg when he learned of Roberts' numbers, intelligence that forced him to redirect his men toward the more vulnerable target of Bridgeport five miles to the east.
To get there, Jones and his men crossed to the eastern side of the Monongahela River and then began to ford Simpson Creek, a tributary of the West Fork River that is itself a tributary of the Monongahela. While he managed to get most of his men across, his rearguard came under attack from a detachment of Company E of the Third West Virginia Cavalry that was commanded by Lieutenant Timothy Roane. Ordered by General Roberts to scout the Shinnston Road along the West Fork River with sixty-five regulars and twenty civilians, Roane came upon Jones rearguard while they were halfway through their crossing of Simpson Creek. Ordering his men to charge, Roane split the Confederate force in two. He then split his own force in two, telling half his men to prevent the remainder of the rebels from crossing the river while he pursued those who had already made it across. The entire affair lasted less than an hour and caused few casualties, but did delay the rear of Jones' column as it continued the march toward Bridgeport.
Fearing another such attack might occur, Jones ordered Company B of the 1st Maryland Cavalry Battalion to act as pickets along the road toward Bridgeport as the rest of the battalion moved forward to take the town itself. Upon entering the town, the 1st Maryland came under heavy fire from a company of Federal soldiers positioned in houses and behind other cover along their route. The men of Company B, meanwhile, were ambushed by up to 200 mounted infantry armed with long-range rifles and, being armed only with pistols themselves, were forced to retreat toward the town where their compatriots had managed to root out 47 Union prisoners. Having taken the town Jones' men moved on to the destruction of the railroad there, burning a nearby bridge and throwing a steam engine into the portion of Simpson Creek that ran through Bridgeport. Their job accomplished, they and the rest of their column moved on to occupy the town of Philippi in what is now Lewis County, West Virginia.
Once in Philippi Jones further weakened his forces, sending the Sixth Virginia Cavalry to Beverly as an escort for the cumbersome herd of cattle and horses his men had collected along the way. With them went the growing number of wounded men that had accrued to his command since April 21. Upon leaving the town for good on May 1, Jones ordered his men to destroy the bridge there. His orders were never carried out. Instead, a local minister, Joshua S. Corder, knelt down in the middle of the bridge to pray and refused to be moved, an act of defiance that so unnerved Jones' men that they left the bridge unharmed. After this incident, Jones proceeded to his intended rendezvous with General Imboden in Buckhannon. They had planned to move as a combined force against the Union troops under General Roberts once that reunion had occurred. The casualties and reductions Jones had suffered at places like Rowlesburg, Fairmont, and Bridgeport, however, made that plan increasingly unwise. Instead, they moved to occupy the seat of Lewis County in Weston.
Sources
Ballard, James Buchanan. William Edmondson "Grumble" Jones: the Life of a Cantankerous Confederate. Jefferson, NC: McFarland & Company, Inc., Publishers, 2017.
Collins, Darrell L. The Jones-Imboden Raid: the Confederate Attempt to Destroy the Baltimore & Ohio Railroad and Retake West Virginia. Jefferson, NC: McFarland & Co., 2007.
Haymond, Henry. History of Harrison County, West Virginia : from the Early Days of Northwestern Virginia to the Present. Morgantown, WV: Acme Publishing Co., 1910.
"Jones' Raid on the Northwestern (Baltimore and Ohio) Railroad." In United States Congressional Serial Set, 2766:107–37. Washington, D.C.: United States Government Printing Office, 1891.
Image Sources
The Historical Marker Database

Wikipedia

The West Virginia Encyclopedia

Additional Information