Jordan Hall
Introduction
Jordan Hall in Boston, Massachusetts is a concert hall located on the campus of the New England Conservatory that serves as the school's primary performance space. Seating up to 1,051 guests, the auditorium is widely considered by musicians to be on the world's most acoustically superior recording and performing venues.
Images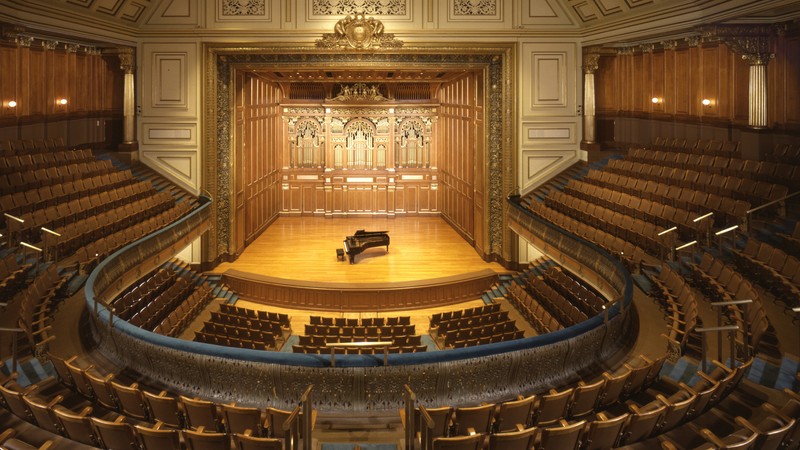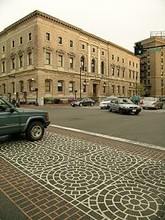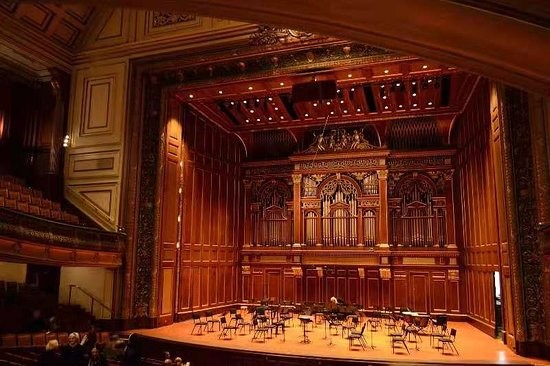 Backstory and Context
Jordan Hall is renowned as one of the world's most acoustically flawless performing arts centers. This reputation of excellence has attracted numerous notable artists over the years, including Pablo Casals, Arthur Fiedler, Aaron Copland, Benny Goodman, Stan Getz, and the Juilliard and Tokyo string quartets. The venue, a National Historic Landmark, is also recognized as one of the most accommodating, with a clear lack of obstructing structures and a top quality listening experience from every seat.
Jordan Hall was originally constructed in 1903 courtesy of a gift from New England Conservatory trustee Eben D. Jordan the 2nd, a member of the family that founded the Jordan Marsh retail stores and an amateur musician. Offering a parcel of land and $120,000 in 1901, Jordan saw his investment come to fruition two years later at the hands of architect Edmund Wheelwright, who also crafted Boston's Horticultural Hall. Tasked with building a symphony hall on a square section of land, Wheelwright ingeniously modeled the structure after the palaces of the Italian renaissance, in which courtyards often served as performance spaces. 
In terms of physical qualities, Jordan Hall possesses several features that at the time were considered quite innovative. Some of the venue's more intriguing attributes include a gradually sloped seating arrangement which contributes to its famed acoustics, a golden oak-colored interior finish, and an organ based loosely on a secondary Renaissance design: that of the Santa Maria Scala in Siena. The exterior is also quite distinct, with its horseshoe shape frequently deemed one of the most unique of any concert hall in the world.
The grand opening ceremony took place on October 20, 1903 and almost immediately Jordan Hall began receiving rave reviews from a multitude of sources. The Boston Globe hailed it as "a place of entertainment that European musicians who were present that evening say excels in beauty anything of the kind they ever saw." The hall has also been the recipient of numerous awards, including the 1996 Massachusetts Historical Commission Preservation Award, the Victorian Society in America's Preservation Commendation, the 1996 Boston Preservation Alliance Award, the Illuminating Engineering Society of North America Award of Merit, and the Illuminating Engineering Society 1996 Lumen Award. In April of 1994, the hall was designated a National Historic Landmark by the Department of the Interior National Park Service. 
Jordan Hall has been renovated in more recent times due to a desire to improve amenities and revamp certain functional aspects. Beginning on May 2, 1995, Ann Beha Associates and Kirkegaard & Associates began an $8.2 million dollar upgrade that removed barriers, updated climate control systems, installed silent air conditioning, improved seating, and increased handicap accessibility. 
Jordan Hall remains one of the premier recording and performance spaces for both local and globally distinguished artists such as Jacques Thibaud, Harold Bauer, and Gil Shaham, among others. Located at 30 Gainsborough Street, it is more than convenient for Boston residents to take a look inside a historic venue cellist Yo-Yo Ma once praised for its "unbelievable acoustics … warmth and intimacy, and sense of event when you go there."
Sources
Boston Modern Orchestra Program. Jordan Hall at New England Conservatory, January 1st 2010. Accessed November 7th 2019. https://bmop.org/jordan-hall-new-england-conservatory.
New England Conservatory. Jordan Hall, necmusic. Accessed October 20th 2019. https://necmusic.edu/jordan-hall
New England Conservatory. Jordan Hall History , Handel and Haydn Society. February 19th 2011. Accessed November 7th 2019. https://web.archive.org/web/20080919231652/http://www.handelandhaydn.org/calendar/venues/jordan_history.htm.
Image Sources
New England Conservatory

John Stephen Dwyer

Trip Advisor