Walker's Creek Presbyterian Church and Cemetery
Introduction
Walker's Creek Presbyterian Church is a Gothic Revival, "L"-shaped building that was constructed by local George Lloyd Bane between 1897-1898. The church replaced a smaller church building that was constructed in 1873, which became too small to serve the growing congregation. The new building was constructed by George Lloyd Bane and was decorated and furnished by the Ladies Aid Society, which consisted of church members. In 1911, Nannie Allen Bane donated additional land to be used for an accompany cemetery. The church itself was added to the National Register of Historic Places in 2003 for being a well-preserved example of a Gothic Revival style building, and an additional nomination was made in 2006, which, when approved, also designated the accompanying cemetery as historically significant.
Images
Walker's Creek Presbyterian Church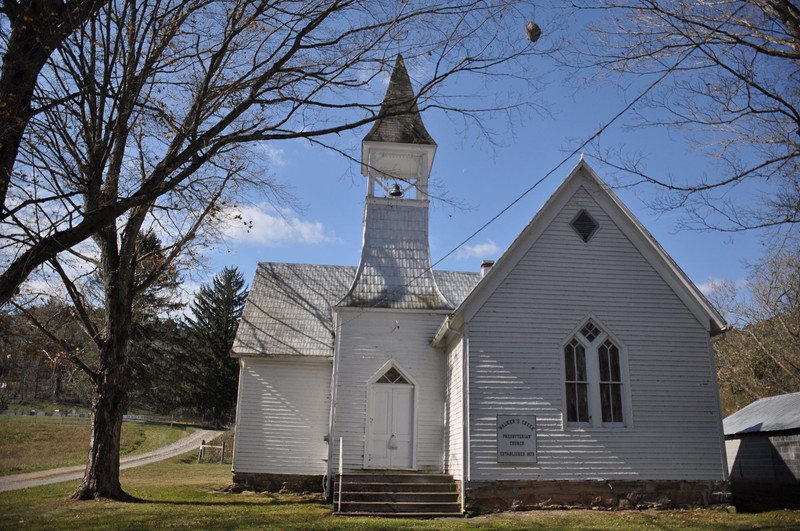 Backstory and Context
This area was originally known as Rye Meadows when James Bane Jr. settled in town in 1791. With the construction of a post office in 1837, the town was then renamed White Gate. As the town continued to grow, those of the Presbyterian faith needed a place to worship, as the closest church was the Kimberling Presbyterian Church, which was three-miles away from White Gate. On November 2nd, 1873, a group of thirteen individuals gathered to discuss the construction of a Presbyterian church. Thomas Reid Shannon Jr.
and James Bane Miller, Thomas' son-in-law and James Bane Jr.'s great grand-son, were elected to be the ruling elders of the church. The original church was constructed in 1874 and was a two-story building, the first floor being used for the church and the second floor for the White Gate Academy. Ten women from the church donated five silver dollars a piece to be melted into a bell for the church, which was later moved to the current standing church.
As the congregation grew, the need for a larger church led to the construction of the current-standing building, which was finished by the fall of 1891 on land that was donated by Andrew J. Bane and Nannie Allen Bane, two members of the church. George Lloyd Bane, another great grand-son of James Bane Jr., built the church in the Gothic Revival Style, with an "L"-shaped frame, painted poplar weatherboard siding, a metal-sheathed gable roof, a sandstone foundation, and a bell-towered front entrance. Some of the materials for the building were donated by James B. Miller, and S. Henry Bane sawed the lumber for the building at his local saw mill. The Ladies Aid Society, made up of church members, helped furnish and decorate the new building, and, in 1904, the Society raised the necessary funds to purchase an organ. The concrete steps were added in 1948, eight years after the church was wired for electricity.
Additionally, when Andrew J. Bane passed away in 1911, Nannie Bane donated more land, which would be used for an accompanying cemetery, where Nannie, too, would be buried upon death. Both Andrew's and Nannie's memorials still stand, with Andrew's featuring acanthus leaves and Nannie's featuring Art Nouveau floral carvings. The cemetery is still in use today.
In 1997, the church was unable to maintain a steady preacher, and, by October of 2000, sermons ceased.
Originally, the church was added to the National Register of Historic Places on October 22, 2003, for being a well-preserved example of a Gothic Revival church and for the local religious significance of the building; however, a second nomination form was filled out and approved on February 1st, 2006, which increased the boundary for preservation to include the local cemetery.
Sources
Fisher, Terri L. Pearisburg and Giles County. Arcadia Publishing, 2008.
Miller, W. Ernest. Walker's Creek Presbyterian Church , National Register of Historic Places. October 22nd 2003. Accessed October 20th 2019. https://catalog.archives.gov/OpaAPI/media/41680889/content/electronic-records/rg-079/NPS_VA/03001088.pdf.
Pezzoni, J Daniel. Walker's Creek Presbyterian Church (Boundary Increase) , National Register of Historic Places . February 1st 2006. Accessed October 20th 2019. https://www.dhr.virginia.gov/wp-content/uploads/2018/04/035-0420-0001_WalkersCreekCem_2005_NRfinal.pdf.
Image Sources
https://en.wikipedia.org/wiki/Walker%27s_Creek_Presbyterian_Church#/media/File:Walker's_Creek_Presbyterian_Church.JPG