David Sears' House
Introduction
David Sears was born in 1787 and lived his entire life in Massachusetts. Apart from the existence of his son, David Sears Jr., the details of Sears' personal life are not well known. Sears Jr. continued his father's legacy after his death in 1871. Sears was a beloved Massachusetts developer and philanthropist. His family contributed to the development of the Brookline area, funding many of the buildings and historical sites. Sears also made several donations to various academic institutions like Harvard University and Amherst College. His house is now home to the Somerset Club, an elite club for New England's upper class. This "member's only" club is so secretive that the "surest way to ensure that you'll never become a member is to inquire about membership" (Gallagher). Notable past members include Nathaniel Hawthorne and Theodore Roosevelt.
Images
Oil Painting of David Sears by Gilbert Stuart.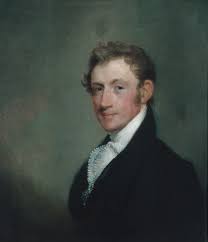 Front view of David Sear's house with renovations and expansions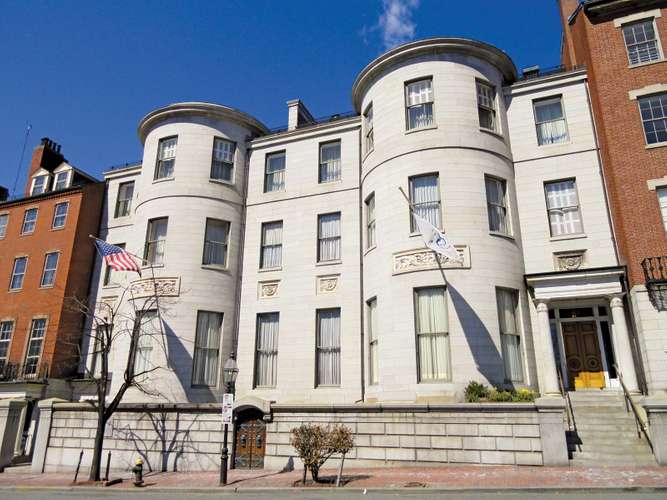 Backstory and Context
David Sears is remembered as one of the most influential builder and planner in nineteenth century Boston. He founded several philanthropies and spearheaded construction projects in a variety of locations. His 500 acre purchase in the Longwood area, located south of Beacon Street, served as the beginning of today's luxurious Beacon Hill neighborhood during the 1820s. He funded the development of the Longwood and Cottage farm area, which together connect the Beacon Hill area with adjacent neighborhoods. He also bought and developed land northwest of Longwood, now known as Brookline. (Pehlke). His land purchases, and subsequent developing of such areas, are part of Boston's history. Therefore, since all of these areas carry great historical importance, they were named Local Historic Districts.
Sears' contributions didn't just involve urban development. He also contributed to the enhancement of the Massachusetts education system. In 1844, he made a donation of $10,000 (which would be worth $295,125 today) to Amherst College, rescuing the college during what it later described as "a difficult time." The College's leadership at the time founded the "Sears Foundation of Literature and Benevolence" in hopes of honoring his donation and showing their gratitude towards the Sears family. The foundation helps struggling students finish their education by awarding need-based scholarships to students. Additionally, the Sears family donated money to astronomical research conducted at Harvard. Along with other 93 people, Sears gave money to build an observatory which later was named the Sears Tower Harvard observatory. Finally, he helped shape our country's national agenda during the time he served as a Massachusetts Senator. He had a seat at the congressional table at intervals between 1816 and 1851. Little is known about his time in government, but his influence affected all of Massachusetts during this time, not just Boston.
Credited as the architect who designed and built the Sear's residence, Alexander Parris was born on November 24, 1780 in Massachusetts. His buildings and landscaping designs heavily contributed to the now traditional architectural style of the New England , and more specifically of the Beacon Hill, area. His buildings often have some French-inspired details, each with its own individual style and personal familiarity depending on the building type and its location. Parris' preference of traditional New England architecture is due to his formative and educational years in Portland, Maine. The Sears' residence in particular demonstrates echoes the style of rustic French style with large stone blocks as the main foundation for the house. Apart from the rough materials, which create an austere wall, the house exhibits other larger than life characteristics such as its double bays and how they rise above the roof line. The house demands attention and it "dominates its section of Beacon hill" (Brancusi). This house has not only grown in square footage since its genesis, engulfing adjacent mansions and bridging them together, but it also became the most expensive piece of real estate in 1830s Boston and its value has continued to rise as Beacon Hill continues to be one of the most exclusive areas on the entire east coast.
This beautiful house is now home to the Somerset Club. This club is part of a select few that "still draw an exclusive membership in twenty-first century Boston" (Hornblower). Along with a few in New York City, it serves as a gateway into High society. These clubs are so exclusive that "no one could aspire to be in the city's first circle of power without joining one, or better still, several" (Hornblower).
Sources
Brancusi, Constantine . David Sears House / Somerset Club, Boston History and Architecture . Accessed December 3rd 2019. http://www.iboston.org/mcp.php?pid=sears.
David Sears, Collection of historical Scientific Instruments. Accessed December 3rd 2019. http://waywiser.fas.harvard.edu/people/7239/david-sears;jsessionid=87C6B768A9745EDC77E7679A28293AEA.
Web Services , CFa. HCO: The Great Refractor, Harvard College Observatory: Great Refractor. Accessed December 3rd 2019. https://www.cfa.harvard.edu/hco/grref.html.
Olson , Linda Pehlke . Longwood and Cottage Farm, Our Town Brookline . Accessed December 3rd 2019. http://www.brooklinehistoricalsociety.org/history/pehlke/longwood.asp.
Shao, Yiqing. Members Only, Boston . April 28th 2015. Accessed December 3rd 2019. https://www.bostonmagazine.com/news/2015/04/28/boston-private-social-clubs/.
The Editors of Encyclopedia Britannica . Alexander Parris AMERICAN ARCHITECT, Britannica . November 20th 2019. Accessed December 3rd 2019. https://www.britannica.com/biography/Alexander-Parris#ref1216574.
Amherst College Archives and Special Collections . Timeline , Amherst College . Accessed December 3rd 2019. https://www.amherst.edu/amherst-story/today/history/timeline.
Gallagher, Brenden. 25 Outrageously Expensive Social Clubs in America, Complex. May 8th 2014. Accessed December 3rd 2019. https://www.complex.com/pop-culture/2014/05/25-outrageously-expensive-social-clubs-in-america/.
Hornblower , Samuel. Fifteen Minutes: The Old Boys' Clubs, The Harvard Crimson . April 27th 2000. Accessed December 3rd 2019. https://www.thecrimson.com/article/2000/4/27/fifteen-minutes-the-old-boys-clubs/.
Image Sources
https://www.metmuseum.org/art/collection/search/12662

https://www.britannica.com/topic/David-Sears-House