USS Cassin Young
Introduction
The USS Cassin Young (DD-793) is one of only four Fletcher class destroyers left afloat. The ship was commissioned on December 31, 1943. It has a full displacement of 2924 tons with a top speed of 38 knots. Its range is 6500 nautical miles and can old a crew of up to 273. Decommissioned on April 29, 1960, the vessel was docked in Boston Navy Yard on December 1, 1974 where it still rests today. It is armed with with five 5-inch guns, ten 40mm guns, and seven 20 mm guns.
Images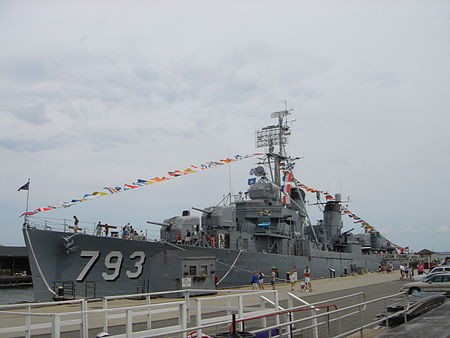 USS Cassin Young after being recommissioned 8 September 1951 for the Korean War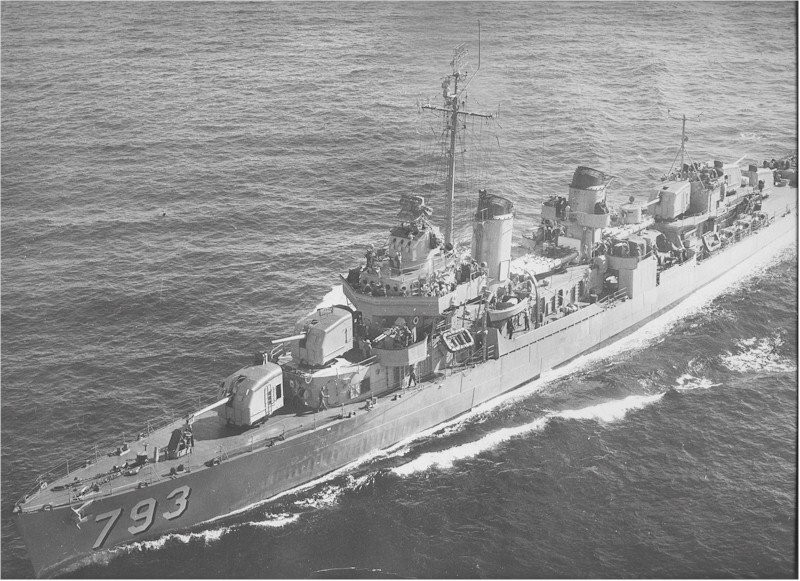 "Photograph from the bow of Cassin Young looking aft with crewmembers on the deck, guns, and bridge. Crew are wearing dungarees and a few officers are wearing khaki uniforms. Crew members on the bow of USS Cassin Young during a cruise in the late 1950s."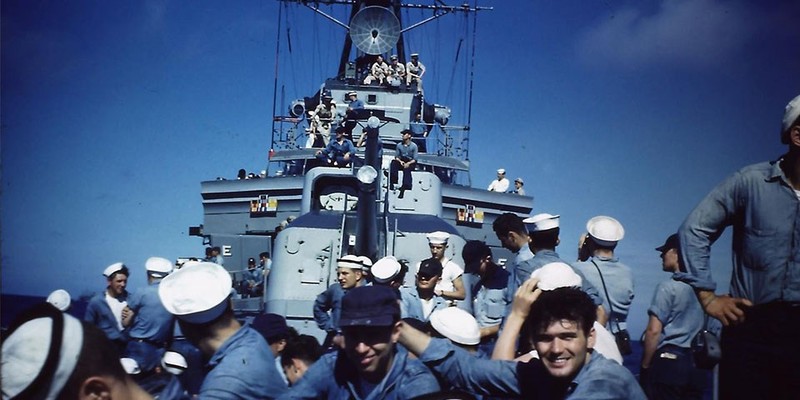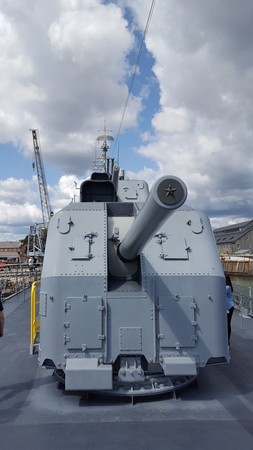 Backstory and Context
The USS Cassin Young was named for Cassin Young, a seasoned veteran who fought off the attacking Japanese fighter-bombers at Pearl Harbour by personally manning an anti-aircraft gun on his ship the Vestel. After the USS Arizona's forward magazine exploded, he was blown into the water. Despite this, he swam back to his ship and beached it in order to ensure its salvage later. For his heroic actions he was awarded the Medal of Honor by Admiral Chester Nimitz in April 1942. Earlier that year in February, he received a promotion to Captain of the Heavy Cruiser USS San Francisco. On November 13, 1942 during the battle of Guadalcanal, in a close head-to-head battle against the Japanese battleship Hiei, he was killed by enemy shells. After his death, Young was posthumously given the Navy Cross for his actions. His ship was given the Presidential Unit Citation.
The Cassin Young was launched on September 12, 1943 by Bethlehem Steel Corp., San Pedro California and commissioned on December 31, 1943 by Commander E. T. Schrieber. The ship has seen many battles throughout its history. The first was in April 1944 when it attacked Japanese strongholds, such as Truk Atoll in the Caroline islands. A month later, Cassin Young was supporting amphibious assault troops on Saipan, Tinian, and Guam. In August, she was reassigned to the carriers of Task Group 38.3. Comprised of 17 fast carriers, 6 battleships, 13 cruisers, 58 detroyers, and an aircraft strength of 1,100, she guarded this force as strikes were sent from their decks to targets on Palau, Mindanao, and Luzon until the beginning of October. Later that same month, the ship was involved in the Battle of Leyte Gulf. An enemy bomber hit the carrier Princeton. Cassin Young rescued sailors from the carrier as it was sinking. The next day, she escorted carriers that sunk four Japanese ships in what eventually became known as the Battle of Cape Engano. After some upgrades at her port in Ulithi Atoll, the ship then supported the invasion of Iwo Jima by screening for other ships during the initial assault. It also gave support in the bombardment of Parece Vela.
In March and April of 1945, Cassin Young screened heavy ships in the pre invasion bombardment of Okinawa. Following this action, her crew moved closer to shore to provide support to the underwater demolition teams preparing the beaches. During the invasion of Okinawa on April 1, it served as a radar picket station and gave fire support to soldiers on land. It was during these months that she also suffered two Kamikaze hits. On April 12, 1945, the ship was hit in its foremast by an attacking plane. Its bomb exploded above the ship, killing one sailor and injuring 59 others. The second plane came on July 30 in Okinawa. The crew were escorting destroyer USS Pritchett to a sunken US ship that was hit the night before. In the early morning, an old biplane carrying a 250 pound bomb careened into the Cassin Young, 30 yards off her starboard beam. The explosion killed 22 crewman and injured 45. Despite the casualties taken, USS Cassin Young was able to take out Japanese shore batteries and airplanes to protect the landing craft. Because of this heroic action, the ship was given the Navy Unit Commendation by the then Secretary of the Navy, James Forrestal.
After Okinawa, Cassin Young  sailed to San Pedro, California where she was decommissioned and placed in reserve. Recommissioned in September 1951, she moved to a new home port in Newport, Rhode Island. Between then and 1960, the crew participated in training exercises and patrolled off of Korea. On April 29 1960 she was again decommissioned at Norfolk Naval Shipyard and placed on reserve. For its valiant efforts in World War 2, Cassin Young received four battle stars.
Sources
"USS Cassin Young History and Information Guide." Old Town Trolley Tours, Old Town Trolley Tours, www.trolleytours.com/boston/uss-cassin-young.
"USS CASSIN YOUNG (DD-793)." Destroyer Photo Index DD-793 USS CASSIN YOUNG, NavSource Naval History, www.navsource.org/archives/05/793.htm.
"USS Cassin Young." National Parks Service, U.S. Department of the Interior, www.nps.gov/bost/learn/historyculture/usscassinyoung.htm.
Harmon, Scott J. "Kamikaze   Images." U.S.S. Cassin Young (DD-793), wgordon.web.wesleyan.edu/kamikaze/books/ships/cassinyoung/index.htm.
"Cassin Young (DD-793)." Naval History and Heritage Command, 10 June 2015, 10:58, www.history.navy.mil/research/histories/ship-histories/danfs/c/cassin-young.html.
Chant, Christopher. "The Encyclopedia of Codenames of World War II (Routledge Revivals)." Google Books, Google, books.google.com/books?id=eTaMAQAAQBAJ&pg=PA103#v=onepage&q&f=false.
Image Sources
https://upload.wikimedia.org/wikipedia/commons/5/50/USS_Cassin_Young_2007.jpg

https://museumships.us/shipsbytype/destroyers/cassin-young

https://www.nps.gov/bost/learn/historyculture/usscassinyoung.htm

https://www.walkbostonhistory.com/history-blog/a-tribute-to-captain-cassin-young-and-the-uss-cassin-young