Pike-Fletcher-Terry House
Introduction
The Pike-Terry-Fletcher House is located on East Seventh Street in the northeastern corner of Little Rock's historic Quapaw Quarter. The Quapaw Quarter is a section of Little Rock which comprises its oldest and most historic business and residential neighborhoods. The name Quapaw comes from a corruption or mispronunciation of a word for a Native American Tribe which originally inhabited the area where the city of Little Rock is now situated. This name was informally applied to the lands west of the original city of Little Rock in the nineteenth century. Then, in 1961 the name of Quapaw Quarter was more formally assigned. Now, it is a well-loved and treasured historic district featuring constructions of the Victorian, Queen Anne, Colonial Revival, Italianate, and Craftsman Styles. The Pike-Terry-Fletcher House represents the Colonial Revival Style within the Quapaw Quarter.
Images
Pike-Terry-Fletcher Mansion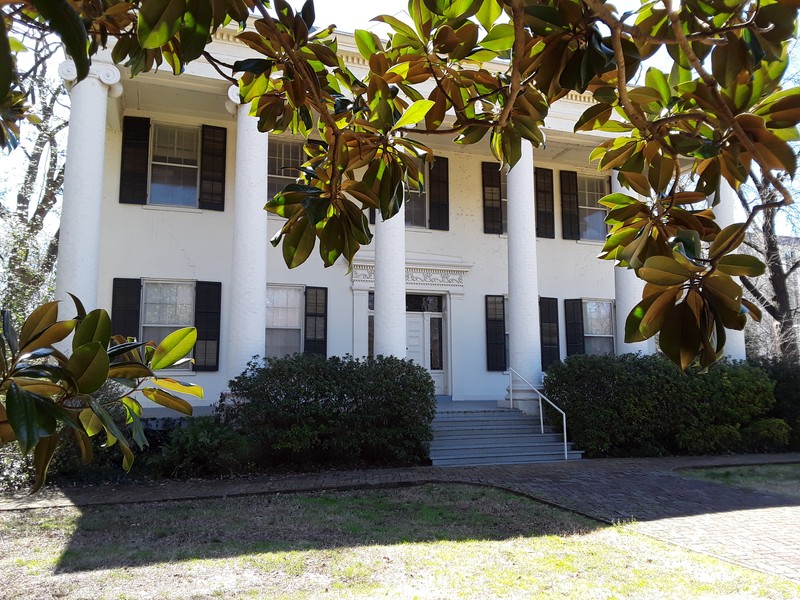 Backstory and Context
According to the Quapaw Quarter Association, the Pike-Terry-Fletcher House is designed in the Greek Revival Style. This style of architecture arose in the 1700s and 1800s in imitation of actual Greek temples from classical times. It features the use of prominent columns with distinctive capitals. The Pike-Terry-Fletcher House demonstrates the Greek Revival Style with its formal front porch fronted by six massive Greek-styled columns. Local historians think these columns were added some time after original construction.
The Pike-Terry-Fletcher House was originally built in 1840 by prominent Arkansas figure Albert Pike. A native of Boston, Albert Pike traveled as a young man to the western U.S. territories, landing by mishap in Arkansas in the early 1830s. Bright and literate by nature, Pike became a newspaper editor, attorney, and reporter of the state Supreme Court. When he attained to some prosperity, he built the mansion for his wife and growing family. Then, when the Civil War broke out, he threw in his lot with the Confederacy, attaining a leadership position in the military. However, he argued with the Confederate leadership over treatment of Native Americans, and Pike ultimately resigned his commission. The Pike Mansion survived the occupation of Little Rock by Union forces, and was later purchased by banker and cotton broker John G. Fletcher. In the 1950s, the home was owned by the family of David D. Terry, U.S. Congressman. The Pike Mansion as the Pike-Terry Fletcher House has been listed on the National Register of Historic Places since 1972.
Albert Pike is an important figure for another reason as well. Internationally, he is recognized as a highly influential Masonic scholar. His literary and organizational work within Scottish Rite Freemasonry is commemorated in the Albert Pike Memorial Temple of Ancient and Accepted Scottish Rite Freemasonry on Scott Street in the downtown area of Little Rock's Quapaw Quarter.
Sources
https://encyclopediaofarkansas.net/entries/quapaw-550/
http://www.quapawtribe.com/401/Tribal-Name
http://www.historicarkansas.org/exhibits/we-walk-in-two-worlds
https://study.com/academy/lesson/greek-revival-architecture-history-characteristics.html
https://www.littlerock.gov/!userfiles/editor/docs/planning/hdc/QQA%20tour%202014.pdf
https://encyclopediaofarkansas.net/entries/albert-pike-1737/
https://encyclopediaofarkansas.net/entries/pike-fletcher-terry-house-2114/
http://scottishriteresearch.com
Image Sources
Maureen Richmond, Photographer

Additional Information