The Second Sarlo Cottage
Introduction
The Second Sarlo Cottage sits on Spring Street in the southwestern corner Little Rock's historic Quapaw Quarter. The Quapaw Quarter is a section of Little Rock which comprises its oldest and most historic business and residential neighborhoods. The name Quapaw comes from a corruption or mispronunciation of a word for a Native American Tribe which originally inhabited the area where the city of Little Rock is now situated. This name was informally applied to the lands west of the original city of Little Rock in the nineteenth century. Then, in 1961 the name of Quapaw Quarter was more formally assigned. Now, it is a well-loved and treasured historic district featuring constructions of the Victorian, Queen Anne, Colonial Revival, Italianate, and Craftsman Styles.
Images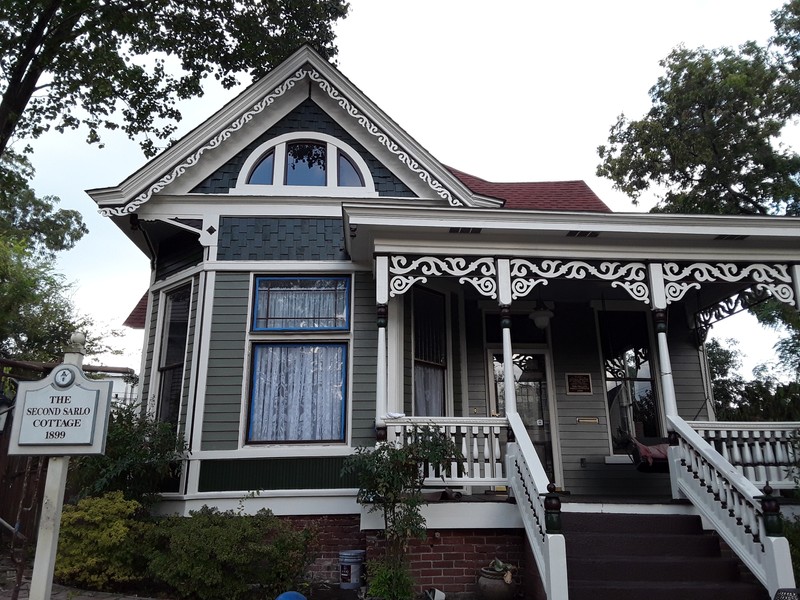 Backstory and Context
The Second Sarlo Cottage is a small residential structure designed in the Queen Anne Style with a Colonial Revival porch. The present porch is likely a later addition, for the foundation footprint indicates that a different porch was originally installed. The original structure was built in 1895 by a saloonkeeper named Joseph Sarlo. At the same time Sarlo built this cottage for his own use, he also constructed houses on either side as rental properties, which fact explains the name as the second of a series. The wrought iron fence surrounding the property appears to be from the same period as the construction of the house, imbuing the entire property with an 1890s charm which is hypnotic for lovers of Victorian era romance.
Sources
https://encyclopediaofarkansas.net/entries/quapaw-550/
http://www.quapawtribe.com/401/Tribal-Name
http://www.historicarkansas.org/exhibits/we-walk-in-two-worlds
https://www.littlerock.gov/!userfiles/editor/docs/planning/hdc/QQA%20tour%202014.pdf
http://www.historicarkansas.org/exhibits/we-walk-in-two-worlds
http://www.askthearchitect.org/architectural
Image Sources
Maureen Richmond, Photographer