Fox Theater
Introduction
Now called the Neville Center for the Performing Arts, the former Fox Theater has been an important landmark in North Platte since it was built in 1929. It is an excellent example of Picture Palace architecture, which was popular during the early 20th century. It combines Moorish, Roman, Egyptian and a variety of other architectural styles. The exterior features terra cotta decoration, the Fox Theater sign, and the marquee. Local businessman and former Nebraska governor (1917-1919) Keith Neville built the theater, which was added to the National Register of Historic Places in 1985.
Images
The historic Fox Theatre was built in 1929 and is now called the Neville Performing Arts Center.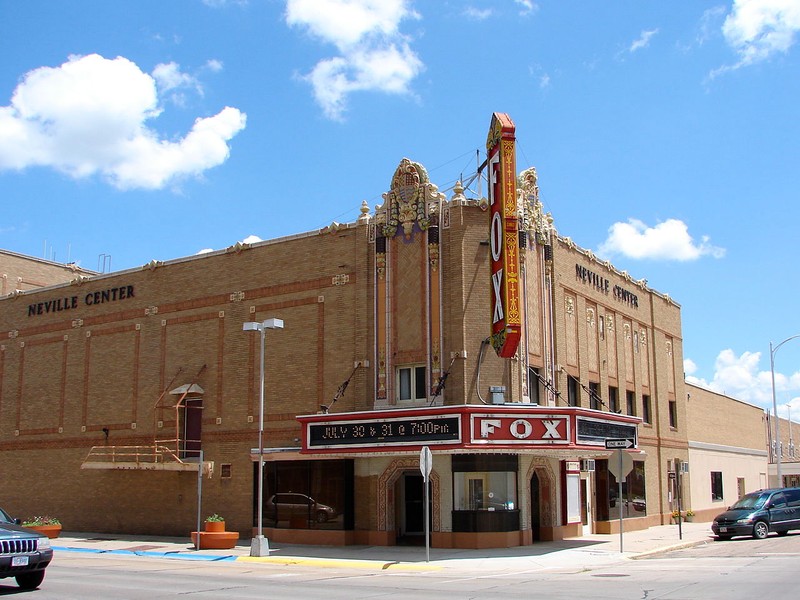 Backstory and Context
Keith Neville headed a real estate company that built and then sold the building to the Fox West Coast Theater Corporation, which was a theater chain founded in the 1920 by Hungarian-American William Fox. Fox would become one of the leading figures in the nascent film industry of the early 20th century and the film studio 20th Century Fox still bears his name.
He was born on January 1, 1879 and when he was still a baby, immigrated to the United States with his parents, who would have several more children. They settled in New York City. As a youth, Fox worked in the textile industry and was also a newspaper boy. He started his own business in 1900 and then four years later sold it so he could buy a nickelodeon, which was an early form of a movie theater. During the next ten years, Fox grew his business and became a very successful film distributor and exhibitor. After successfully fighting the Motion Pictures Patent Company in court—it had attempted to create a monopoly of the film industry—Fox established the Fox Film Corporation in 1915.
Unfortunately, he lost most of his money in the stock market crash of 1929 and became bankrupt. He was sentenced for bribing a judge in 1941 and was jailed until 1943. He settled back in New York on Long Island and died in 1952.
The theatre initially hosted vaudeville acts but eventually became a full-time movie theater. The North Platte Community Playhouse, which was founded in 1968, acquired the Fox Theatre in 1980 from Neville's daughters. After three years of renovation, the Neville Center for the Performing Arts opened. The theater was renovated once again in 2017.
Sources
Gilkerson, Joni. "Fox Theatre." National Park Service - National Register of Historic Places Nomination Form. May 9, 1985. https://npgallery.nps.gov/NRHP/GetAsset/NRHP/85000957_text.
"Our History." North Platte Community Playhouse. Accessed October 14, 2019. https://www.northplattecommunityplayhouse.com/about-us/history.
"William Fox Biography." Internet Movie Database. Accessed October 14, 2019. https://www.imdb.com/name/nm0289301/bio.
Additional Information