Strasser Cottage
Introduction
Built in 1882, the Strasser Cottage on Spring Street sits near the heart of Little Rock's Quapaw Quarter. The Quapaw Quarter is a section of Little Rock which comprises its oldest and most historic business and residential neighborhoods. The name Quapaw comes from a corruption or mispronunciation of a word for a Native American Tribe which originally inhabited the area where the city of Little Rock is now situated. This name was informally applied to the land west of the original city of Little Rock in the nineteenth century. Then, in 1961 the name of Quapaw Quarter was more formally assigned. Now, it is a well-loved and treasured historic district featuring constructions of the Victorian, Queen Anne, Colonial Revival, Georgian Revival, Greek Revival, Italianate, and Craftsman Styles.
Images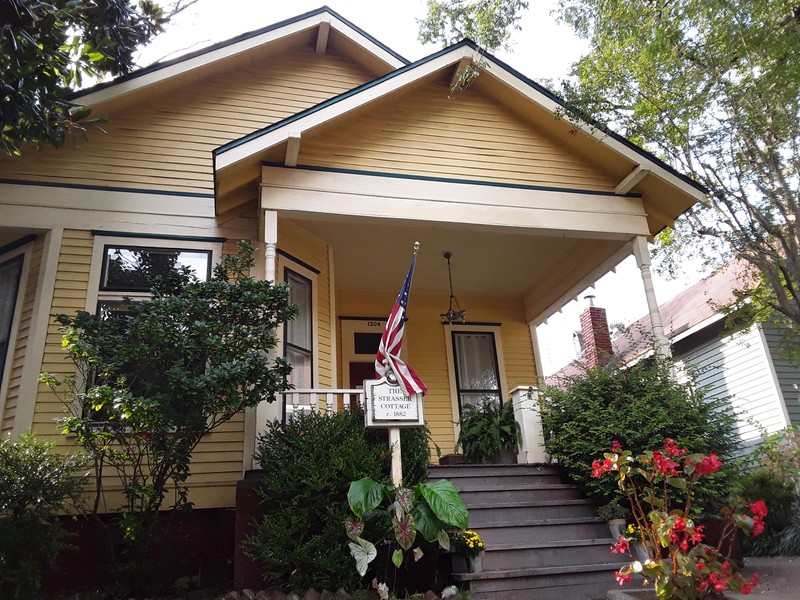 Backstory and Context
Strasser Cottage is a small frame residence either constructed or re-modeled in the Queen Anne Style. In the United States, the Queen Anne Style of architecture refers to a wide range of picturesque buildings which borrow freely from the architectural features of the Italian Renaissance and avoid the features of English Gothic. Queen Anne Style runs from approximately 1880 to 1910 and refers to architecture, decorative arts, and furniture. In architecture, the Queen Anne Style incorporates distinctive gables and turrets, asymmetrical facades, dominant front-facing gables which are often cantilevered out beyond the supporting wall, pedimented porches, balconies, overhanging eaves, leaded glass, dentils, balustrades, columns, and wooden or slate roofs. Strasser Cottage is a simplified version of Queen Anne, demonstrating the dominant front-facing gable, asymmetrical façade, and turret-styled or bay window.
Built in 1882, the house was first used by a late nineteenth-century Little Rock organization known as the Ladies Building Association. Little is known about this group, but the name suggests that in the late 1800s, women of early Little Rock took an active interest in architecture and construction.
Today the Strasser Cottage retains its original charm, with a cheerful yellow painted exterior. With its location near the historic Trinity Episcopal Cathedral, Strasser Cottage sits amongst palpable heritage. It's a short pleasant walk from here to other captivating venues.
Sources
https://encyclopediaofarkansas.net/entries/quapaw-550/
http://www.quapawtribe.com/401/Tribal-Name
http://www.historicarkansas.org/exhibits/we-walk-in-two-worlds
https://www.littlerock.gov/!userfiles/editor/docs/planning/hdc/QQA%20tour%202014.pdf
http://www.askthearchitect.org/architectural-styles/queen-anne-style-architecture
Additional Information