The Jonathan Dickerman House
Introduction
A Hamden landmark with a direct link to the founding of the town, the "Old Red House," built by Jonathan Dickerman, is listed on the National Register of Historic Places. It is popularly believed that Dickerman built the house for his bride, Miriam Bradley, in or around 1770. Deeper research suggests that this particular home was not actually constructed until 1795. Notable today for its lack of substantial remodeling, the house sat for many years on the north side of Mt. Carmel Avenue at the base of a line of ridges locally known as the Sleeping Giant, a treasured Hamden landscape. In 1924, the house and about 200 acres of land were owned by John Heaton who, having relocated to Switzerland, was prevailed upon to donate the property to the Sleeping Giant Park Association. The property was subsequently gifted to the State Forest and Park Department for inclusion in the Sleeping Giant State Park. Under a lease arrangement, the Hamden Historical Society maintained the interior of the house while the State Forest and Park Department, today's Department of Energy and Environmental Protection, maintained the exterior. When the State determined that it could no longer afford to maintain the home properly, it allowed the Historical Society to purchase it for $1.00 provided that the Society remove the house from State property. For $1,500 the Society purchased an acre of land from the New Haven Water Company directly across the street and on Thursday, October 31, 1963, the house was moved to its current location, where it remains in 2019.
Images
Caption: Relying solely on volunteers, the Dickerman House is open to visitors on weekend afternoons June through the end of August and by appointment if needed. It is hoped that the house will resume operations in the summer of 2020.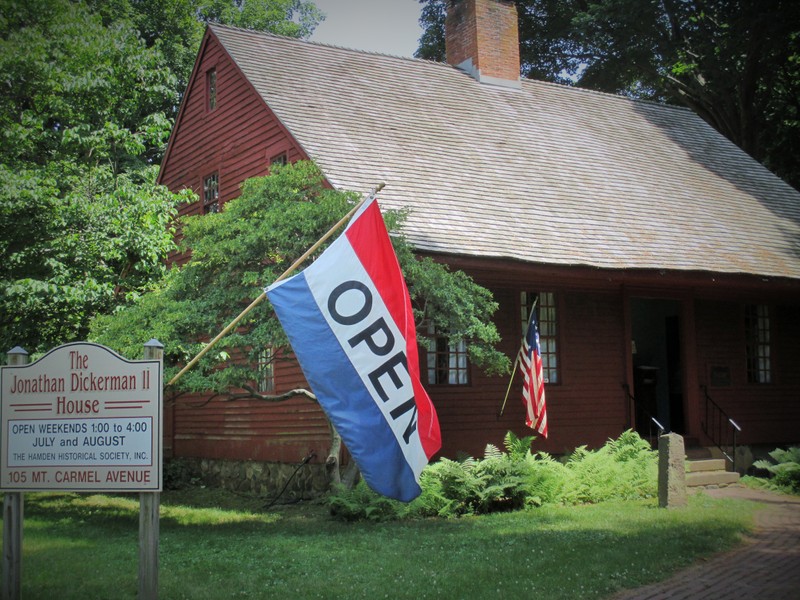 Caption: Jonathan Dickerman II: The Family Tree includes many of the notable families of New Haven's and Hamden's founding and development.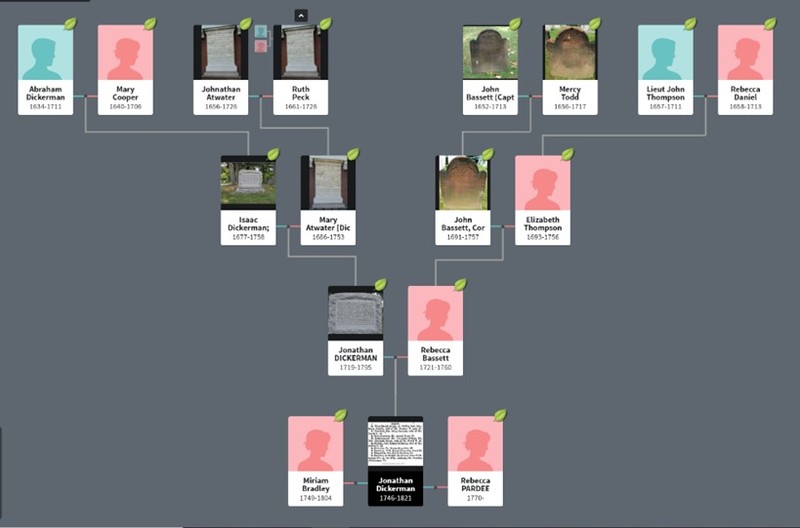 Caption: The Dickerman house located on the north side of Mt. Carmel Avenue in its original location. The photo was taken sometime between 1926 and 1927.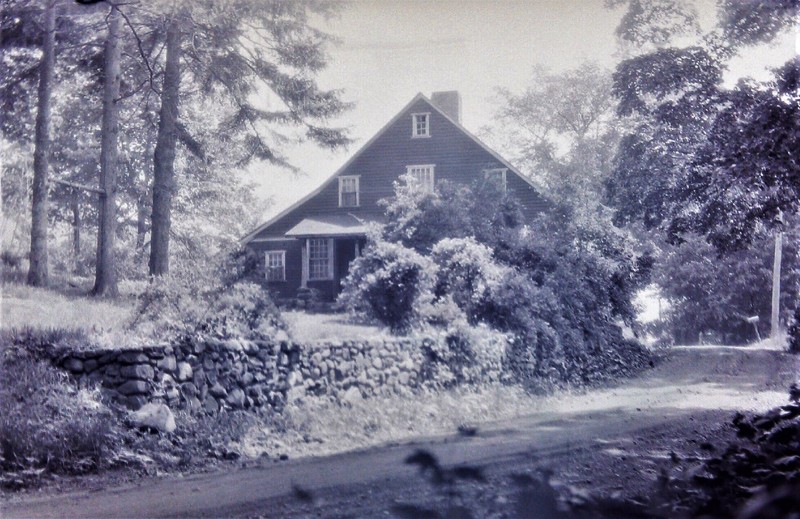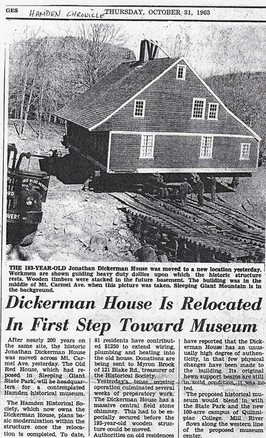 According to the Historic Building Survey conducted in 1986, the Connecticut Historic Commission described the Talmadge Dickerman cider barn as "one of the most interesting and best preserved early agricultural buildings remaining in Hamden. The heavy, hand-hewn timber framing makes it unlikely that the building was built later than the first years of the 19th century."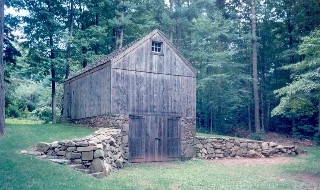 Following a major storm in May 2018, repairs to the Dickerman House are underway.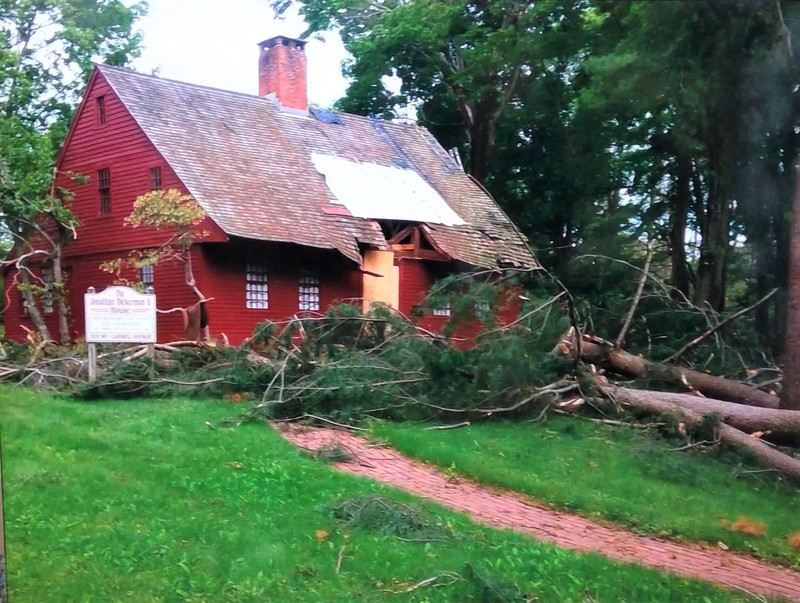 The Dickerman/Talmadge Cider Barn was so damaged in the 2018 storm that it was dismantled to prevent injury. Once the foundation has been secured, it will be reassembled.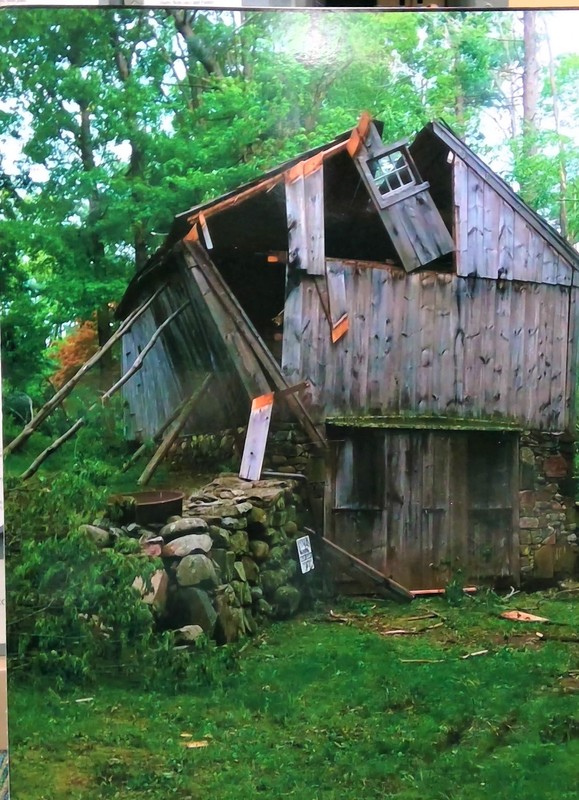 Carolyn Dickerman wrote this reminiscence of growing up in the "old red house."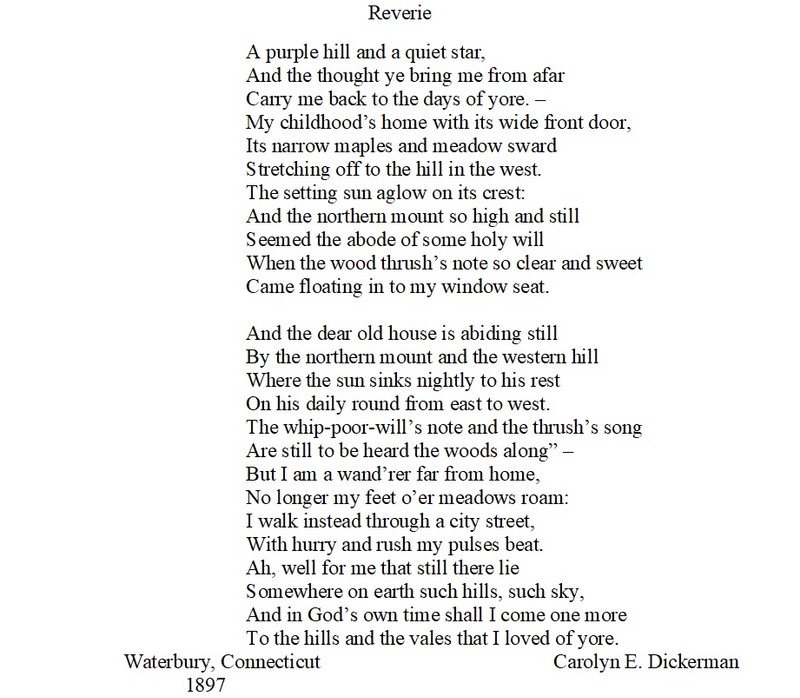 "...And the northern mount so high and still" (The Sleeping Giant)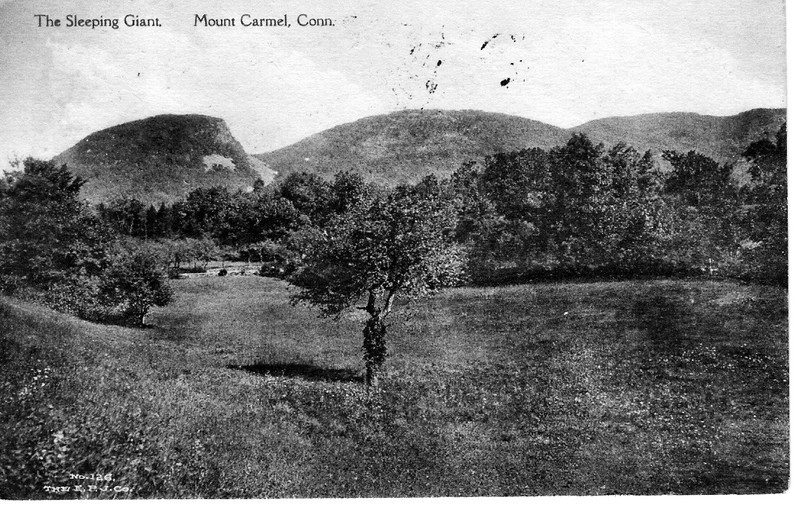 The last of the direct descendants to live in the Old Red House, Carolyn Dickerman (1868-1958), was an active member of the Hamden Historical Society and served as summer curator of the house until shortly before her death.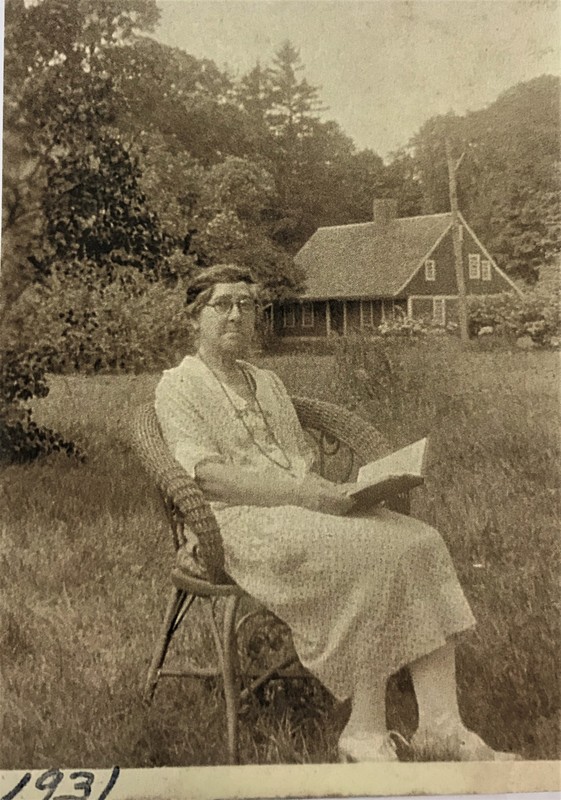 Backstory and Context
The ancestors of Jonathan Dickerman II were among the first settlers of New Haven. His grandfather, Isaac, served as a deacon in the First Society (First Church of Christ) where he was charged with monitoring the behavior of church goers. He also served as a judge in the county court, and enlisted in the militia, setting an example of citizen involvement for his progeny. Between 1727-1745 Isaac acquired land through the Sixth Division of the New Haven Colony and two of his sons, Jonathan (I) and Samuel moved to an area then known as the Blue Hills which subsequently became Mt. Carmel Parish in 1764. Jonathan II (Isaac's grandson) built "The Little Red House" and family lived there for several generations. To quote Rachel Hartley, "From these have descended a long line of worthy citizens many of them being at this time residents of Hamden."
Jonathan Dickerman was a successful farmer. In his will he bequeathed about 100 acres to his heirs along with the house, a well, a privy (outhouse), sheds, a barn, a corn crib, and various outbuildings. Farm families in the early 19th century were self-sufficient. Large gardens, and live-stock and poultry provided for their dietary needs. In this "age of homespun" flax was grown and processed to make clothing. Wood lots provided for home heating, for fencing, and likely for some furniture. Still, by the time Jonathan built his house, Mt. Carmel was developing into a successful community boasting of two grist mills, several saw mills, a meeting house, district schools, and several taverns.
Just as their forebears, Jonathans I and II served their communities. Jonathan I served as a "fence viewer," appointed at the first Mt. Carmel town meeting on June 20, 1786. In 1804, Jonathan Dickerman II and a number of his neighbors petitioned the County Court in New Haven to set aside the entire Eighth and Ninth Division of Lands in Hamden, "praying to be permitted to improve said tract of Land in a common fielde as by petition on file." Over the course of the next forty years, Jonathan II served as hayward, treasurer, and moderator.
In its day, the Dickerman homestead would have consisted of front and read yards. The rear or dooryard would have been bare earth where family and domestics would have carried out heat producing household chores in summer. Located near the house there was most likely a vegetable/berry garden where typically beans, peas, squash, potato, turnip, melon, herbs and berry bushes would have been planted. Along the road there would have been a stone wall and trees planted to provide shade in the summer. There would have been separate acreage for corn, rye, flax, and hay; an orchard of apples and pears; and woodlots and pastures.
Now, the Spring Glen Garden Club maintains a representative herb garden at the rear of the house, and volunteer docents lead visitors on the tour. In the house there are typical rooms set up as well as displays of tools and other accessories, all period pieces, some original to the house. One relatively new edition to the site is the Dickerman/Talmadge Cider Barn. In 1993, the Talmadge family donated the barn to the Hamden Historical Society with the provision that it be moved from their property. Local efforts, including work by students from nearby Eli Whitney Technical School ensured the relocation and reconstruction of the barn at the site of the Dickerman house. Both house and barn suffered damage in a May 2018 storm (some say tornado) that struck the area. Repairs are underway and the buildings should be ready to again welcome visitors in the summer of 2020.
Sources
Bibliography
Becker, Martha May and Nancy Sachse Davis. Hamden: Our Architectural Heritage. Hamden: Hamden Historical Society, 1986.
Blake, William P. History of the Town of Hamden, Connecticut with an account of the Centennial Celebration June 15th, 1886. New Haven: Price, Lee & Co., 1888.
Chapman, H.H. "Acquisition of Sleeping Giant State Park 1924-1962." Speech, October 11, 1930. Reprinted in Connecticut Woodlands. 27, no. 43 (July-August 1962), 63-65.
Dexter, Franklin B. "The New Haven of Two Hundred Years Ago". Paper read at a meeting of the New Haven Colonial Historical Society, Dec. 15, 1913. Papers of the New Haven Colony Historical Society, Vol. 8 (New Haven: New Haven Colony Historical Society), 1913.
Dickerman, Caroline. "Reverie." Connecticut Magazine, Vol. 3 (1), Jan-Mar 1897, 7-8.
Dickerman, George Sherwood. Old Mount Carmel Parish: Origins and Outgrowths. Yale University Press, 1925.
Dickerman/Talmadge Cider Mill Prospectus. n.d. MSS 32, Box 5C, Folder F.
"Docent's Guide to the Jonathan Dickerman II House," Located in the Hamden Historical Society History Room, Hamden Public Library, MSS 32 Box 5C, Folder E
"Hamden Historical Society to Move Dickerman House to New Location." New Haven Register, May 18, 1961. Reprinted in Connecticut Woodlands. 26, no. 3 (May-June 1961): 64.
Hartley Rachel M. The History of Hamden, Connecticut, 1786-1959. Hamden: Pequot Press, 1959.
"Jonathan Dickerman House Museum." Hamden Historical Society. Accessed Sep. 16, 2019. https://hamdenhistoricalsociety.wordpress.com/our-society-2/properties/jonathan-dickerman-house-museum/.
Minkema, Ken. "A Little J.D. House History." The Hamden Historical Society Newsletter, Spring, 2008, 3.
National Register of Historic Places, Jonathan Dickerman II House, Mt. Carmel, Hamden, Connecticut. National Register 82004351.
Accessed Sep. 16, 2016. https://s3.amazonaws.com/NARAprodstorage/lz/electronic-records/rg-079/NPS_CT/82004351.pdf
Rockey, J.L., ed. History of New Haven County in Connecticut. New York: W.W. Preston Co, 1892.
Toumey, James W. "A Brief History of the Preliminary Efforts, 1915-1924, To Acquire the Sleeping Giant for Public Use." Speech, October 11, 1930. Reprinted in Reprinted in Connecticut Woodlands. 27, no. 43 (July-August 1962), 62-63.
Town of Hamden Blue Hill Common Field Record Book. Original located in the Hamden Historical Society History Room, Hamden Public Library.
Image Sources
Photo: Julie Hulten

Created using Ancestry.com

Photo courtesy of Alan Levere, State of Connecticut. Dept. of Energy and Environmental Protection

New Haven Register. Used with permission.

Photo: Julie Hulten

Photo: Courtesy of the Hamden Historical Society

Courtesy of the Hamden Historical Society

Connecticut Magazine, Vol. 3 (1), Jan-Mar 1897, 7-8.

Courtesy of the Hamden Historical Society

Additional Information