Rugby Colony
Introduction
Founded in 1880 by English author Thomas Hughes, Rugby, Tennessee was built as an experimental utopian colony. Rugby's Victorian architecture and picturesque setting has made it a tourist stop for many years. In 1972, Rugby's historic area was listed under the name Rugby Colony on the National Register of Historic Places as a historic district.
Images
Christ Church Episcopal in Rugby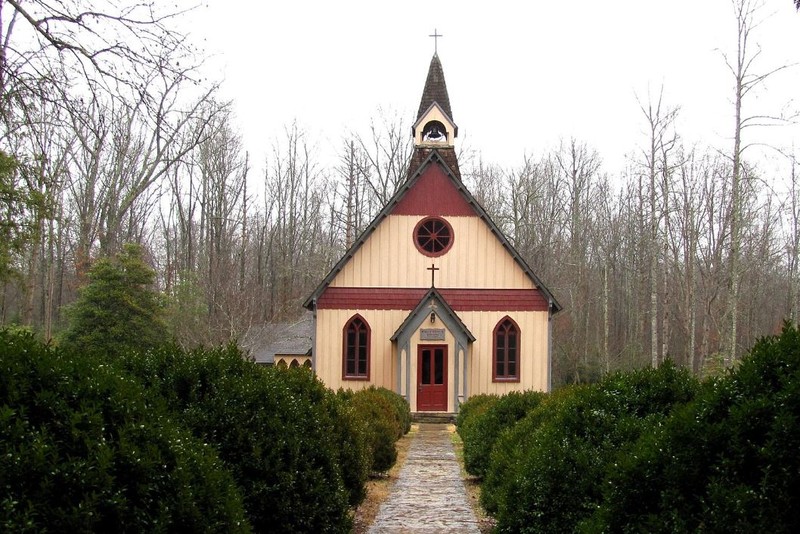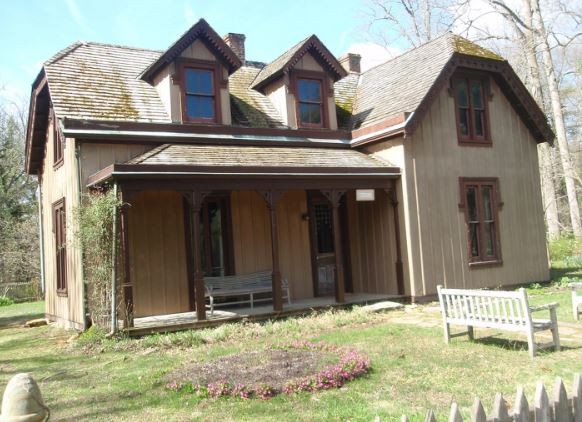 Harrow Road Cafe in Rugby.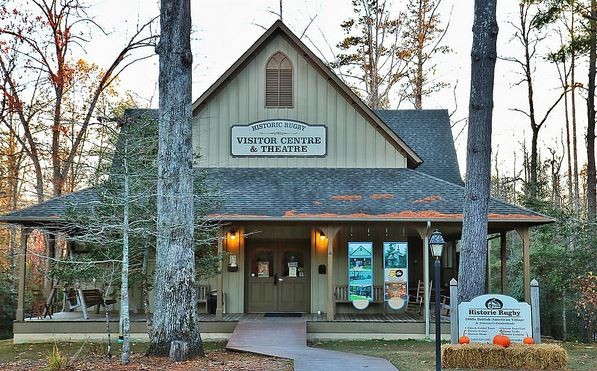 Backstory and Context
Thomas Hughes who was a British author and social reformer founded this little village in 1880. He wanted his community to have a cultured, Christian lifestyle, free of the rigid class distinctions that prevailed in Britain.The idea for the colony grew out of Hughes' concern for the younger sons of landed British families. The town site and surrounding was chosen because of its closeness to the Cincinnati-Southern Railroad.
During the 1880′s, Rugby both flourished, and attracted wide-spread attention of hopeful settlers from both Britain and other parts of America. By 1884, Hughes' vision seemed close to becoming a thriving reality. Some 65-70 Victorian buildings had been constructed on the town site, and over 300 residents enjoyed this rustic lifestyle.The grand Tabard Inn, named for the Chaucer's Canterbury Tales, soon became the social center of the colony. The Thomas Hughes Public Library, with thousands of volumes of books was the pride of the colony. Rugby even printed its own weekly newspaper. General stores, stables, sawmills, boarding houses, a drug store, dairy and butcher shop were all in operation.
But a typhoid epidemic, which claimed seven lives in 1881, was the start of a downfall. In addition, financial troubles, land title problems and unusually severe winters gradually brought about Rugby's decline. The Tabard Inn burned in 1884, its replacement also burned in 1899. Thomas Hughes poured more than $75,000 of his own money into the effort to build the community in the wilderness. By 1900, most of the original colonists had left, many for other parts of America. Though Rugby declined, it was never deserted.
Sources
. Historic Rugby. Accessed October 10th 2019. http://www.historicrugby.org/history-of-villiage/.
. Your Complete Guide to Rugby: Tennessee's Best-Kept Secret, Suburban Turmoil. Accessed October 14th 2019. https://suburbanturmoil.com/rugby-tennessee-guide/2016/12/28/.
. Historic Rugby Historic Site. Accessed October 14th 2019. https://www.tennesseerivervalleygeotourism.org/content/historic-rugby-historic-site/tenf947e874df6455e75.
Image Sources
https://en.wikipedia.org/wiki/Rugby,_Tennessee#Christ_Church_Episcopal

https://theculturetrip.com/north-america/usa/tennessee/articles/welcome-to-rugby-tennessee-the-failed-utopian-colony-frozen-in-time/

https://en.wikipedia.org/wiki/Rugby,_Tennessee#/media/File:HR_Cafe_July_(1).jpg

https://suburbanturmoil.com/rugby-tennessee-guide/2016/12/28/

Additional Information