S.S. Emidio Memorial
Introduction
This memorial commemorates the sinking of the American oil tanker S.S. Emidio on December 20, 1941, just a few weeks after the attack on Pearl Harbor, by a Japanese submarine. The incident was the first attack conducted by the Japanese Imperial Navy along the California Coast. The memorial includes a historical marker affixed to a large boulder, an anchor, an interpretive sign, a flagpole, and, most notably, a portion of the hull, which was salvaged from the wreckage of the ship that sailed—abandoned—northward and broke up just off the coast of Crescent City. A portion of the hull flowed into the harbor where it still remains today.
Images
The wreckage of the S.S. Emidio floated to north where it crashed on the rocks off of Crescent City. It wasn't scrapped until the 1950s.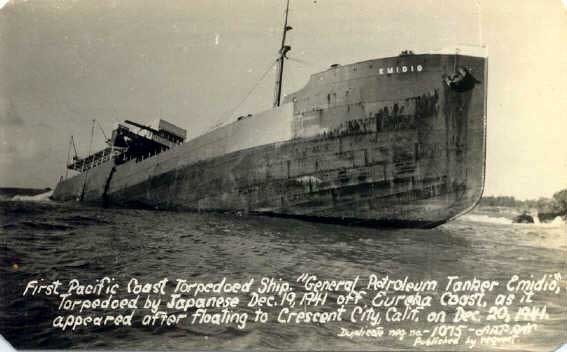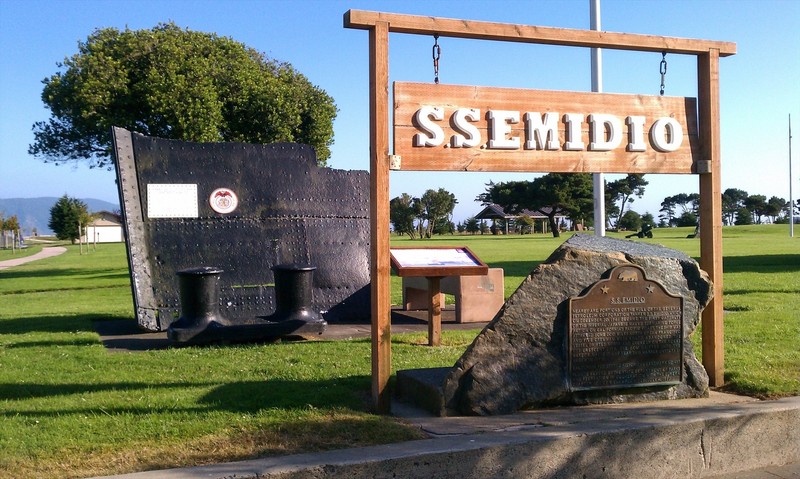 Backstory and Context
The S.S. Emidio was built in 1921 in Alameda, California for the Socony-Vacuum Oil Company, which became Mobil Oil. On December 20, the Emidio was sailing from Seattle to San Pedro, California when the Japanese submarine spotted it 200 miles north of San Francisco in the vicinity of Cape Mendocino. The submarine attacked the Emidio using its 14-cm deck gun and fired a torpedo as well. The tanker's captain sent out an SOS and raised a white flag, then ordered the crew to abandon ship. The Japanese ignored the flag and continued to attack. Three crewmen were killed while lowering a lifeboat, and when the torpedo hit (in the engine room), two engineers were killed. A Catalina Flying Boat attacked the sub with depth charges but by that time it had dived and was too deep to be hit. A U.S. Coast Guard cutter eventually rescued 31 crew members who managed to row for 16 hours to Humboldt Bay.
Sources
Mann, Cody. "Remembering the S.S. Emdio." Del Norte Triplicate. August 10, 2019. https://www.triplicate.com/news_paid/remembering-the-s-s-emidio/article_29b21a78-be5b-11e9-ab79-0bf4fe0e07cb.html.
"S.S. Emidio, Historical Landmark." California Office of Historic Preservation. Accessed October 8, 2019. http://ohp.parks.ca.gov/ListedResources/Detail/497.
"S.S. Emidio." The Historical Marker Database. Accessed October 8, 2019. https://www.hmdb.org/marker.asp?marker=113247.
Image Sources
Militarymuseum.org, via The Historical Marker Database

The Historical Marker Database