Muhammad Ali Childhood Home
Introduction
This is the childhood home of Muhammad Ali, where he lived here from the ages five to nineteen. It was here that the famous boxer learned how to get quick feet and a strong hand. Muhammad Ali was not only known as a heavy weight boxer but he was also an important figure when it came to religious freedom and racial justice. Ali was a man that stood up for what he believed in and fought his way to the top. This place is the home of a man that has been recognized as "Sportsman of the Century" by Sports Illustrated.
Images
this is 12 year old Cassius Clay, a young boy who decied to take up boxing and put his quick feet to good use. He was a quick leaner and pushed himself to his capacity, with his family behind him he already had the mindset that he was going to be one of the greats.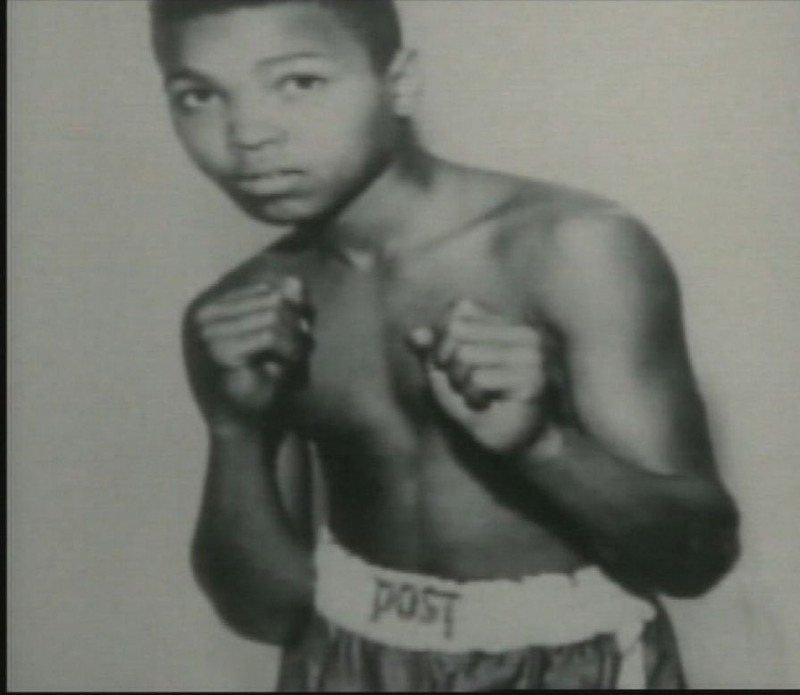 Cassius Clay winning the gold medal in the 1960s Olympics. The young 18yr old was six years into fighting and had already won a title. He maintained an undefeated record 19-0, this was the start of his career. He ended up signing with a sponsership and it turned him into a professional boxer. Muhammad, Cassius at the time, was against all odds and was an example for many young African Americans. Though he expereinced hard times and judgement at such a young age, it was only preparing him for the journey to come.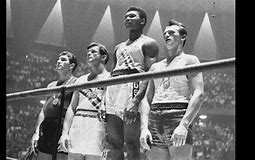 This is the picture of Muhammad Ali standing over Sonny Liston after one minute in the ring; he won this fight on his own with nobody on his side. After telling the world of his religion he lost all the people that once backed him, Sonny had gained all of Ali's previous followers because if you did support him you were just as bad as he was. People hated this picture because you could see Ali's dominance, this shows his passion and the strength of the main that had just been victorious.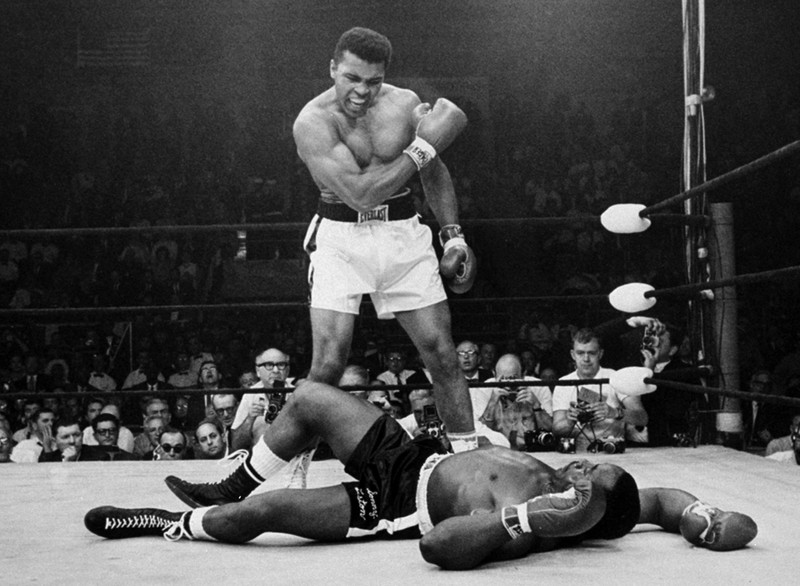 This is the current view of Muhammad Ali's childhood home. He lived here for fourteen years along with his mother, father, and brother. The home was restored to its original model so that it could be a good representation of what his home was truly like when he lived here. The outside of the house is a very noticeable blush pink, before the owner of the house restored it the color ad faded and looked grey. People that are visiting are currently unable to go inside due to it being fixed, though people used to be able to. There is word that the house should be reopening soon after being closed for about a year, this was stated February of 2019. George Bochetto is the current owner of the home and plans to keep it in Louisville, he bought it because before he was in the picture it was starting to look like a rundown shack instead of the museum. They are working with the National Park Service to get them to recognize it as a historical landmark, MLK and Elvis's houses are in the list of landmarks and Bochetto believes that Muhammad Ali belongs in the category with the other greats.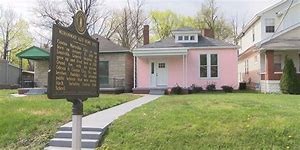 Backstory and Context
Cassius Clay was born on January 17th, 1942 in Louisville, Kentucky. He and his family lived here from 1947-1961, when Clay was five to nineteen years old. This was where he first took up boxing at age twelve.The home stayed in the family starting with Muhammad Ali, Cassius Clay Sr., Odessa Clay and Rudolph Clay now Rahman Ali.
While living in this small home, big things were happening inside and on the streets of Louisville. In 1954, the 12-year-old Clay was sitting on the steps of the Columbia Auditorium crying and filled with anger. He discovered that his new Schwinn bike that his dad had worked hard for, had been stolen. As he was wallowing in tears a man asked him what had happened; once he heard the story he informed Ali that he could go tell the police officer that was in the building downtown South Fourth Street, he would be in the basement. Clay took it upon himself to go to the cop, walking through the basement he told the white cop, Joe Martin, the story of what had happened and he said " If I find the guy who took my bike, I'm gonna whup him."
After the encounter with the cop, Clay took his words very seriously. The day after talking to him he showed up at the gym and then again, the next day. Six years into boxing with the undefeated record of 19-0, Ali found himself winning the Olympic Boxing Gold Medal in Athens. This led to him signing with the Louisville Sponsoring Group, making him into a professional. In 1960, the same year of winning in the Olympics, Clay graduated from Central High School ranking at 376 out of the 391 people in his class. Though his education stopped there, his boxing career did not.
For the Louisville Lip, the next couple of years were going to throw his life into ups and downs. He was catching the eyes of the world and when that was happening Clay decided he wanted to fight Sonny Liston, a "punk" that was the man to beat. The fight was controversial and ended with Sonny quitting, even though in the fourth round Clay was struggling because supposedly Sonny put something on the end of his gloves, and it was partially blinding him but he fought through it. Around this time Clay announced his conversion to Islam, and changed his name to Muhammad Ali.
Ali refused to fight in the Vietnam War because of his religious beliefs, which led to him going to court and losing his fighting license for three years. In October 1970 Ali returned to the ring; though he was still good, he wasn't the fighter that he used to be, and it was evident. Ali won his first two fights but in his third fight, against Joe Frazier known as the "fight of the century", Ali was defeated. Though Ali's career continued for a little while he was never the boxer he once was and was never able to get those years back.
Though all this and more was happening with Ali, the people of Louisville still knew him as the hometown hero. A historical marker was placed in front of his childhood home on June 26th, 2012. Four years later, Muhammad Ali passed away on June 3rd of 2016 at the age of 74. His health had deteriorated due to continuous trauma to the brain and other illnesses. The home was bought so that it could remain the historical landmark that it should be and became a museum. It is currently closed while undergoing renovations.
Sources
Hauser, Thomas . Muhammad Ali, September 14th 2019. Accessed October 15th 2019. https://www.britannica.com/biography/Muhammad-Ali-box
Gazaway, Charles. Historical Marker Dedicated at Childhood Home of Muhammad Ali, Wave 3 News. September 5th 2012. Accessed November 12th 2019. www.wave3.com/story/18207824/historical-marker-dedicated-at-childhood-home-of-muhammad-ali/.
Saeed, A. (2002). What's in a Name? Muhammad Ali and the Politics of Cultural Identity. Culture, Sport, Society, 5(3), 51. https://doi-org.marshall.idm.oclc.org/10.1080/911094214
Gildea, W. (2016, June 7). Before he became Muhammad Ali, Cassius Clay was a kid who got his bike stolen. Retrieved November 15, 2019, from https://www.washingtonpost.com/sports/boxing-ma-wrestling/before-he-became-muhammad-ali-cassius-clay-was-a-kid-who-got-his-bike-stolen/2016/06/07/809b769a-2cd7-11e6-9de3-6e6e7a14000c_story.html.
Image Sources
Gazaway, Charles. "Historical Marker Dedicated at Childhood Home of Muhammad Ali." Https://Www.wave3.Com, 9 May 2012, www.wave3.com/story/18207824/historical-marker-dedicated-at-childhood-home-of-muhammad-ali/.

http://i2.cdn.cnn.com/cnnnext/dam/assets/141013165840-03-muhammad-ali-horizontal-large-gallery.jpg

http://media.oregonlive.com/sports_impact/photo/muhammad-ali-sonny-liston-apjpg-72962f764c2144bb.jpg

https://www.wave3.com/resizer/k6wQymF4EKetFr6EA1HVh-2gCO0=/1200x600/arc-anglerfish-arc2-prod-raycom.s3.amazonaws.com/public/GYBMLPK6BRAM7FGKC6KUBZLC5U.jpg

Additional Information