Redstone Arsenal Visitor's Center, Huntsville, Alabama
Introduction
The U.S. Army established Redstone Arsenal in 1941 as a manufacturing and research facility for chemical weapons. Since that time, the post has served as an active Army installation for training and developing the Army's missile, rocket, and space programs. In 1949, the Huntsville Arsenal, Huntsville Depot, and Redstone Ordnance Plant were combined to make what is now Redstone Arsenal. Army personnel at Redstone Arsenal have also worked closely with NASA on several programs given shared resources and proximity.
Images
The Martin Road Gate in 1962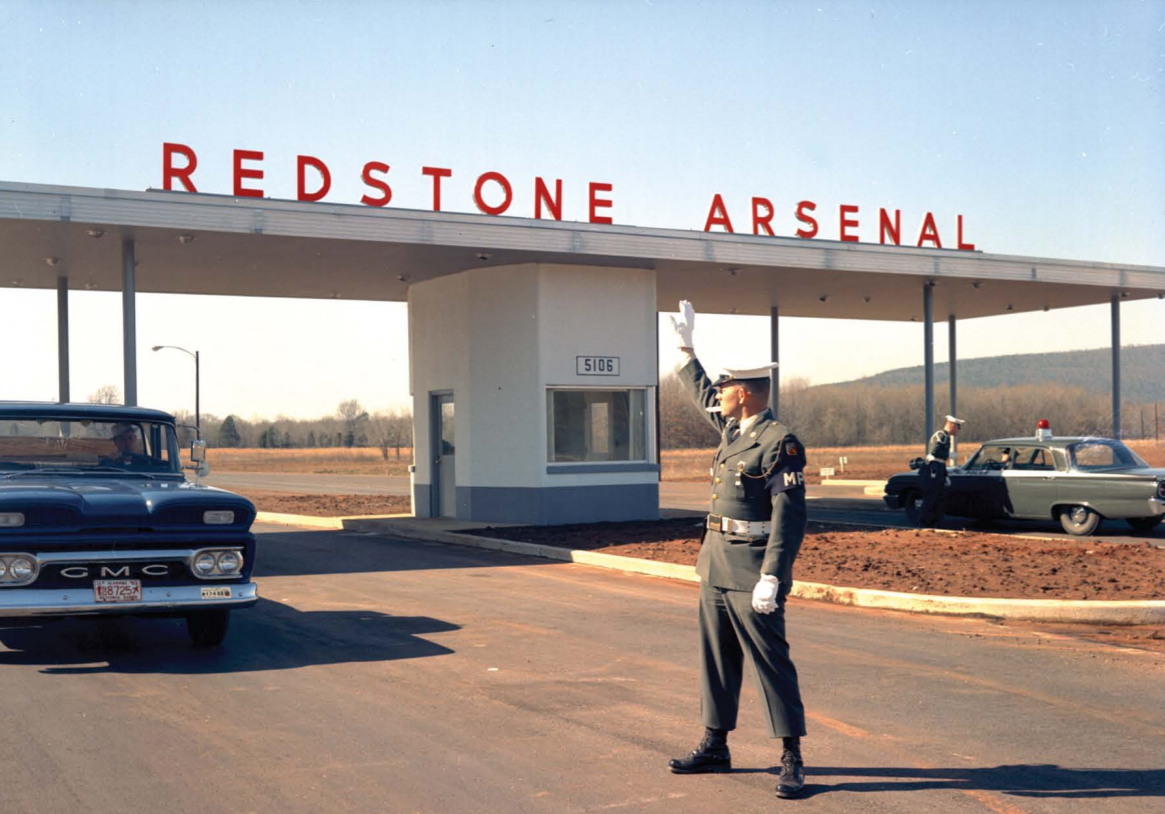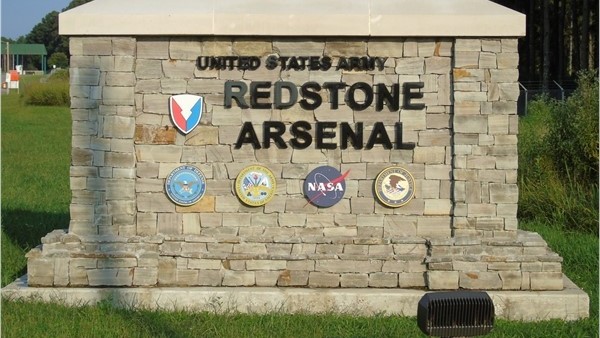 Men and women served as production line workers during World War II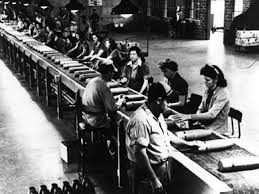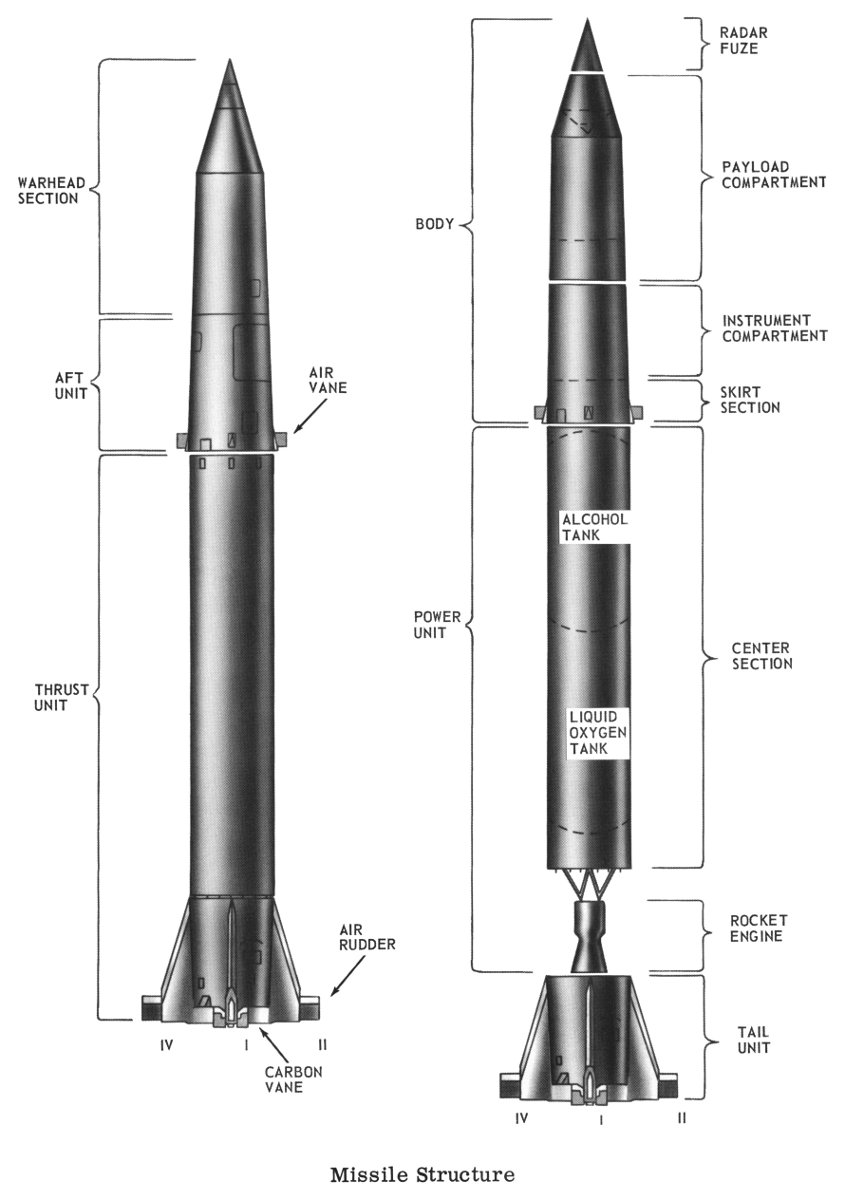 This photo shows Wernher von Braun and other German scientists who were part of Operation Paperclip.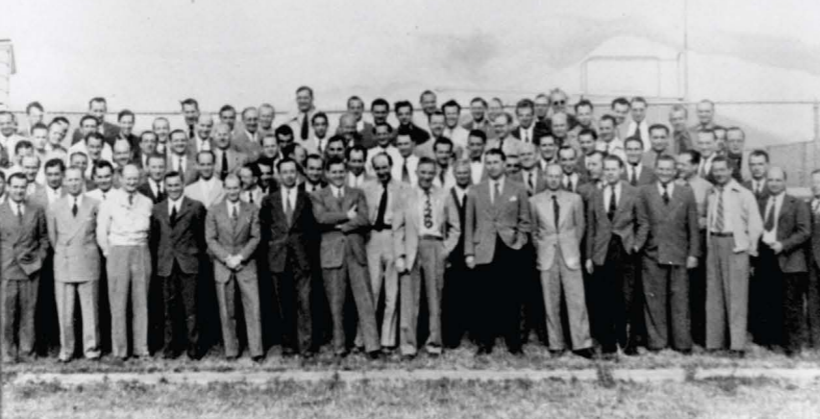 Backstory and Context
Redstone Arsenal was established in 1941 during World War II and is named in reference to the red soil that surrounds the area. During World War II, the military used this base for training. The post has grown to over thirty-eight thousand acres largely owing to the 1949 decision to combine the Huntsville Arsenal, Huntsville Depot, and Redstone Ordnance Plant. In the years that followed, Redstone Arsenal became an ordinance rocket center and chemical manufacturing facility. This base produced chemical weapons such as mustard gas, tear gas, white phosphorous, and lewisite during World War II. Many of these weapons were produced by women who would be collectively known as "Rosies" following the famous image of Rosie the Riveter as a representation of women who held jobs in the defense industry.
During WWII, diverse women and men from the area worked at the arsenal. Women who could sew, knit, or crochet also contributed by helping the Red Cross produce thousands of bandages while others volunteered at the USO, learned basic first aid, salvaged scrap metals, or produced food via gardens. At the arsenal, women assembled and inspected mechanical equipment among other assignments. 
In October 1949, former Nazi rocket scientists who had developed Germany's V-2 rocket, such as Wernher von Braun, were quietly transferred from a U.S. missile testing facility in New Mexico to Redstone Arsenal. The use of Nazi scientists by the U.S. military after World War II was known as Operation Paperclip, a name that referenced the paperclips placed on the dossiers of captured German researchers to signify their unique skillsets and potential value to the military. While at Redstone, these former Nazi engineers worked on a variety of missile guidance systems. 148 German scientists living in Huntsville became U.S. citizens in 1954 after working for the military at Redstone and other installations despite their previous service to Hitler's Nazi regime. Operation Paperclip continues to be a lesser-known aspect of American military history despite offering important moral questions about the ends justifying the means.
From 1956-1958 the Army Ballistic Missile Agency opened at Redstone Arsenal and came under the new command. In 1960, Redstone began working close with NASA and renamed the George C Marshall Space Flight Center. NASA and Redstone built rocket stands and testing facilities together. Redstone has been known for its role within the US-Soviet Space Race as the home to the earliest developed rockets such as Dragon, Jupiter, Nike, and Hellfire, to name a few. In November of 1951, a Nike Ajax missile intercepted and destroyed the first aerial target by a U.S. guided missile. The United States military and NASA concocted the Jupiter C, which was a ballistic missile that was able to travel more than 682 miles altitude and a range of 3,355 miles in September of 1956. 
Redstone became the home to the US Army SMDC (Space and Missile Defense Command), the Missile Defense Agency (MDA), AMRDEC (Aviation and Missile Research Development and Engineering Centre), the US Army Corps of Engineers, the US Army Ordnance Munitions and Electronics Maintenance School (OMEMS), and the US Army Aviation and Missile LCMC (Lifecycle Management Command). Since 1952, OMEMS has graduated more than 224,251 students. Redstone also trains as many as 6,000 soldiers every year, including those who become bomb technicians. The military and NASA use the nearby Redstone Airfield.
Sources
Redstone Arsenal, AL History. (n.d.). In Redstone Arsenal, AL. Retrieved October 4, 2019, from https://www.redstonearsenalhousing.com/history
Redstone Arsenal, Huntsville, Alabama. (n.d.). In Army Technology. Retrieved October 4, 2019, from https://www.army-technology.com/projects/redstonearsenalalaba/
US Army. (2017, April 27). Redstone Arsenal Historical Information. Retrieved October 4, 2019, from https://history.redstone.army.mil/index.html
Boyne, Walter J. "Project Paperclip." Air Force Magazine Online, June 2007.
U.S. Army Materiel Command, "The 75th Anniversary of Redstone Arsenal, 1941-2016" https://www.amc.army.mil/Portals/9/Documents/AMC%20Publications/Historical%20Files/75th%20Anniversary%20of%20Redstone%20Arsenal.pdf
Image Sources
U.S. Army Materiel Command, "The 75th Anniversary of Redstone Arsenal, 1941-2016"

WBHM

Encyclopedia of Alabama

Heroicrelics

U.S. Army Materiel Command, "The 75th Anniversary of Redstone Arsenal, 1941-2016"

Additional Information