Table Bluff Lighthouse
Introduction
As one might assume, the Woodley Island Marina is not the original location of the Table Bluff Lighthouse, which was originally built in 1892 a few miles south of the entrance to Humboldt Bay at what is now Table Bluff County Park. If the lighthouse seems short, that's because it was cut in half before it was relocated here (it was also attached to a keeper's dwelling). It is no longer a navigational aid but does contain a light.
Images
All that remains of the lighthouse is the light tower, which is now located in the Woodley Island Marina.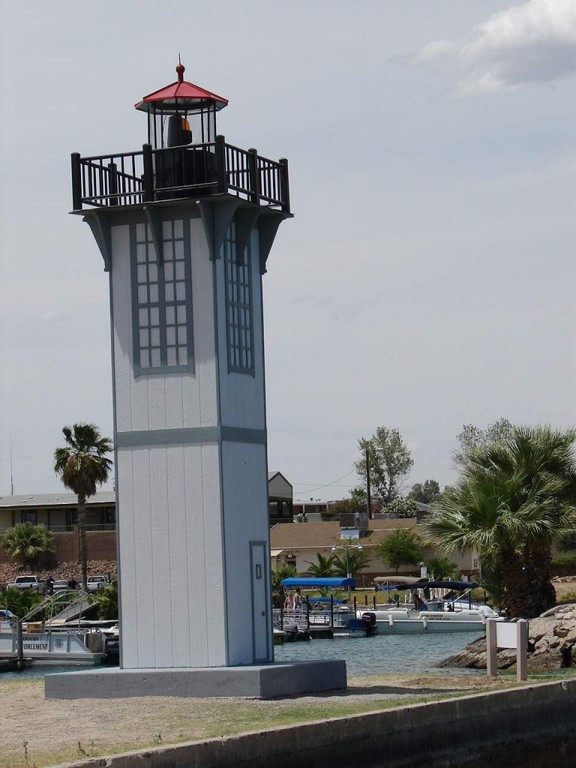 The lighthouse as it appeared in its early years.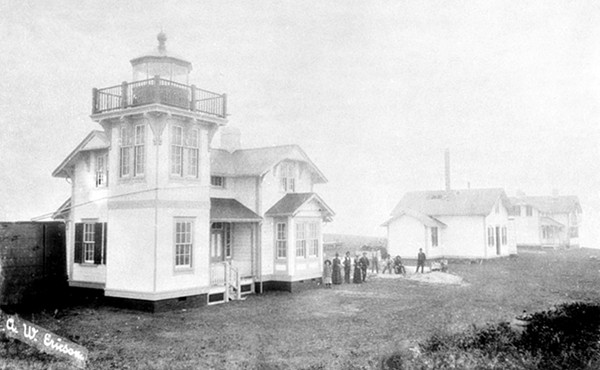 Aerial view from 1944 showing how high the station was, the radio towers, and the Coast Guard structures.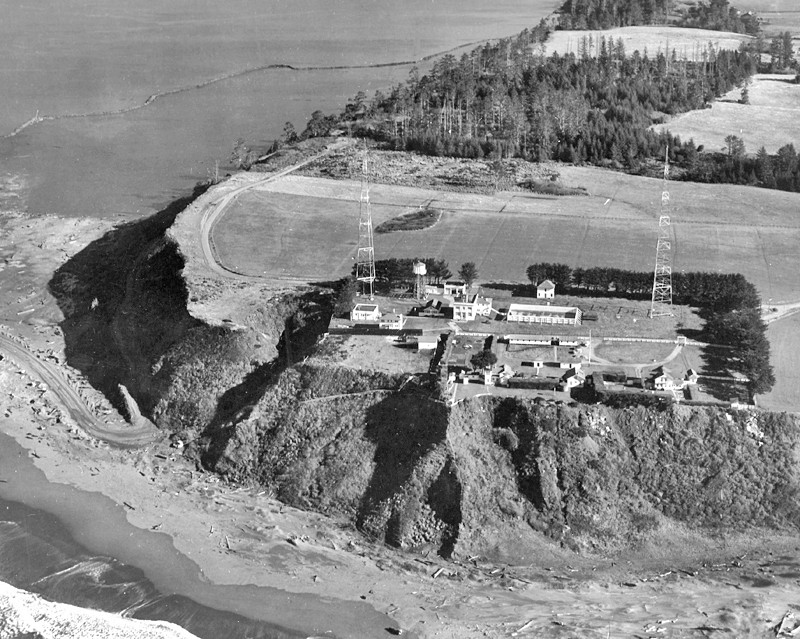 Backstory and Context
Table Bluff Lighthouse was built to help guide ships navigate the rough seas leading up to the bay. As its name indicates, the lighthouse was named after the 165-foot high bluff on which it stood. The lighthouse originally had a fixed, fourth-order Fresnel lens that was first activated on October 31, 1892. The attached dwelling was a Victorian-style home. A revolving fourth-order lens was installed in 1911; the light flashed every five seconds. There was also a steam whistle that blew at regular intervals (the lighthouse keeper would increase the rate when ships were in distress) and a fog signal was installed as well.
The lighthouse's original name was the Humboldt Bay Light Station, but was eventually given its current name when a fog signal was installed at Humboldt Harbor. The lighthouse didn't get electricity until 1935. During World War II, the U.S. Coast Guard used it as a coastal lookout and radio station; barracks and living quarters for married couples were built. The men stationed there regularly patrolled the beach on horseback between Humboldt Bay and the Eel River. After the war ended, the Coast Guard demolished the keeper's dwelling and built a modern house in its place. The light was automated in 1953 and replaced with a new one, and the use of the fog signal stopped as well. The lighthouse was deactivated in 1971 and decommissioned in 1975.
Interestingly, in 1972 the former lighthouse station became a Christian-centered hippie commune led by a pastor named Jim Durkin. They established an organization called Gospel Outreach. Apparently, Gospel Outreach abandoned the site in 1975 but continued to own it until 2005 when they sold it to the State of California. By that time, the light part of the house had already been cut in two in 1987 and moved to the marina. The Bureau of Land Management demolished rest of the structures at the Table Bluff site in 2012.
Sources
"Table Bluff Lighthouse." Lighthouse Club. Accessed October 7, 2019. https://lh-lighthouseclub.org/lighthouses/table-bluff-lighthouse.
"Table Bluff Lighthouse." Lighthouse Friends. Accessed October 7, 2019. https://www.lighthousefriends.com/light.asp?ID=62.
Image Sources
Lighthouse Club

Humboldt State University, via Lighthouse Friends

U.S. Coast Guard, via Lighthouse Friends