Cabell County War of 1812 Memorial
Introduction
This stone memorial on the lawn of the Cabell County Courthouse was dedicated in honor of Cabell County Virginia (now West Virginia) soldiers who served in the War of 1812. The marker was dedicated in 1953 by the West Virginia State Society of the United States Daughters of 1812. No specific names or regiments are listed on the marker, it being for the county as a whole. Virginia bore the bulk of the war with Britain and pay records identify western-Virginians who participated.
Images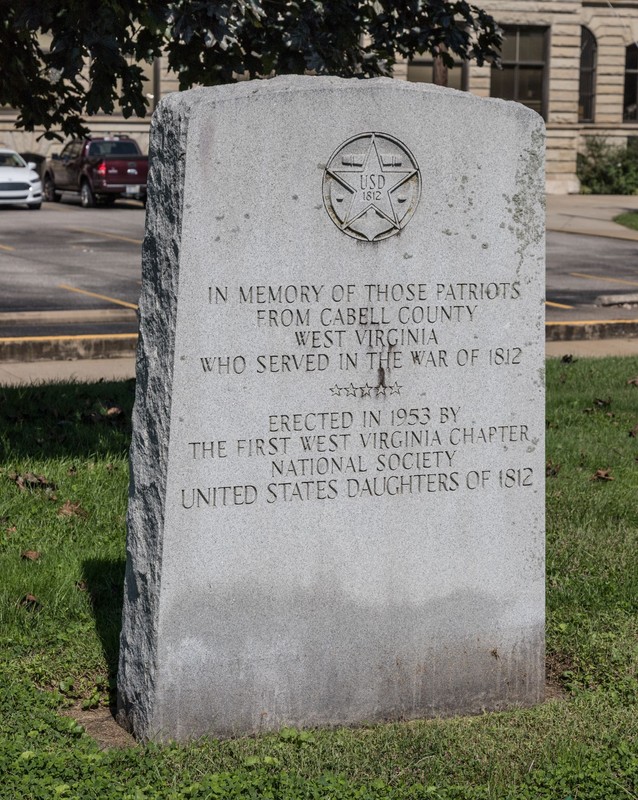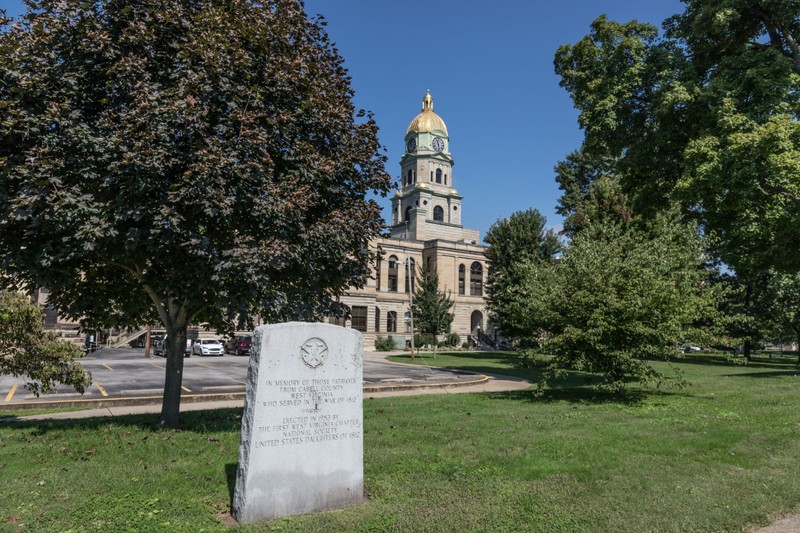 Backstory and Context
During the War of 1812, Western Virginia militia units took part in the Northwest campaigns, and one company of Cabell County troops fought alongside Andrew Jackson at the Battle of New Orleans in 1815. Captain John Bagby's Company of Virginia Militia operated from 1813-14 where, under the command of Lieutenant Colonel Elliott Muse, it participated in several skirmishes in Ross County, Ohio and maintained the roads there for supply. Most men served in the clothes they enlisted in and locals would often times mold musket balls or sew clothing for the soldiers as they came through their towns.
The National Society United States Daughters of 1812 maintain an exclusive membership; one must trace their linear ancestry back to an individual who served in the U.S. military between 1783-1815. Their organization was established on January 8th, 1892 on the 77th anniversary of the battle of New Orleans by Flora Adams Darling. She formed the group following mounting dissatisfaction with her previous patriotic society, the Daughters of the American Revolution.
Sources
Bailey, Kenneth R. "West Virginia National Guard." e-WV: The West Virginia Encyclopedia. 23 November 2015. Web. 06 October 2019.
West Virginia State Society of the United States Daughters of 1812 website, accessed October 5th 2019. https://usdaughters1812.org/sites/west-virginia/.
"War of 1812 Memorial, a War Memorial." , a War Memorial, 23 Dec. 2018, https://www.hmdb.org/m.asp?m=126049.
Pay Rolls of the Militia Entitled to Land Bounty under the Act of Congress of Sept. 28, 1850
Library of Virginia
Image Sources
https://www.hmdb.org/PhotoFullSize.asp?PhotoID=452977

https://www.hmdb.org/PhotoFullSize.asp?PhotoID=452978

Additional Information