Historical Marker: Josiah Gregg Expedition
Introduction
This historical marker, located just outside the Eureka City Hall, commemorates an expedition led by naturalist Josiah Gregg that attempted to find what is now Humboldt Bay (the bay, of course, was already known to the local Indians). Gregg and members of the expedition discovered the bay on December 20, 1849. They passed by this spot on December 26 on their way to camp near an Indian village. The marker is situated at the bottom of a flagpole.
Images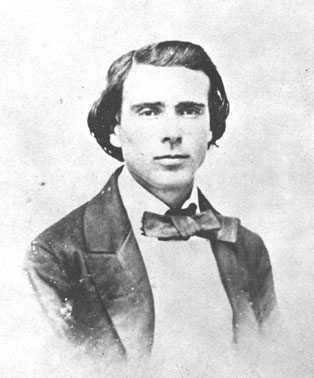 The historical marker is located next to the Eureka City Hall building.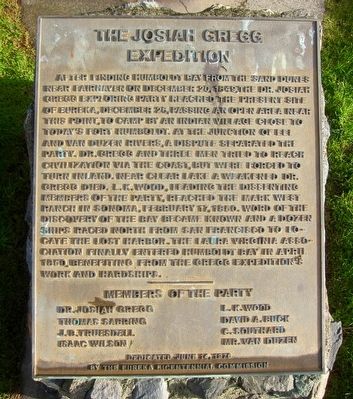 Backstory and Context
Josiah Gregg
Josiah Gregg was born on July 19, 1806 in Overton County, Tennessee. His family moved to Illinois and then Missouri where he spent the rest of his childhood. In 1825, he began studying law and surveying in Independence. However, he had always been sickly and in 1830 his doctors recommended he travel out West. His health did improve and he found a job working for a merchant caravan. For the next several years, he led caravans back and forth from Missouri to Santa Fe, New Mexico. He also made trips to other areas of the Southwest. During these travels, he took notes on the Native American cultures, geology, geography, and flora and fauna he observed. He compiled these notes in a two-volume book he wrote called Commerce of the Prairies published in 1844. He also created what was the most accurate map of the southern plains at the time.
After studying medicine at the University of Louisville for two semesters and briefly working for another wagon caravan, in 1845 Gregg joined the Arkansa Volunteers as an interpreter and unofficial correspondent during the Mexican-American War. His articles, including one that described the Battle of Buena Vista, appeared in western newspapers. Three years later in 1848, Gregg joined a botanical expedition led by a German naturalist into western Mexico and California. He sent specimens he collected to a well-known botanist in St. Louis; 23 of these specimens were eventually recognized by the American Botanical Society.
The Expedition
The year 1848 was highly consequential in American history. Not only did the Mexican-American War end but gold was found in California. As a result, people flocked to California in hopes of striking it rich, including Gregg. By November, he had started to work in mines on the Trinity River. Local Indians there told him about what is now called Humboldt Bay, which was just an eight-day journey to the west over previously unmapped lands. Lured by the prospect of exploring a new territory and hoping to become rich by becoming the first settlers on the bay (if they claimed the land first, they could make a lot of money from the prospective miners who would seek a new way to get to the mines on the Trinity River).
Gregg picked November 5th for the expedition to start. Unfortunately, snow had begun to fall and the two Indian guides who agreed to lead the expedition refused to go, believing it was too dangerous. Gregg and seven other men, out of the original 24, decided to go anyway. What was meant to last just eight days stretched on for weeks. The men suffered under terrible weather (snow, rain, and cold) and food was hard to find. The mountainous terrain was very difficult as well. They did encounter Indians, some of whom did help them. Travel was slowed even more because Gregg constantly kept taking location measurements. Finally, after several weeks of toil and hunger, the men arrived at Humboldt Bay.
After feasting on clams give to them from Indians they encountered Indians, the group split up. Gregg's group tried to move south along the coast but was forced inland. According to how the story goes, on February 25, 1850, while riding his horse near what is now Clear Lake, he fell off and died a few hours later. It is not certain how he in fact died but it seems it was a combination of exhaustion, hunger, and exposure to bad weather. His companions apparently buried him there. The men did make it back south and news of the bay spread fast. It didn't take long for bay to be settled.
Sources
Anderson, H. Allen. "Gregg, Josiah." Handbook of Texas Online. June 15, 2010. https://tshaonline.org/handbook/online/articles/fgr51.
Evans, Barry. "Mad River Lore." North Coast Journal of Politics, People & Art. March 12, 2009. https://www.northcoastjournal.com/humboldt/mad-river-lore/Content?oid=2129126.
"The Josiah Gregg Expedition." The Historical Marker Database. Accessed December 4, 2019. https://www.hmdb.org/marker.asp?marker=91923.
Levy, Sharon. "The Ill-Fated Expedition of a 19th-Century Scientist to Explore the California Wilderness." December 17, 2018. https://www.smithsonianmag.com/science-nature/ill-fated-expedition-19th-century-scientist-explore-california-wilderness-180971048.
Image Sources
Wikimedia Commons

The Historical Marker Database

Additional Information