Cascade Theatre
Introduction
Designed by San Francisco-based architect J. Lloyd Conrich, the Cascade Theatre is the best example of Art Deco architecture in Redding. The historic theater was built in 1935 and remains an important landmark for the city. The front facade of the building features a large marquee and vertical neon sign, as well as a relief frieze across the top that depicts figures working in various California industries. Cascade Theatre was added to the National Register of Historic Places in 2002.
Images
The entrance to Cascade Theatre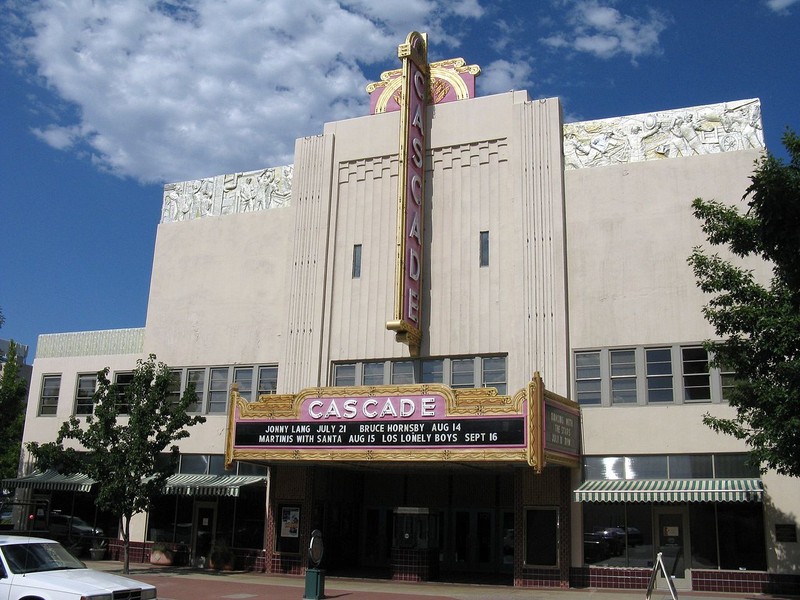 Backstory and Context
Cascade Theatre was built by Lebanese immigrant Michael Naify (1886-1975) and his brother, James (it is unclear when he was born and died). They immigrated to the United States from Lebanon in the early 1900s and started a linen importing business in Atlantic City, New Jersey. During the Panama-Pacific International Exposition (world's fair) in San Francisco in 1915, Michael and James set up a booth for business, which happened to be located across the from a nickelodeon (the first kind of indoor movie theaters that cost a nickel to enter). After seeing how many people were going into the nickelodeon, the brothers decided to switch businesses. Within a few years, they owned and operated a small chain of theaters and eventually bought a company called T. & D. Jr., Enterprises. They retained the name and grew it to one of the largest theater companies on the Pacific Coast.
The Cascade Theatre officially opened on Friday, August 9, 1935. Opening night showings included "Cookie Carnival," a Walt Disney Silly Symphony in Technicolor; "Telephone Blues," specialty performers in a program of singing and dancing; "Thicker Than Water," a Laurel & Hardy comedy; dedication speeches by State Senator J. B. McColl, Mayor William Menzel, and Harry Thompson, president of the Redding Chamber of Commerce; and the feature film, Jane Withers in Ginger.
Sources
"History of the Cascade Theatre." Cascade Theatre. Accessed September 27, 2010. https://cascadetheatre.org.
Kramer M.S., George. "Cascade Theatre." National Park Service - National Register of Historic Places Nomination Form. https://npgallery.nps.gov/NRHP/GetAsset/NRHP/01001459_text.
Scripps Howard News Service. "Financiers Bow Out of Movie Theater Chain." Nashua Telegraph, July 15, 1986, p. 10. Retrieved September 28, 2019. https://news.google.com/newspapers?id=opwrAAAAIBAJ&sjid=D_wFAAAAIBAJ&pg=5035,4135058&dq=robert+naify&hl=en.
Zinko, Carolyne. "Robert Naify, investor whose family built theater empire, dies." San Francisco Chronicle. April 9, 2016. https://www.sfchronicle.com/bayarea/article/Robert-Naify-investor-whose-family-built-theater-7238160.php.
Additional Information