Farrington House, Concord New Hampshire
Introduction
This Greek Revival home was built in 1844 and was part of a trend in American architecture that saw numerous federal buildings and homes designed with elements of Grecian and Roman influence. In fact, these elements became so prominent that the style of American architecture became known as the National Style. The house appears to be a single dwelling, but it is actually a duplex with one entrance. The two dwellings were originally built as homes for the families of two brothers, Samuel and Philip Farrington.
Images
Farrington House, Concord New Hampshire, built in 1844 (Greek Revival Style)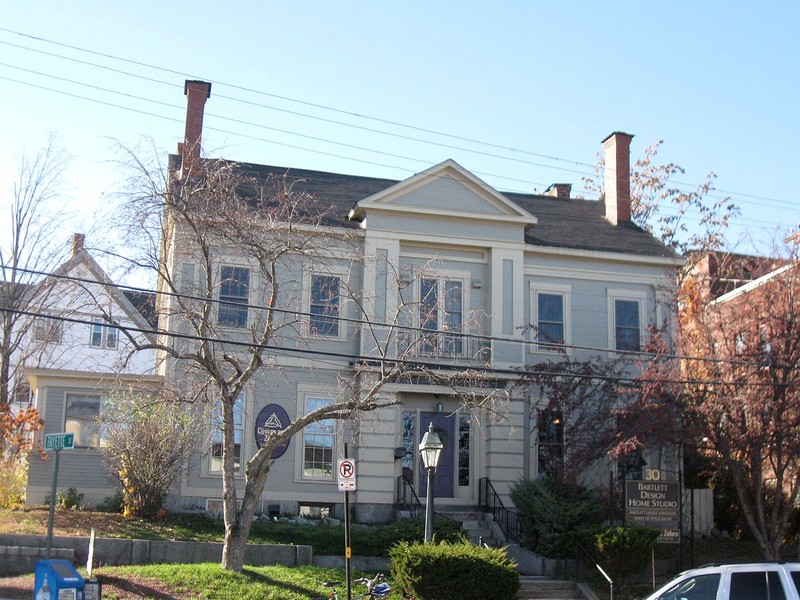 Backstory and Context
The Farrington House, constructed in 1844, enjoys Greek Revival design, an immensely popular choice for the era, and stands as a reminder of homes typically enjoyed by wealthy residents in the mid-nineteenth century.  
Samuel and Philip Farrington, brothers and successful merchants, had the home built in 1844 at a time when the southern end of Concord enjoyed increased business and residential development. And, although it appears on the outside to exist as a single-home dwelling, it is, in fact, a duplex; the single door opens to a central hall with parallel curving staircases. As well, one will find two entrances into the parlors of each unit. In 1866, the brothers sold the house to Joseph S. Lund, a prosperous farmer, boatbuilder, and entrepreneur. 
The Greek-Revival style speaks to a national trend in looking towards Rome and Greece for inspiration, including in architecture. After the American Revolution and especially the War of 1812, Americans consistently rejected British influences and Greek and Roman models for democracy and republicanism appealed to the young nation. As well, many young architects and planners, many of whom enjoyed training in the Neoclassical style, shifted their focus to Grecian and Roman forms and philosophies. In truth, the genesis of most Greek Revival designs arose in Britain and continental Europe, but no country embraced the style more than the United States during the early and mid-nineteenth century. Indeed, the Greek Revival style in the U.S. grew to become known as "The National Style." 
Sources
Downs, Joseph. "The Greek Revival in the United States." The Metropolitan Museum of Art Bulletin 2, no. 5 (1944): 173-76.
Fernald, Bruch, "Nomination Form: Farrington House." National Register of Historic Places. nps.gov. March 9, 1982. https://npgallery.nps.gov/NRHP/GetAsset/NRHP/82001858_text
Lyford, James O., ed. "History of Concord, New Hampshire From the Original Grant in Seventeen Hundred and Twenty-Five to the Opening of the Twentieth Century." City History Commission. Concord, New Hampshire. Accessed September 16, 2019. http://concordnh.gov/1047/Lyfords-History-of-Concord.
Paradis, Tom. "Greek Revival." Architectural Styles of America and Europe. architecturalstyles.org. Accessed September 27, 2019. https://architecturestyles.org/greek-revival/
Image Sources
By Ken Gallager - Own work, CC BY-SA 3.0, https://commons.wikimedia.org/w/index.php?curid=12072283

Additional Information