The Congregational Church of Mount Dora
Introduction
The Congregational Church of Mount Dora was established in 1883. It was Mr. and Mrs. Ross Tremain who were responsible for the upbringing of the church along with six additional members. The church was built on land that was donated by John and Annie Donnelly, hence as to why the street on which the church lies upon is Donnelly Street. The church offers services every Sunday at 11:00 am and one may visit their website at: www.congregationalchurchmtdora.org/
Images
The Congregational Church of Mount Dora is shown on a postcard when Donnelly Street was just a dirt trail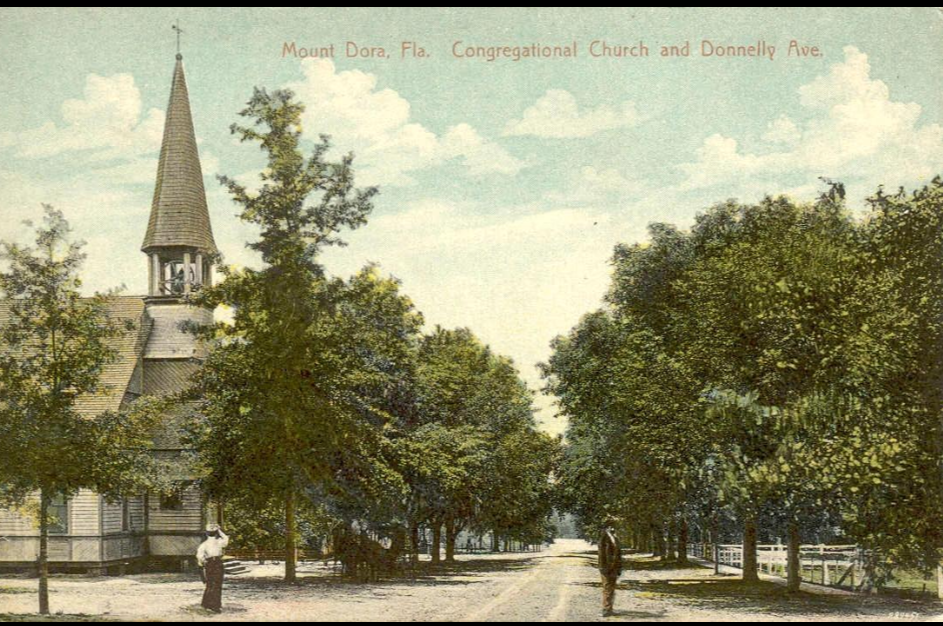 A photo from 1887 shows The Congregational Church of Mount Dora before Donnelly Street was built in downtown Mount Dora.
The Congregational Church of Mount Dora, 650 N. Donnelly Street, is raising money to repair the original bell tower and steeple that was built in 1886.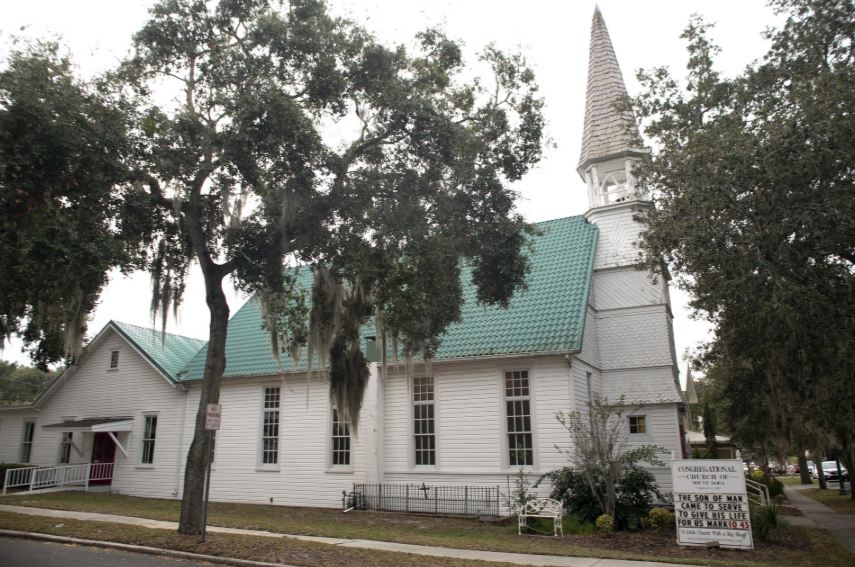 Backstory and Context
The year was 1883 just around Christmas time, and a small gathering was happening in the school house that belonged to the quaint town of Mount Dora, Florida. What was this meeting about? Mr. and Mrs. Ross Tremain were busy planning and organizing the founding of the Congregational Church society. They, along with other members such as Abram Spofford, Ela Risley, Esther Freese, Charles Griffeth and many more, ended up becoming the original members of the Congregational Church and Society. As Christmas passed and the year was coming to a close, Mount Dora had successfully become one of the six Congregational churches within Florida. This is where the story began.
Before the story goes any further, one must know what exactly congregationalism means. To put it simply, around the sixteenth and seventeenth century, it is a Christian movement arose with its origins all the way in England. This movement was Congregationalism "emphasizes the right and responsibility of each properly organized congregation to determine its own affairs, without having to submit these decisions to the judgment of any higher human authority..." (Daniel Jenkins, Congregationalism). Many Congregationalists have adopted a liberal mindset in the social and theological spectrum and engage in the ecumenical movement.
Aside from learning about Congregationalism, one should also take a look and view the history of Mount Dora. Ross Tremain and Captain John Philip Donnelly came to the area and they were considered important figures to the settlement's vitality. Tremain was the first postmaster of the town. The town was unofficially given the name Royellou by Tremain, which were his children names – Roy, Ella, and Louis - combined into one. However, the name did not last long because, in 1883, they had changed the name to what we call it today – Mount Dora – to represent that the "settlement rests upon a plateau one hundred and eighty four feet above sea level" (History of Mount Dora) and this was considered to be an odd feature to Florida. Tremain wasn't only just responsible for the church, but for a large part of Mount Dora. He had a "large part in the founding of Rollin College in 1885" (Renee Garrison, The Congregational Church of Mount Dora).
The church was a "white-framed building ... on the corner of Donnelly Street and Seventh Avenue" (Reed). Around the church was a simple sand trail along with a few large pine trees that surrounded the perimeter, acting as the church's only neighbor. When services were held, they would originally be held in a rather tight space – at only fifteen feet by thirty feet – that was considered a school house. It didn't take long for them to want to expand upon their extremely claustrophobic space. Instead of the compact school house, they had moved onto a "comfortable hall over a store on the southeast corner of Donnelly Street and East Fourth Avenue" (Reed) by 1886.
In 1887, construction for the church had begun, and in just four months, it was open for business. During construction, The Ladies Aid Society – formed only just two weeks after the congregation was established – contributed about two hundred and sixty seven dollars. The pulpit platform was about teen feet deep with a kerosene lamp hanging over it. On a wall, the words REDEEMING LOVE were written at a large scale. This is to attribute Tremain who was the founder, father, and furtherer of the church.
By the year 1894, the church had about twenty three preachers during the first twenty seven years of its existence. The majority of the preachers came from up North, and these would stay for only a few months or stay for the entire winter in Florida. One only out of the twenty three preachers served for as long as three seasons. Also, within the same year, Young People's Society of Christian Endeavor established a project to put down concrete slabs to make "a permanent walk from the church steps to the street" (Reed). The slabs from 1894 are still there to this day.
Around 1912, new developments came to the church, and they had finally added electric lighting into the church. Just four years later, a chapel was attached to the church. By building this chapel, a kitchen along with other quarters. With the new installations and upgrades to the church, around 1929 in the winter, former President and Mrs. Calvin Collidge attended the church and stayed for a few weeks at the Lakeside Inn. The church today still offers services on Sundays at 11:00 am and one can visit their website at: www.congregationalchurchmtdora.org/
Sources
"History of Mount Dora: Mount Dora, FL – Official Website." History of Mount Dora | Mount
Dora, FL – Official Website, http://www.cityofmountdora.com/317/History-of-Mount-Dora.
Jenkins, Daniel T. "Congregationalism." Encyclopædia Britannica, Encyclopædia Britannica,
Inc., https://www.britannica.com/topic/Congregationalism.
"News Articles & Community Interest." The Congregational Church of Mount Dora,
https://www.congregationalchurchmtdora.org/news-articles--community-interest.html.
Reed, Rick. "Now and Then: A look at the early day of Congregational Church of Mount Dora."
Daily Commercial. Daily Commercial, 5 Feb. 2019, https://www.dailycommercial.com/news/20190205/now-and-then-look-at-early-days-of-congregational-church-of-mount-dora.