Joyland Amusement Park
Introduction
Opened by Lester Ottaway in 1949, Joyland Amusement Park, has always been a star attraction in Wichita, Kansas. This 40-acre amusement park was officially opened during a boom in the aircraft industry. With a rapid increase of population in Wichita the amusement park was some much needed fun. The amusement park featured many rides including; the Locomotive, a Ferris Wheel, Dark Ride (later called the Wacky Shack,) Dodgem Bumper Cars and a Carousel. The park was ran by Ottaway and his sons, Herb and Harold, until Ottaway's passing in the mid-1950s.
Images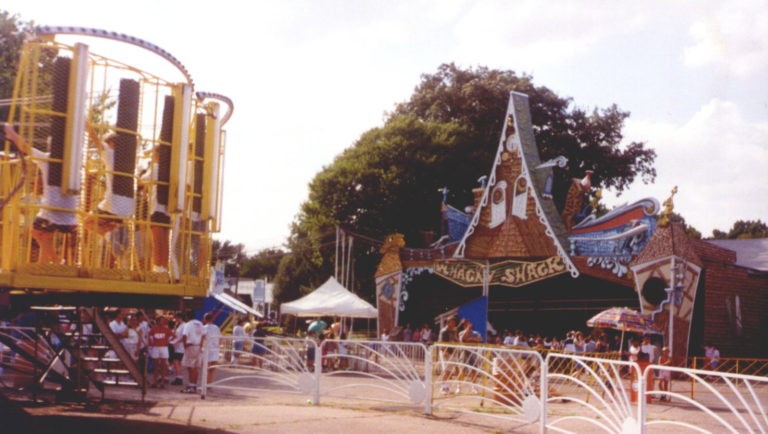 Backstory and Context
On March 25th, 1949 an article is released saying that a new amusement park is opening, and it's going to have a roller coaster built from 250,000 feet of lumber. This park would be 40-acres and be started by Lester Ottaway and his two sons, Herb and Harold. This will be the largest location of Joyland and the third location to exist. The park is set to open May 30th, 1949 on Memorial Day, but that will not happen because the park will not have its biggest roller coaster. The opening is delayed once again in June 1949 due to two whole weeks of bad weather and the park workers are still trying to finish the miniature train. June 13th, 1949, the 1,200 car parking lot is full and the mayor, William Salome, cuts the tape on the roller coaster. There are plans to build a dance pavilion, swimming pool, golf course and baseball diamond. The park runs smoothly for a year under direction of the Ottaway's. April of 1950 leads to new management after the hiring of 17 year old, who later married Stanley Nelson, Army veteran, who she then marries in December of 1950.
Sources
Joyland Park, the Rise, Fall, and Ruin of a great little amusement park in Wichita, KS, abandonedexplorers.com. Accessed September 18th 2019. https://abandonedexplorers.com/explorers/adam-the-woo/joyland-park/.
Lefler, Dion. kansas.com. July 9th 2019. Accessed September 18th 2019. https://www.kansas.com/news/politics-government/article232441102.html.
Morrison, Olivia. The comprehensive timeline for Wichita's Joyland, kansas.com. April 20th 2017. Accessed October 17th 2019. https://www.kansas.com/news/local/article145805939.html.
Additional Information