Youngstown YMCA Headquarters Building
Introduction
The Youngstown Y.M.C.A has been an integral part of Youngstown's history since its inception. The Headquarters was built in 1912 in order to house the growing organization. The building kept expanding through the decades to get to its current size. The Youngstown Y.M.C.A currently serves around 19,000 members and continues its mission of serving the Youngstown area.
Images
Y.M.C.A as it currently stands.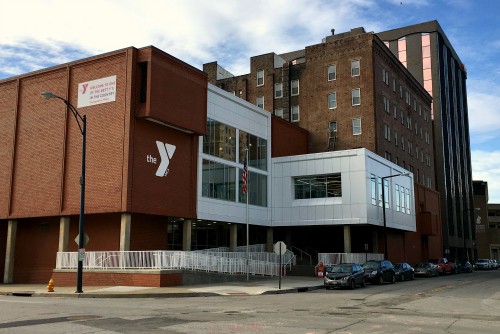 Backstory and Context
The Youngstown Y.M.C.A Building is just one part of a larger picture. The building represents the ingrained influence the organization has had on the Youngstown area as a whole. The Y.M.C.A gained its first foothold into the city in 1872, when its first headquarters was established. The original headquarters of the Y.M.C.A was located in its founders, Dr. R.D Gibson's parents' house. From these humble beginnings, the Youngstown branch of the Y.M.C.A quickly expanded.
The headquarters that currently houses the Y.M.C.A was constructed in 1912. Since 1912 the building has undergone many changes; for instance, it was evident after the original construction that there was a need for more dormitory space. In 1916 an industrialist named Robert Bentley donated $60,000 for the addition of a dormitory to the original building.
The Y.M.C.A was pivotal in the foundation of many institutions that still exist today in Youngstown. The Y.M.C.A founded the Youngstown Law School in a wing of Y.M.C.A.; this eventually evolved into what today is known as Youngstown State University. Another Youngstown staple that evolved out of the Y.M.C.A was the local radio station of W.K.B.N. The station got its start in the third floor of the Y.M.C.A.
Sources
. History, YMCAO.org. Accessed September 21st 2019. https://www.ymcayo.org/history.
Williams , Judy. YMCA Building . Ohio Historic Inventory . Published July 23rd 1986. Ohio Historic Preservation Office .