Fort Pocahontas
Introduction
Fort Pocahontas located in Charles City, VA is the home of the Battle of Wilson's Landing (or Wilson's Wharf) where 1,400 United States Colored Troops (USCT) held off 2,500 Confederate cavalrymen. It was the first instance of African-American soldiers fighting without the command and aid of white soldiers. It dispelled the general idea of the time that African-American soldiers could not, or would not, fight valiantly without white men present. Fort Pocahontas has a walking tour of the "earthen bastions" built partially by the USCT for defense and the historic Binford House that features artifacts unearthed by the College of William and Mary pertaining to the battle.
Images
A USCT similar to the one at Fort Pocahontas.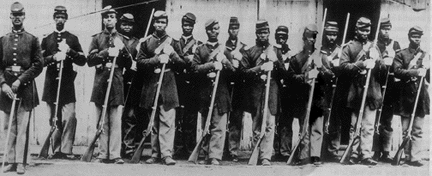 A similar structure to the bastions found at Fort Pocahontas.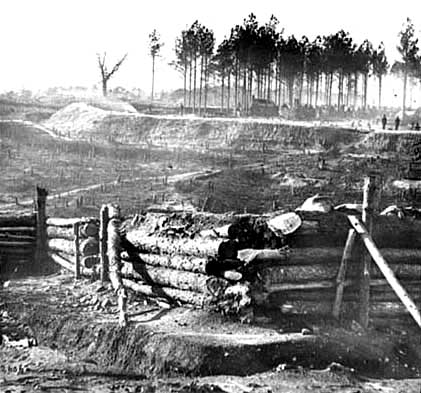 Backstory and Context
The Battle of Wilson's Wharf (Fort Pocahontas) began May 24, 1864. Around 1,400 Union troops from the 1st and 10th Regiments of the United State Colored Troops (USCT) were stationed at Fort Pocahontas. They had only fortified 1/3 of the fort with earth bastions, or walls built in conjunction with the lay of the land that are still 8' wide and 5'-6' deep. Though Fort Pocahontas was outmanned and had yet to finish their fortifications they managed to ward of 2,500 Cavalry led by Robert E. Lee's nephew, General Fitzhugh Lee.
At noon the Calvary attacked the center of Fort Pocahontas. This attack proved flat and Lee ordered his men to focus their attack on the Eastern side of the fort and several skirmishes erupted. During this time General Lee sent Union General Edward Augustes Wild (one of the few white men) a demand for the fort's surrender. Despite being outmanned, Wild quickly declined the offer. With the help of two cannons and two gunships on the nearby James River, the USCT soundly defeated General Lee's Calvalry.
At the time of the battle Fort Pocahontas was home to not only the USCT, but it also housed runaway slaves that had sought the protection of the Federals. They were living side-by-side at the time and the Union was using a farmhouse for its headquarters, the Wilson farmstead. The Wilson farmstead, believed to have been built in 1740, has only remnants today, but in 2000 the Binford House of Southampton County was relocated to Fort Pocahontas as a suitable historical substitute. It is approximately the same age and design of the original home and serves as the visitor's center.
Sources
http://www.fortpocahontas.org/ http://www.Virginia.org/Listings/HistoricSites/FortPocahontasatWilsonsWharf/
Additional Information