White Thing/Sheepsquatch Sighting
Introduction
Throughout the twentieth century, a cluster of reported sightings of a cryptid specific to West Virginia known variously as the "White Thing" or "Sheepsquatch" have occurred on a mountain range that traverses Monongalia and Marion Counties known as Morgan's Ridge. Those who have reported these sightings describe a beast of varying sizes with white shaggy fur and long fangs that emits a chilling scream and alternates between moving on two legs and four. Though a number of individuals have claimed they saw this monster over the years the most well-documented case is that of coal miner Frank Kozul in 1929, who reported seeing the beast while walking to his home in Fairmont one night in July through the woods on Morgan's Ridge somewhere in this vicinity. Tales like Kozul's wove themselves into the folklore of the area, convincing many of their veracity despite some local residents later admitting to banging on neighbors' houses and screeching to spread stories of the monster as teenagers. Regardless, anyone interested in trying to catch their own glimpse of the monster may follow in Kozul's footsteps along what is now US 19.
Images
Artist's rendering of the White Thing/Sheepsquatch.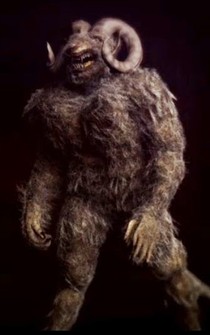 Frank Kozul's town of Fairmont circa 1925, a few years before Kozul's alleged encounter with the White Thing.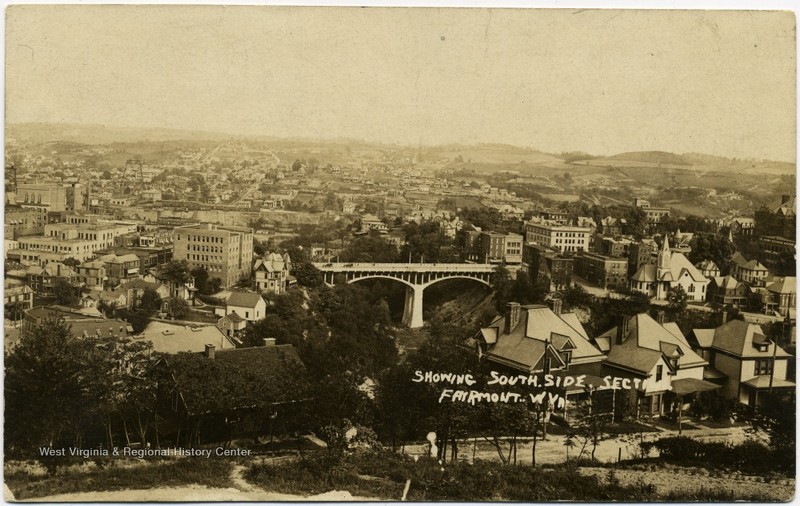 The Jordan 93 mine in 1953, a few decades after Frank Kozul worked there.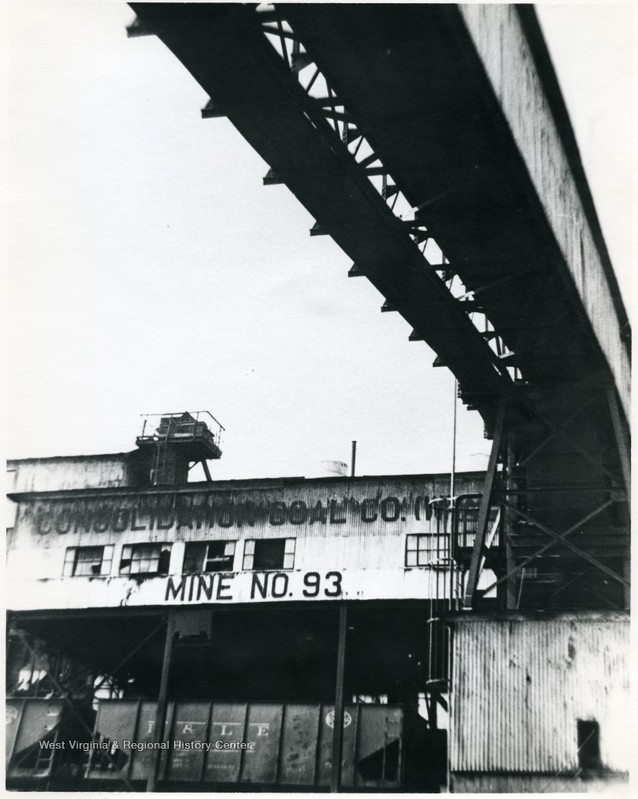 Backstory and Context
The area of Morgan's Ridge where most of the "White Thing" sightings occurred was one of the earliest sites of coal mine development in the region that became West Virginia. The first coal mining operation west of the Allegheny Mountains was developed near Fairmont by James O. Watson in 1852, and by the turn of the next century the same town was the leading producer of coal in the new state of West Virginia. Coal mines appeared throughout Marion County during this period as part of the Fairmont Coal Field, a seam of coal that also ran through Monongalia, Harrison, Preston, Barbour, and Taylor Counties as well. These new mines needed more labor than local workforces could provide, and the wave of immigrants arriving from eastern and southern Europe provided it. Many of the workers in the coal mines of Marion County hailed from countries like, Italy, Poland, and Hungary.
Frank Kozul was one such worker. Born in 1893 in the Croatian province of Dalmatia, Kozul arrived to the United States in 1914. At the time of his migration to North America, Dalmatia was torn by rival factions on the question of national independence. Prior to World War I the province was controlled by the Austro-Hungarian Empire, but a considerable portion of the population favored the establishment of a separate state for ethnic Croatians. To complicate matters, the neighboring country of Italy had its own designs on Dalmatia. As with the question of Serbian independence, the question of Croatia and Dalmatia's future culminated in the violence of the First World War. After Serbian nationalist Gavrilo Princip assassinated the Austrian Archduke Franz Ferdinand in 1914 and set in motion the events that led to World War I, Italy sided against Austria in the hopes of gaining control of Dalmatia. With war on the horizon for his homeland, Kozul pulled up stakes and crossed the Atlantic Ocean. By 1920 he was living in a boardinghouse in Benwood, West Virginia, but within a few years he had relocated to Fairmont where he met and married Beatrice Dukich, moved into her family home, and started his family. It was around that time that he also began working at the Consolidated Coal Company's Jordan 93 mine just north of Rivesville, West Virginia.
One night in July of 1929, two years after his daughter's birth and the same year as his son's, Kozul ended an eleven-hour shift at the Jordan 93 mine and began his walk home. It was a six-and-a-half-mile walk and would take over two hours to complete, so Kozul chose to avoid the unshaded road in favor of a "shortcut" through the woods on Morgan's Ridge. Partway through his trek, he encountered a beast about the size of a large dog with white hair, a bushy tail, and sharp teeth. Before he could react, the animal pounced on him, and though he swung at it with his lunchbox he couldn't make contact. Kozul attempted to escape the creature by running away, but it continued to attack. As he reached the outskirts of a nearby cemetery, however, the attacks ceased and the animal disappeared. Looking himself over Kozul was astonished to discover he had no injuries from the attack, in fact had no marks of the incident whatsoever. He rushed home to a sleepless night, and never took the same shortcut home from the mine again.
Kozul's story, recounted decades later by his daughter, paralleled other sightings of the "White Thing" or "Sheepsquatch" along Morgan's Ridge. Such tales describe a creature that tears apart other animals (particularly livestock like sheep, hence its nickname) but leaves no mark on human beings. Hunters, farmers, and travelers alike have claimed they were attacked by or saw a large white beast with an eerie scream at various times throughout the twentieth century. Such accounts have become a well-established pillar of West Virginia's folklore, one more story that hints at the mysteries still hidden in the deeper reaches of Appalachia. While many believe such stories, the area's teenagers are apparently not among them. Hearing the earliest stories of "White Thing" encounters, they apparently ran through the countryside of Marion County at night banging on the outside of houses and shrieking to make their neighbors believe in the monster's existence. At the height of the sightings in the 1920s and '30s, it no doubt spread fear and confusion. Decades later, when the youths involved finally admitted their part, it was evidently cause for considerable amusement. Whether you believe the legend or not, however, the hunt for the "Sheepsquatch" can continue today along Kozul's route home on US 19.
Sources
Census Place: Fairmont, Marion, West Virginia; Page: 29A; Enumeration District: 0007; FHL microfilm: 2342276, Fifteenth Census of the United States, 1930. Government Printing Office, Washington, D.C., 1931.
Guiley, Rosemary. Monsters of West Virginia: Mysterious Creatures in the Mountain State. Mechanicsburg, PA: Stackpole Books, 2012.
McAteer, J. Davitt. Monongah: the Tragic Story of the 1907 Monongah Mine Disaster, the Worst Industrial Accident in U.S. History. Morgantown: West Virginia University Press, 2014.
McCoy, Kurt B. White Things: West Virginias Weird White Monsters. Morgantown, WV: Ogua Books, 2008.
Tanner, Marcus. Croatia: A Nation Forged in War. New Haven: Yale University Press, 2010.
Image Sources
Marion County CVB

West Virginia and Regional History Center

West Virginia and Regional History Center

Additional Information