Youngstown Masonic Temple
Introduction
Youngstown's Masonic Temple was built in 1910 to act as a headquarters to hold all the various facets of the fraternal organization. The building cost $250,000 to construct and it stood as a symbol for the masonic order in Youngstown during the city's rapid growth in the early 20th century. The Masonic order in Youngstown was one of the first fraternal organizations in the city and by 1938, boasted a membership of 4,000 with weekly meetings being held in the Youngstown Temple. Reflecting both the declining population of the city and the fortunes of fraternal organizations in the late 20th and early 21st century, the building closed in 2016 due to shrinking membership and related financial concerns.
Images
The Masonic Temple as it currently stands.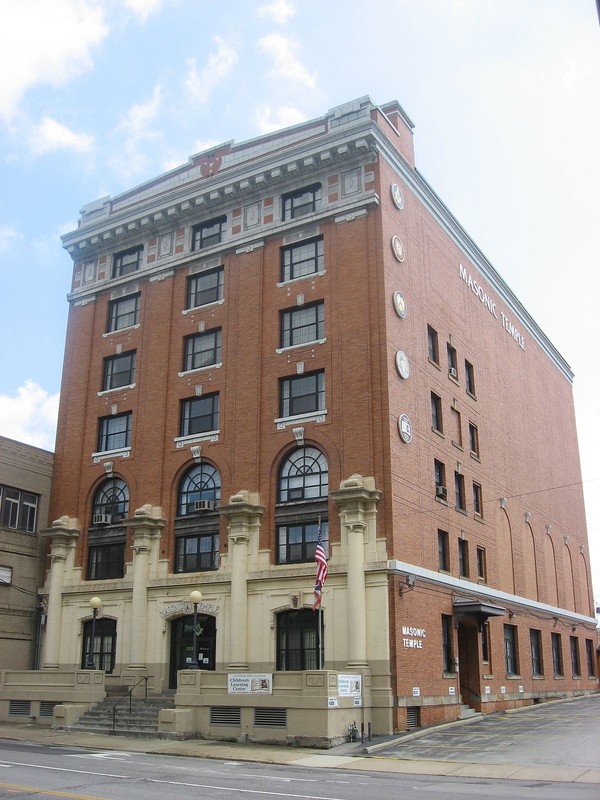 Backstory and Context
The Masonic Temple in Youngstown, Ohio, stands as a symbol of the influence the origination had on early Youngstown. The building was designed by architect A.L Thayer and completed construction in 1910 at a final cost of 250,000 dollars. The Free Masons were the first fraternal organization that inhabited the Youngstown area. Beginning in Canfield, Ohio, a Blue Lodge opened in 1813.
The Masonic Order slowly grew in the surrounding area, steadily increasing membership throughout the decades. By the time 1938 rolled around, the Youngstown area was home to 22 separate lodges and approximately 4,000 various members. The downtown Masonic Temple became a hub for these various temples, holding ceremonies every night of the week.
The membership of the Youngstown Masons slowly decreased as Youngstown's population declined along with interest in fraternal organizations among modern Americans. The Youngstown Masonic Temple closed its doors on June 30th, 2016. The leaders at the time cited diminishing numbers of members as well as the cost of maintaining the old building as reasons for the closure.
Sources
Williams , Judy . Masonic Temple Nomination Form. Ohio Historic Inventory Form. Published July 26th 1986. Ohio Historical Society .
. "Masonic Temple to close June 30th." The Vindicator (Youngstwon) January 19th 2016. .