Plaza Theatre
Introduction
Designed by Dallas-based architect W. Scott Dunne in the Spanish Colonial style, the Plaza Theatre has been one of El-Paso's most popular landmarks since it opened in 1930. It is part of a performing arts center that also features a 200-seat theater. The interior of the main theater, the Kendall Kidd Performance Hall, is what makes the Plaza so popular because it gives patrons the illusion of being outside in a plaza surrounded by buildings. The side walls feature terraces above arched passageways, large plants placed along the walls, tile roofs, and a ceiling that looks like the night sky. The theater also features mosaic tiled floors, intricately painted ceilings, and decorative metal railings, balconies, and light fixtures that reflect the Spanish theme. The Plaza was added to the National Register of Historic Places in 1987.
Images
The main entrance to the Plaza.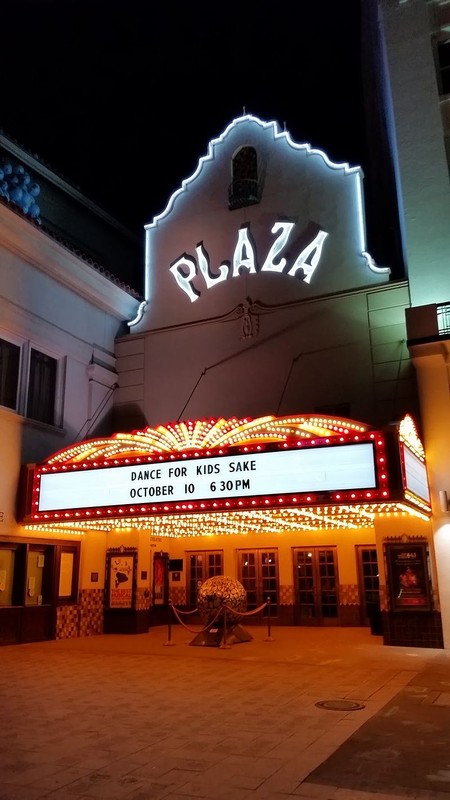 The main theater hall features 2,050 seats.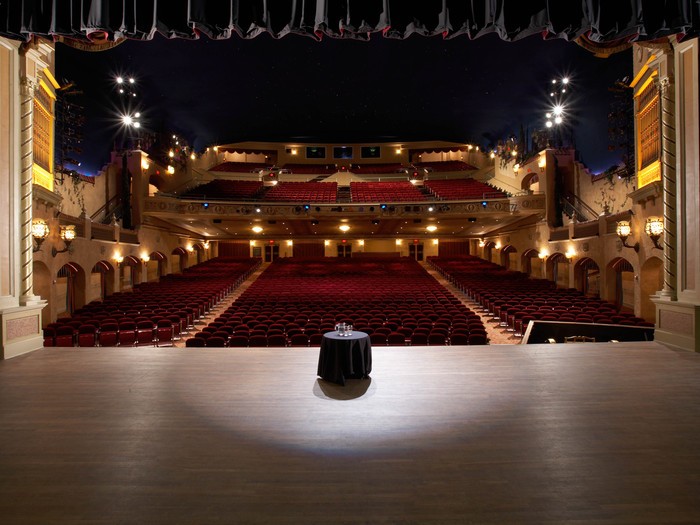 The stars on the ceiling accurately represent the Southwestern sky in June.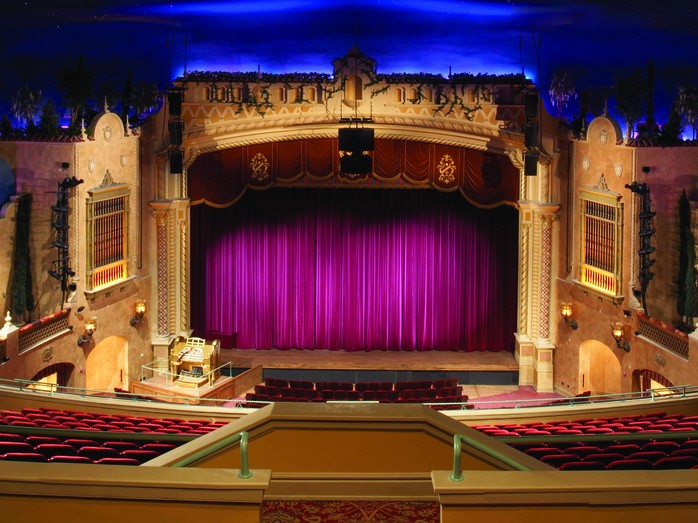 Backstory and Context
Since buildings already existed in the block where the Plaza Theatre now stands, Dunne designed the theater to fit the space, which is why it is not possible to see the rest of the building from the main entrance. The Plaza officially opened on September 12, 1930 and was initially meant to be a luxurious vaudeville house, where both vaudeville acts performed and films were shown. At the time of its construction, the theater was equipped with the latest technology available including a large 1,071 pipe-Mighty Wurlitzer Blaban III Organ, which is one of only six in existence (it was removed in the 1970s but reinstalled in 1998).
The Plaza remained popular until the 1960s. By that time, drive-in theaters, televisions, and the rise of suburban neighborhoods around El Paso had drawn customers away. As a result, the Plaza started to fall into disrepair. The organ and many other items in the theater were sold at auction in the 1970s. However, a local family bought the building in 1973, saving it from demolition. It reopened in the 1980s but closed again in 1989. Under threat of demolition once more, the El Paso Community Foundation bought it in 1989 and donated it to the city the next year. The Foundation and the city restored the the theater in the early 2000s. It reopened in 2006.
Sources
Flory, Linda C. "Plaza Theatre." National Park Service - National Register of Historic Places Nomination Form. June 4, 1987. https://catalog.archives.gov/OpaAPI/media/40971885/content/electronic-records/rg-079/NPS_TX/87000902.pdf.
Metz, Leon. El Paso: Guided Through Time. El Paso, Texas: Mangan Books, 1999. pp. 56–58.
"Plaza Theatre." ElPasoLive.com. Accessed September 19, 2019. http://elpasolive.com/venues/plaza_theatre.
Image Sources
Wikimedia Commons

El Paso Live

El Paso Live

Additional Information