Eagle Hotel, Concord, New Hampshire
Introduction
The Eagle Hotel (1851) is a historic hotel building located across from the State House and in Concord's historic downtown and Main Street region. The five-story (originally four stories) building is a masonry structure with a flat roof and shared walls with neighboring strictures. The hotel functioned as a meeting place for celebrities, dignitaries, captains of industry and politicians, including serving several U.S. Presidents,
Images
Eagle Hotel (Concord, NH), built in 1854.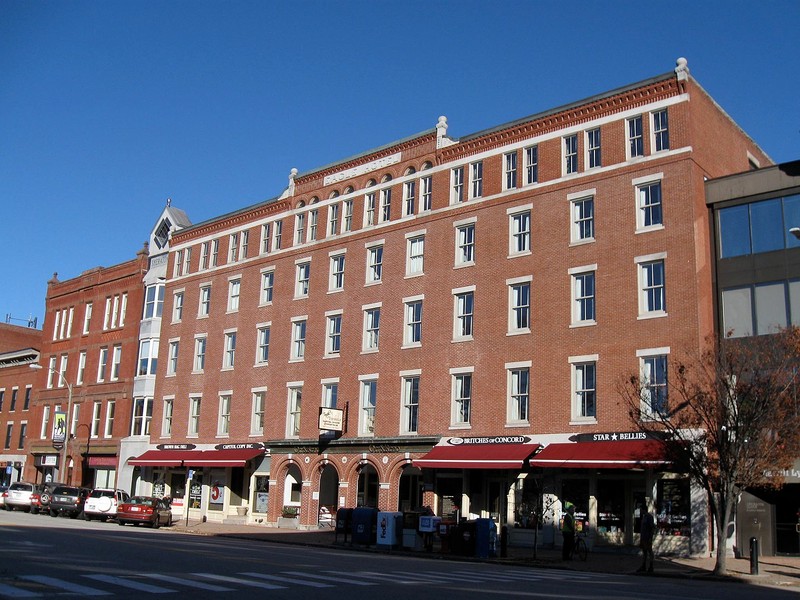 Backstory and Context
Built in 1854, the Eagle Hotel had been an intrinsic part of Concord. The Eagle Hotel hosted significant social and political gatherings until it closed in 1961. Presidents Ulysses S. Grant, Rutherford Hayes, and Benjamin Harrison all dined at the Eagle Hotel, while New Hampshire's only president, Franklin Pierce, spent the night at the hotel before departing for his inauguration in Washington D.C. Additionally, guests such as Jefferson Davis, Charles Lindbergh, Eleanor Roosevelt, Richard Nixon, and Thomas Dewey stayed in the hotel. 
The Eagle Hotel stood directly across from the State House (the eagle atop the State House has been tied to the hotel name). As a result, the hotel served as a center of political activity as legislators, lobbyists, and dignitaries often gathered at the hotel. As well, entrepreneurs and business leaders routinely met at the hotel. However, one should not view the hotel's location as a meeting place as nothing more than a mere tidbit. Indeed, the city in the 1850s was experiencing population growth and had just undergone a change in polity, which included a new mayor and city council. Furthermore, the nation was nearing its Civil War. 
Though the building mainly appears the same as it did when completed in 1854, the original pitched roof was removed in 1890 and replaced with the fifth story, which one can see today. The well-known landmark also sits within the broader Downtown Concord Historic District. Concord's Main Street has sat at the heart of downtown Concord since 1798.
Sources
Lyford, James O., ed. "History of Concord, New Hampshire From the Original Grant in Seventeen Hundred and Twenty-Five to the Opening of the Twentieth Century,." City History Commission. Concord, New Hampshire. Accessed September 16, 2019. http://concordnh.gov/1047/Lyfords-History-of-Concord.
New Hampshire Historical Society. Accessed September 16th 2019. https://www.nhhistory.org/.
Page, Robertson. "Nomination Form: Eagle Hotel" National Register of Historic Places. nps.gov. September 20, 1978. https://npgallery.nps.gov/GetAsset/299e051d-40dd-4aae-a03f-b0b6ec70f971.
Mausolf, Lisa. "Nomination Form: Downtown Concord Historic District." National Register of Historic Places. nps.gov. June 9, 2000. https://npgallery.nps.gov/GetAsset/3c668d70-60a7-4275-9d2d-2162d080e449,
Image Sources
By Ken Gallager at en.wikipedia, CC BY-SA 3.0, https://commons.wikimedia.org/w/index.php?curid=17976727

Additional Information