Battle of Bemis Heights, (Second Battle of Saratoga)
Introduction
The Battle of Saratoga consisted of two major battles between American and British forces during the American Revolution. After a generally unsuccessful year, the Continental army needed a meaningful victory. It was here at Bemis Heights that American forces captured an entire British army on October 7, 1777. The victory boosted morale and led to an alliance with France.
Images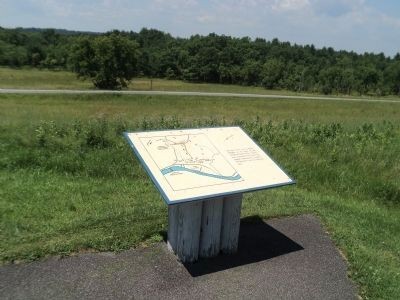 Neilson House; this home at Bemis Heights served as headquarters for American generals and is the only wartime structure remaining on the Saratoga battlefield.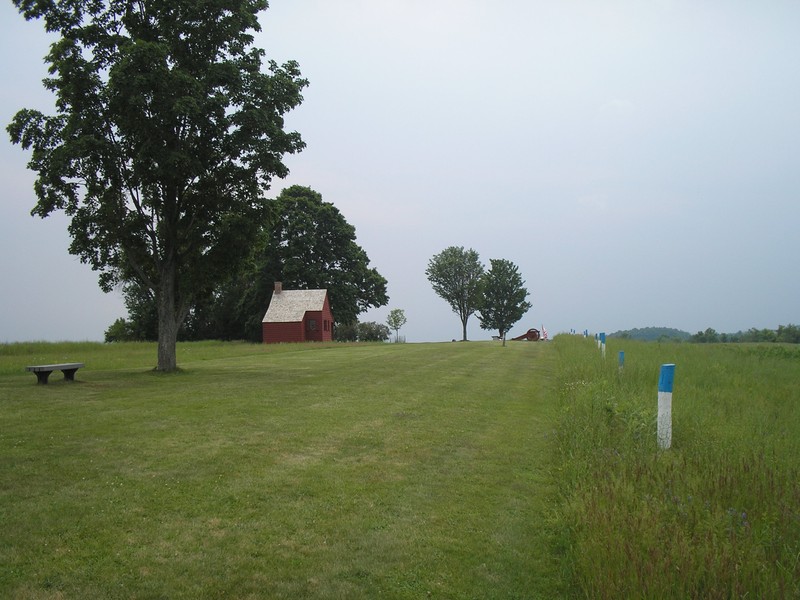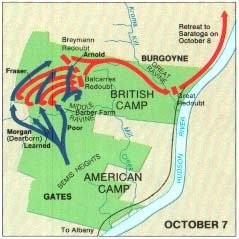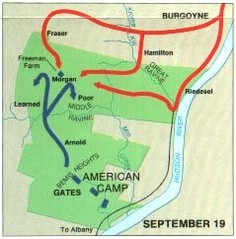 Backstory and Context
During the British campaign to separate New England from the rest of the colonies, General John Burgoyne successfully regained Crown Point and Ticonderoga, at the cost of nearly 1000 men. Afterwards, in the fall of 1777, a British strategy called for the conversion of three armies in Albany, New York. Recognizing a potential threat posed by Burgoyne's army, Continental army General Horatio Gates constructed Northern Department defenses on the crest of Bemis Heights to slow the British approach. On September 19, Burgoyne divided his army into three columns with the intent of breaking American defenses, to which Colonel Daniel Morgan engaged the center column near the farm of John Freeman, leading to the first Battle of Saratoga, Freeman's Farm. Although the first battle was relatively evenly-matched, the Americans began to gain slight control, and upon asking for advice, Burgoyne's senior officers suggested that he retreat toward Canada.
Burgoyne, however, decided to attack again, with hopes that he would have reinforcements from General Sir Henry Clinton's forces in New York City. His plan was to attack the left wing and march rapidly to Albany, but Clinton's attack from New York never reached Albany, coming to a halt after it captured the Highlands upriver. The British army made the decision to fortify their position behind the Balcarres Redoubt, which was better-defended, and the Breymann Redoubt, which was weaker and defended by only 200 German soldiers. While they waited, however, the American army grew substantially to at least 11,000 soldiers, but possibly up to 13,000. The British sent a reconnaissance of just 1,500 men and 10 artillery pieces to scout for American movement to no success. The American forces, however, had stronger intelligence, and on October 7, 1777, received word of Burgoyne's movements, beginning the Battle of Bemis Heights.
That same day, American forces attacked, pushing British soldiers back. The battle was close and when British General Simon Fraser rallied the British troops, the Americans almost lost the battle. A marksman from one of Morgan's riflemen hit Fraser, mortally wounding him, and with that shot, the British resolve to fight collapsed. The British attempted to flee back to Freeman's Farm, but by evening, American General Benedict Arnold took the Breymann Redoubt on the far right flank of British lines, giving them a tactical advantage. The British were only given some relief when Arnold sustained a serious leg wound after, according to one of his fellow officers, "behaving like a madman" when rallying the troops.
On the morning of October 8, after the Battle of Bemis Heights, the Americans stormed the British redoubts in Saratoga. Burgoyne had attempted to retreat, but harsh weather brought his forces to a halt. Gates surrounded the British before they could flee. Left with no other option, and after a week's negotiation, Burgoyne was forced to surrender on October 17, 1777. The two battles of Saratoga resulted in a much-needed victory for the Continental army. The stunning American victory also had the secondary benefit of securing an alliance with France. The battles caused 1,465 casualties, with 6,222 missing or captured British forces. The historical marker for Bemis Heights is in Stillwater, New York, in Saratoga County, where there are also nearby markers for the American encampment and Gates's headquarters.
Sources
http://www.nps.gov/sara/historyculture/index.htm
http://www.ushistory.org/us/11g.asp
http://battle1777.saratoga.org/ 
Ward, Christopher. The War of the Revolution. New York, York, Skyhorse Publishing, 2011.
Ketchum, Richard. Saratoga: Turning Point of America's Revolutionary War. New York, York, Henry Holt and Company, Inc., 1997.
Saratoga - Bemis Heights - October 7, 1777, American Battlefield Trust. December 2019. Accessed September 11th 2020. https://www.battlefields.org/learn/maps/saratoga-bemis-heights-october-7-1777.
Saratoga Freeman's Farm/Bemis Heights, American Battlefield Trust. Accessed September 11th 2020. https://www.battlefields.org/learn/revolutionary-war/battles/saratoga.
Rickard, J.. Battle of Bemis Heights, (Second Saratoga), 7 October 1777, History of War. September 4th 2003. Accessed September 11th 2020. http://www.historyofwar.org/articles/battles_bemis.html.
Bemis Heights, Historical Marker Database. June 16th 2016. Accessed September 11th 2020. https://www.hmdb.org/m.asp?m=9878.
Image Sources
By Bill Coughlin, July 16, 2013, Historical Marker Database

Bill Coughlin, July 13, 2008, Historical Marker Database

Additional Information