Don Redman Historical Marker
Introduction
Erected in 2008 by the West Virginia Transportation Enhancement Program and West Virginia Archives and History, the Don Redman Historical Marker is dedicated to one of the greatest music prodigies that has ever came out of the Appalachian Region. Don Redman (1900-1964), or better known as "The Little Giant of Jazz," was a master at playing all of the wind instruments and one of the biggest names of the Jazz era. With his immense musical talents, Redman took part in several bands over his career, and eventually, he took over the band that jumpstarted career. Not only was he was a great musician, but he was charitable man that always tried to give back to his alma mater, Storer College in Harpers Ferry, WV.
Images
Don Redman Historical Marker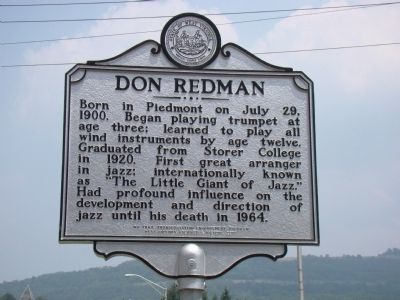 Don Redman Historical Marker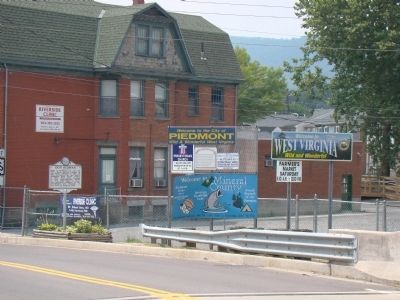 Backstory and Context
Don Matthew Redman was born on July 29, 1900 in Piedmont, WV. Redman's father was a music teacher, and his mother was a songstress. From an early age, Redman was destined to carry on the legacy of his parents' musical genes because at the age of 3, he learned how to play the trumpet. By the age of 12, Redman knew how to play all of the wind and brass instruments as well as the piano. In 1916, Redman attended Storer University, a historically Black college that was located at Harper's Ferry, WV (the school closed down in 1955). During his 4 years at Storer, Redman took part in many extracurricular actives, such as the jazz band, choir club, sports teams, and the debate team.
After graduating from Storer in 1920, Redman attended several other educational institutions to study music in Boston, but he continued to support Storer by organizing concerts to raise money for the college. Later, he moved to New York in 1923 to join fellow musician and bandleader, Fletcher Henderson's orchestra. During his time with the band, Redman wrote most most of the orchestra's arrangement, which not gave the band its signature swing-inspired sound, but revolutionized hot-jazz. In 1927, Redman left Henderson's orchestra and joined McKinney's Cotton Pickers, a Michigan-based, as their musical director and featured vocalist. Eventually, Redman formed his own band in 1931, and his band was able to receive residency at New York City's hottest night and jazz clubs. Redman's orchestra even provided music for a Betty Boop cartoon called "I Heard."
in 1940, Redman left his orchestra to focus some time on free-lancing musical arrangements for acts, such as Jimmy Dorsey, Count Basie, and Harry James. After some time writing arrangements, Redman organized and conducted a big band tour in Europe between 1946-47. Redman and his band became the first all-American jazz band to tour Europe after WWII. After returning from the tour, Redman did some television work and appeared in variety shows and became created music for Pearl Bailey and stared in her 1950 play, House of Flowers. Redman continued to make arraignments and play for televised events and variety shows until his death on November 30, 1964. Even after his passing, Redman is still remembered for his contributions to the revolution of jazz music. In 2002, the National Park Service created the Annual Don Heritage Awards & Concert in Harpers Ferry National Park awards are given annually to modern jazz musicians who carry on the tradition of Redman with their music. In addition, Redman has been inducted into the Virginia Music Hall of Fame in 2009.
Sources
Don Redman: The Little Giant of Jazz, National Park Service. April 10th 2015. Accessed September 16th 2019. https://www.nps.gov/hafe/learn/historyculture/don-redman-the-little-giant-of-jazz.htm.
Tumpak, John R.. When Swing Was the Thing : Personality Profiles of the Big Band Era. Milwaukee, WI. Marquette University Press, 2008.
Ridley , Larry . The Legacy of Don Redman. JAZZed, vol. 6, no. 4, 36 - 37, 07, 2011. ProQuest. https://search-proquest-com.marshall.idm.oclc.org/docview/905296368?pq-origsite=summon
Image Sources
https://www.hmdb.org/marker.asp?marker=32825

https://www.hmdb.org/marker.asp?marker=32825

http://s3.amazonaws.com/production.mediajoint.prx.org/public/piece_images/334786/DonRedman_square.jpg

Additional Information