Palace Theater
Introduction
The former Palace Theater is a historic early 20th-century theater located in downtown El Paso. Originally called the Alhambra Theater, the building features a beautiful, ornate facade that is a combination of the Spanish Colonial and Moorish Revival styles. The facade features arches, columns, and decorative arabesque and Islamic script. The theater was built in 1914. As of September 2019, Abundant Living Faith Center is developing plans to open a downtown campus in the former theater.
Images
The Palace Theater opened in 1914.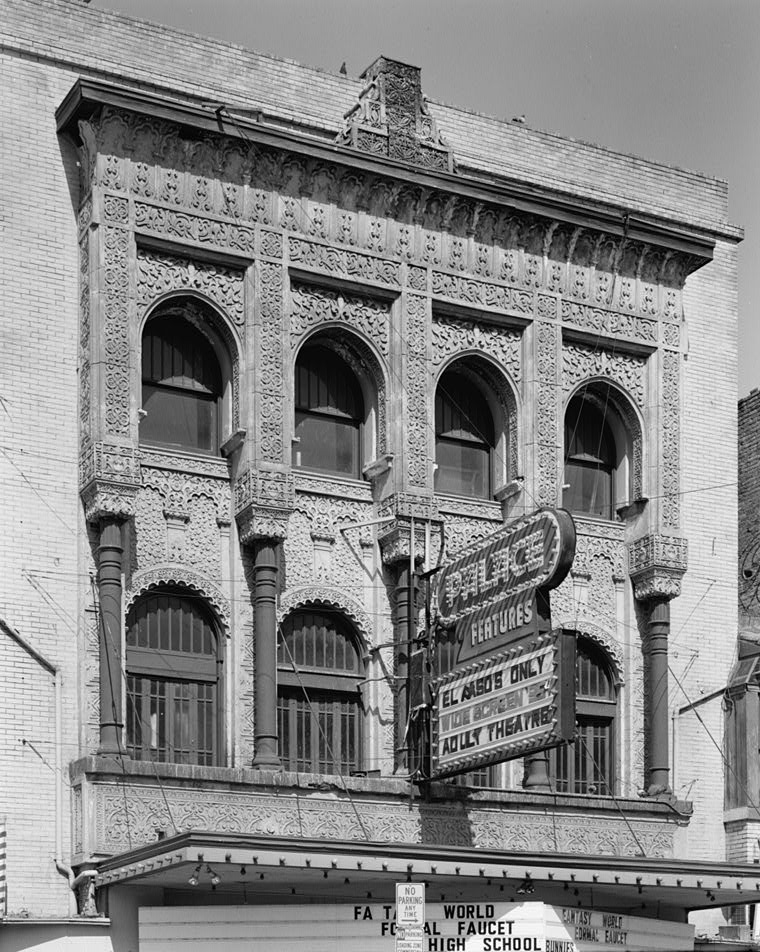 Backstory and Context
Henry C. Trost, El Paso's foremost architect of the early 20th century, designed the theater, which could be used for live performances and move showings. It also featured a large organ that a musician played during silent movies. Palace Theater is likely Trost's only work in the Spanish Colonial and Moorish Revival styles. The interior features a Moorish theme and includes columns similar to those on the exterior facade. The theater was renamed the Palace Theater in 1920. It continued to operate as a movie theater until the 1980s and was later renovated into a nightclub in the late 1990s. A few nightclubs were located here until the last one, Tricky Falls, closed in 2018.
Sources
Bock, Holly. "Tricky Falls location to become new Abundant Living Faith Center campus." KFOX14. February 4, 2019. https://kfoxtv.com/news/local/tricky-falls-location-to-become-new-abundant-living-faith-center-campus.
"Palace Theater." National Park Service - National Register of Historic Places Nomination Form. September 24, 1980. https://atlas.thc.state.tx.us/NR/pdfs/80004109/80004109.pdf.
Image Sources
Wikimedia Commons: https://en.wikipedia.org/wiki/Alhambra_Theatre_(El_Paso,_Texas)#/media/File:Alhambra_Palace_Theater,_El_Paso,_Texas.jpg