Historic Sidewalk Clock
Introduction
Situated in the southern corner of San Jacinto Plaza is this historic clock manufactured in 1911 by the E. Howard & Company of Boston. The clock is made out of cast iron and features to large circular glass faces and decorative detailing. The clock sits atop a classical-style column and reaches a height of fifteen feet.
Images
The historic clock was manufactured in 1911 and has operated ever since.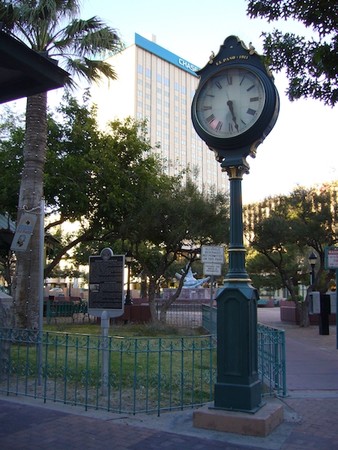 Backstory and Context
Jeweler Julius H. Alberts was the last owner of the clock. It is not clear who was the first was but apparently it changed hands a few times before coming into Albert's possession. In 1929, he donated it to the city, which moved moved it around to a few locations downtown over the years. After several decades, the clock was in need of serious repair. A clock company restored it in 2005. The clock still operates today using its original gears.
For a long time, beginning in the 1860s, public clocks were common throughout the country. Not only did they tell the time, businesses often used them to advertise themselves. Typically, businesses would buy and install them in front of their building, and paint the business name on the clock. The E. Howard & Company was one of the largest clock manufacturers in the country.
Sources
Bryson, Conrey. "San Jacinto clock back in place." El Paso Times. October 28, 1973. https://elpasotimes.typepad.com/morgue/2008/06/san-jacinto-clo.html.
"Historic Sidewalk Clock." The Historical Marker Database. Accessed September 12, 2019. https://www.hmdb.org/marker.asp?marker=37801.
Image Sources
The Historical Marker Database