Jones Hall, Youngstown State University.
Introduction
Jones Hall was the first building constructed specifically for Youngstown State University. Jones Hall has not always been its name, it was originally known as the Youngstown Institute of Technology. Built on the location of the Wick family mansion the building was designed by local architect, Paul Boucherle and was completed in 1931.
Images
Jones Hall as it looks now.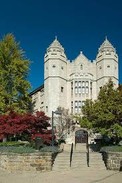 Backstory and Context
To understand the story of Jones Hall it is important to understand the story of Youngstown State University as a whole. Youngstown State University was originally known as Youngstown college and was established by the Y.M.C.A in 1908. The Y.M.C.A was pivotal at the time for the education of youth in America and the Youngstown College was their sixth biggest location at the time. The Y.M.C.A didn't construct any new buildings for the college throughout the 1920's despite the fact that the college was growing tremendously during this time period.
The breaking point finally came and in 1929 due to an influx of students, the Y.M.C.A announced a million dollar fundraising campaign for the construction of new buildings and equipment. Despite a long campaign planned, the Y.M.C.A announced on the night of the kickoff dinner that the funds had already been raised due to an outpouring of donations for the project.
Jones Hall was constructed where the Wick family mansion once stood. The Wick family was one of the most prominent family's in Youngstown's history for instance Colonel Wick was a founding member of Youngstown Sheet and Tube. The Wick mansion was destroyed and in October of 1931 Jones Hall opened and had an opening enrollment of 1,132 students.
 Jones Hall is now the location of various administrative offices for Youngstown State University. Such as the International Programs Office and Multicultural affairs and Payroll. 
Sources
Shaffer-Mills, Carrol Joanna. Jones Hall Younstown State University . National Register of Historic Places Nomination Form . Published March 17th 1983.
. Directory , Youngstown State University . Accessed September 12th 2019. https://ysu.edu/directory/departments?page=6.