Lexington Common National Historic Site
Introduction
Lexington Common was established by local residents in 1711 as a public space and training ground for the local militia. Decades later, militia members at Lexington Common blocked British troops as they attempted to capture rebel supplies and leaders on April 9, 1775. After a tense standoff, the first exchange of gunfire between British soldiers and colonial militia occurred at this location and signaled the start of the American Revolution. The commons area is now a National Historic Landmark and public park that is home to a handful of statues and monuments as well as a visitors center operated by the city of Lexington. These guides offer free tours from spring to early fall. In addition to the Green itself, highlights of the park include a statue of Captain John Parker, leader of the Lexington militia, a bronze plaque marking the location of Old Belfry, and the Revolutionary Monument, marking the grave of seven of the eight militiamen killed in the battle.
Images
Local guides offer free interpretive tours of Lexington Green in the summer and fall.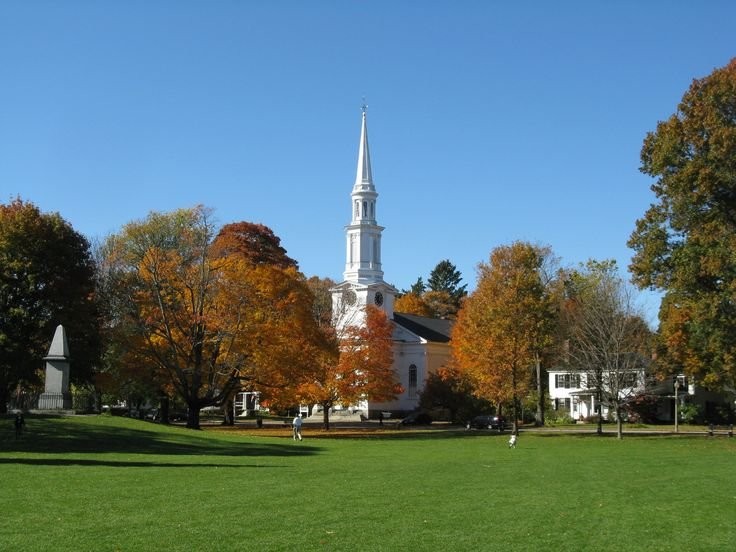 Backstory and Context
After British officials declared that Boston was in a state of rebellion, 700 British regulars were sent on a mission to destroy or capture rebel arms that were known to be in this area. Upon reaching Lexington, however, they found a small force of rebel militia blocking their path. It is not clear which side fired first, and the small force of militia immediately broke ranks and fled, but the symbolic act of resistance inspired surrounding colonists to attack the British soldiers after they reached nearby Concord.

At the North Bridge, rebel militia forced three companies of British Regulars to retreat. News of this small victory spread quickly and local militia pursued the British troops as they marched back to Boston. The militia inflicted significant casualties until the British found safety at the Charlestown Peninsula. The next morning, however, area militia surrounded Boston and began what became known as the Siege of Boston.

The Battles of Lexington and Concord marked the start of the Revolutionary War and gave hope to many of the American colonists who supported independence. Not only did the British fail to capture rebel arms, their panicked retreat to Boston demonstrated the potential for the colonists to thwart one of the most powerful armies in the world by avoiding a pitched battle. This strategy of irregular warfare would be crucial to the American victory in 1783, but the war was won as a result of the Continental Army led by George Washington together with aid from France.

Sources
Lexington Green. Lexington Historical Society. . Accessed July 04, 2018. http://www.lexingtonhistory.org/historic-sites.html.


Additional Information