Wyatt Earp Statue
Introduction
This statue depicts one of the most famous historical figures of American Western history, Wyatt Earp (1848-1929), who was a frontiersman, saloonkeeper, gambler, and lawman. He served as a lawman here in Dodge City in the late 1870s. Earp is perhaps best known for participating in what is probably the most famous gunfight in American history—the gunfight at O.K. Corral, which occurred on October 26, 1881 in the historic town of Tombstone, Arizona. The statue depicts Earp walking at a quick pace, looking to the right and holding his revolver in his right hand and holding his hat in his left hand. The political unrest of early Dodge City is the stuff legends are made of, and Wyatt Earp's contributions to frontier justice continues to entertain our collective imagination.
Images
The statue is located at the corner of Central Avenue and Wyatt Earp Blvd.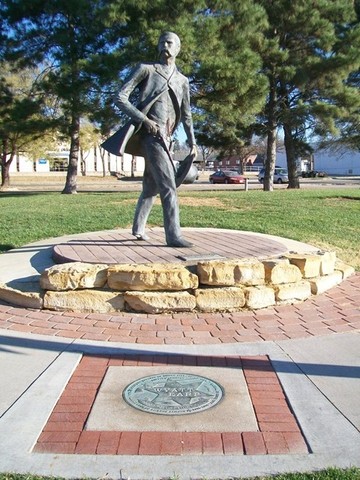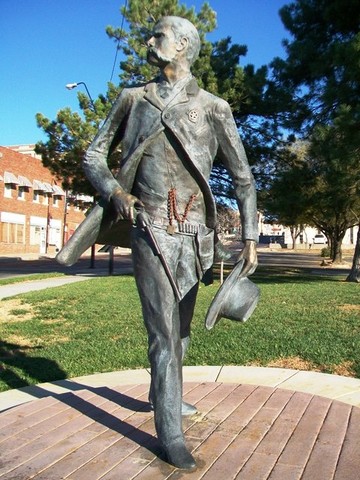 Backstory and Context
Wyatt Earp was born on March 19, 1848 in Monmouth, Illinois. The fourth of eight children, he grew up in Illinois and Iowa before his family moved to San Bernadino, California in 1864. When he was 17, he started to work for Union Pacific Railroad laying down railroad tracks. He moved back with his family, most of whom had moved to Lamar, Missouri, in 1869. He became constable after his father retired from the position and got married in 1870. Tragically, his wife, who was pregnant at the time, contracted typhus and died.
Earp left Lamar for good and never really settled down again. In the coming years, he had a number of run-ins with the law, including being arrested for stealing horses in Arkansas (he managed to escape his jail cell and was never punished). He also worked as a bouncer at various brothels and saloons around the frontier. In the mid-1870s, one of his brothers opened a brothel in Wichita, Kansas. Earp moved there and again worked as a bouncer (he was also arrested a number of times) but later became a part-time police officer. Working as a lawman appealed to him and he became City Marshal of Dodge City in 1876. It was during these years that Earp befriended two other famous western figures, Doc Holliday and Bat Masterson.
In 1879, Earp, along with Doc Holliday and his brothers Virgil and Morgan, moved to Tombstone, Arizona, where someone had found silver. Unfortunately, the brothers never made it rich and Earp once again became a lawman. In 1881, Earp, his brothers, and Holliday were searching for a band of outlaw cowboys who robbed a stagecoach. They finally met each other on October 26th near an enclosure at the edge of town called the O.K. Corral. During the 30-second gunfight, three of the outlaws were killed and Virgil, Morgan, and Holliday were wounded (Wyatt was uninjured). Later, one of the outlaws wounded Virgil and killing Morgan. In revenge, Earp and a group of others including Holliday chased after the outlaws and killed at least two of them. The stories of these incidents were heard around the country; some condemned Earp and his men but others applauded their efforts to seek justice.
In his later years, Earp ran saloons in Nome, Alaska, and in a few places in California including Los Angeles where he and his female companion, Josephine Marcus, settled down. Still in search of recognition and concerned about his legacy, Earp helped author Stuart Lee with the book Wyatt Earp, Frontier Marshal. Earp passed away on January 13, 1929 before the book was published in 1931. The book, and the subsequent films made portraying his life, did finally bring Earp the recognition he wanted.
Sources
"Wyatt Earp." Biography.com. Accessed September 9, 2019. https://www.biography.com/law-figure/wyatt-earp.
"Wyatt Earp, American Frontiersman." Encyclopedia Britannica. Accessed September 9, 2019. https://www.britannica.com/place/the-West-region-United-States.
Image Sources
The Historical Marker Database: https://www.hmdb.org/marker.asp?marker=65279

The Historical Marker Database: https://www.hmdb.org/marker.asp?marker=65279

Additional Information