Harrisburg Covered Bridge
Introduction
Constructed in 1875 and listed on the National Register of Historic Places since 1975, Harrisburg Covered Bridge is the last of Sevier County's covered bridges. The bridge features a king post truss design and crosses the East Fork of Little Pigeon River. The bridge was used heavily until 1915 when a new road and bridge was constructed in the area.
Images
Harrisburg Covered Bridge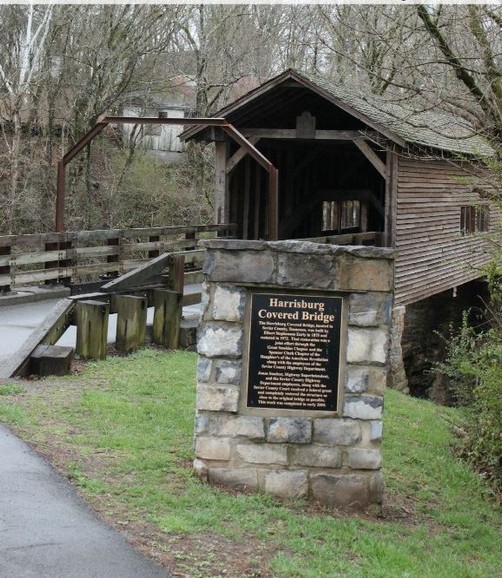 Harrisburg Covered Bridge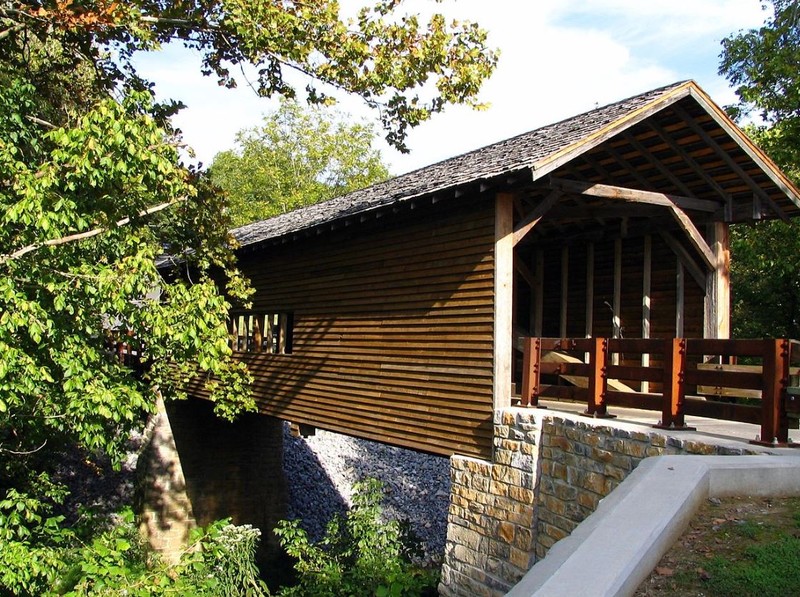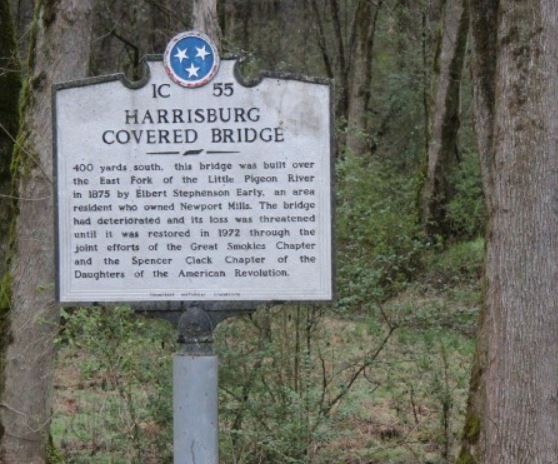 Backstory and Context
The Harrisburg Bridge was built to cross the East Fork of the Little Pigeon River in 1875 after the original, McNutt Bridge was washed away during a flood. Elbert Stephenson Early, was hired to rebuild the bridge. This covered timber, truss bridge is 83 feet long and 14 feet wide on the outside with nearly 11 1/2 feet of clearance inside. You can still drive through the bridge today. The bridge also has windows in which you can look down at the creek below. Today approximately 20 cars a day travel over the bridge.
This bridge was heavily used by locals in Harrisburg, but in 1915, a new bypass was put in outside of Harrisburg. Soon after, the population dwindled as people moved away. In 1952 the bridge was stabilized with the help of a concrete bridge pillar attached to the building framework but several years later in the 1970s, the bridge had deteriorated to such bad conditions that it was going to be demolished. However, an organization called Daughters of the American Revolution stepped in and raised enough money to rehabilitate the bridge. it was this same organization that got the bridge to be listed in the National Register of Historic Places.
Sources
Prater, Tonya. The Last Remaining Covered Bridge in Sevier County, Travel Inspired Living. March 15th 2015. Accessed September 7th 2019. https://travelinspiredliving.com/harrisburg-bridge-the-last-remaining-covered-bridge-in-sevier-county/.
. Wikipedia. Accessed September 7th 2019. https://en.wikipedia.org/wiki/Harrisburg_Covered_Bridge.
Image Sources
https://travelinspiredliving.com/harrisburg-bridge-the-last-remaining-covered-bridge-in-sevier-county/

Wikipedia

https://travelinspiredliving.com/harrisburg-bridge-the-last-remaining-covered-bridge-in-sevier-county/

Additional Information