Helen Chapel
Introduction
Designed by local architect Adolf Kanengeiser Helen Chapel was built from 1889 to1890. The building serves Youngstown's First Presbyterian Church with a sanctuary, spaces for the congregation to meet, and classrooms for Sunday school. The name of the chapel is a reflection of Myron C. and Elizabeth Bonnell Wick's donation to the church and serves as a memorial to their daughter, Helen. The building was added to the National Register of Historic Places in 1986.
Images
Helen Chapel is named in honor of the late daughter of church members and donors Myron and Elizabeth Wick.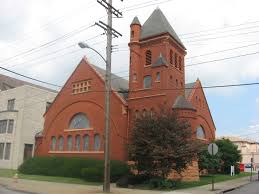 Backstory and Context
The Helen Chapel in Youngstown Ohio is an example of Romanesque Revival architecture in early Youngstown Ohio. Constructed from 1889-1890, the building stands as one of the last of many 19th century religious buildings that once graced downtown Youngstown. The chapel was designed by local architect Adolf Kanengeiser for use as a Sunday school and religious services for the First Presbyterian Church.
The building was commissioned by Myron C. and Elizabeth Bonnell Wick and named in memory of their daughter, Helen, who died previously at the age of four. A dedication in honor of young Helen is inscribed into one of the two fireplaces in the chapel. The Wick family was very influential in the early days of Youngstown, Myron Wick was vice president of the First National Bank which occupied the now metropolitan tower. Myron was also an originator of the Ohio Steel Company. Elizabeth Wick was the daughter of William Bonnell, co-founder of the influential Brown-Bonnell Iron & Steel Co.
The Wick family also had a significance to the First Presbyterian church in the area. Reverend William Wick held the first Presbyterian service in 1799 in the Youngstown area. The Helen Chapel became a historic location in 1986 and continues to serve the community of Youngstown. 
Sources
Butler , Joseph G. History of Youngstown and the Mahoning Valley, Ohio. Chicago and New York, American Historical Society, 1921 .
Williams , Judy. Helen Chapel . Ohio Historic Inventory . Published September 19th 1985.