A New Beginning
Introduction
Colorado became the first state in the Union to give women the right to vote in a popular election in 1893. "A New Beginning" represents western women's empowerment women in the 1890s. It was sculpted by Veryl Goodnight and placed outside History Colorado Center in time for the center's opening in 2012.
Images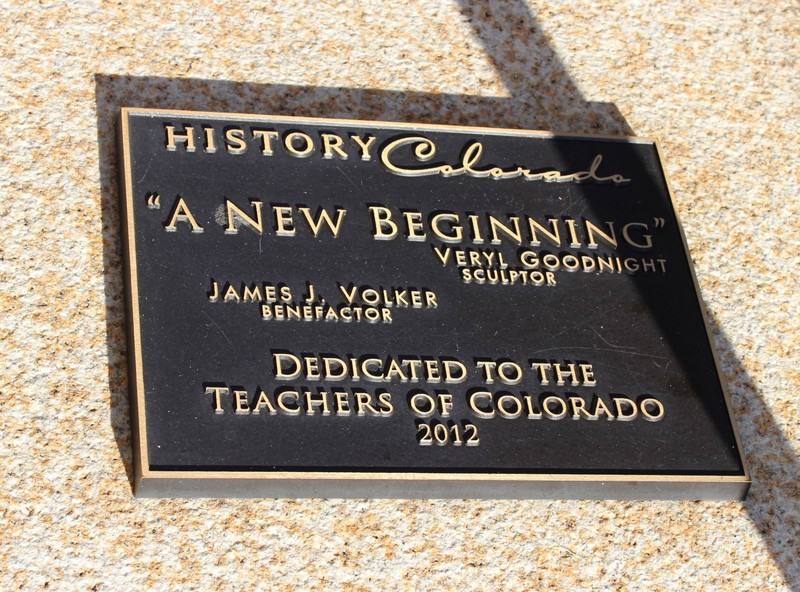 Backstory and Context
This sculpture of a traveling Victorian-era western woman depicts new opportunities for western women. Artist Veryl Goodnight has sculpted western women for decades. The first casting of this sculpture was purchased by Cheyenne, Wyoming, to celebrate Wyoming entering the Union as the first woman suffrage state.
Colorado became the first state to give women the right to vote in a popular election in 1893. But this casting of the statue was donated by James J. Volker to honor Colorado educators. Volker views the sculpture as a teacher who has come to Colorado to train a new generation of students.
Volker also donated T. D. Kelsey's On the Wind, a bronze bison that used to stand at the Colorado History Museum. It was later relocated to History Colorado Center's Broadway entrance. Volker is a businessman who has served on History Colorado's board since 2007.
Since the 1980s, a number of western history museums have placed bronze monuments near their entrances. These statues serve to emphasize the historical content displayed within new, modern museum buildings.
Sources
"Goodnight sculpture stands in Denver," The Journal April 21, 2012. https://the-journal.com/articles/6586
Goodnight, Veryl. "A New Beginning." https://www.medicinemangallery.com/a-new-beginning.html. Accessed September 2, 2019.
Goodnight, Veryl. No Turning Back: The Art of Veryl Goodnight.Goodnight Fine Art , Ltd., 2011.
Prescott, Cynthia Culver. Pioneer Mother Monuments: Constructing Cultural Memory. Norman, Oklahoma. University of Oklahoma Press, 2019.
Image Sources
Photo by Cynthia Prescott

Additional Information