Old Garden City Company Sugar Factory
Introduction
Mexicans began migrating beyond the border to states like Kansas during the first decade of the twentieth century. In western Kansas a thriving sugar beet industry recruited workers from south of the border. Many of these families settled in Garden City and created a thriving community that exists to this day.
Images
The Garden City Company Sugar Beet Factory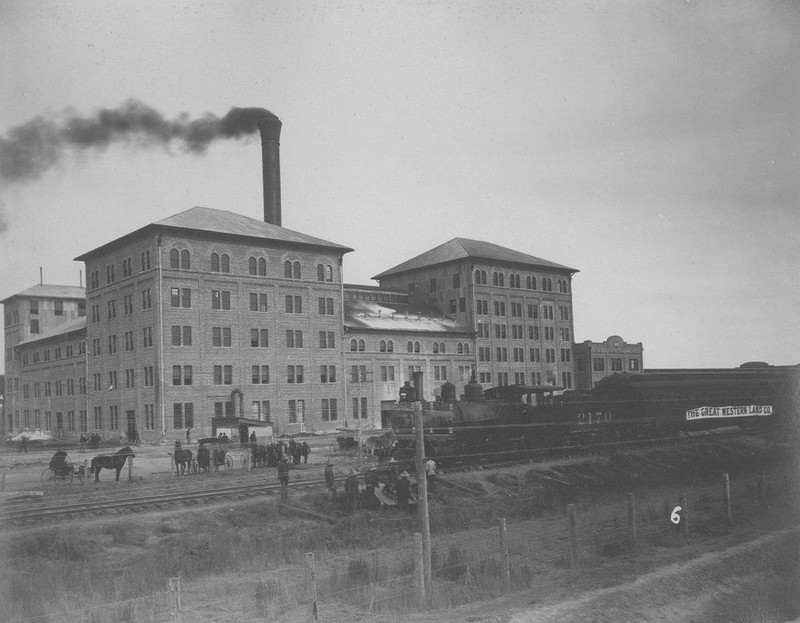 Mexican laborers harvesting beets in Finney County, Kansas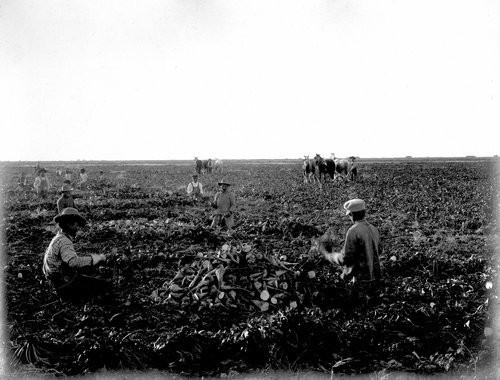 Mexican fiesta parade, Garden City, Kansas 1938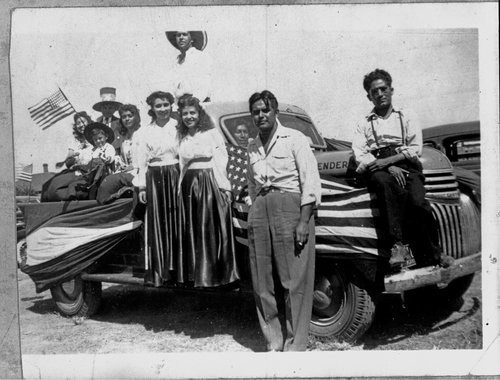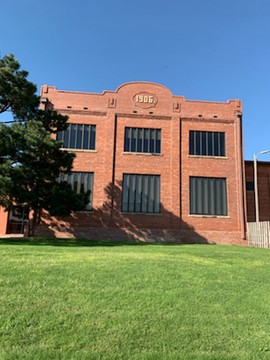 Remains of the sugar beet company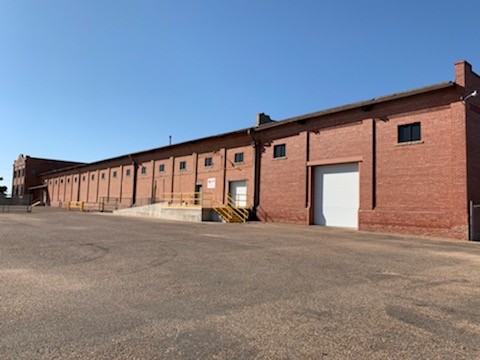 Backstory and Context
The Sugar Factory, which hired many Mexican workers, was opened on November 17, 1906. According to the Garden City Herald, the structure cost $1million to complete and was built on west Fulton Street near the railroad tracks. Mexicans who arrived in Garden City circa 1906 to work at the factory were initially single men who were put to work helping in the actual construction of the building; thereafter, they were hired to hoe the sugar beets for local sugar beet farmers who signed contracts with the factory. During this initial period, the area was plagued with constant labor shortages. In response, the Garden City Company, who owned the factory, along with the railroads, began building houses in the rural areas of Finney County. The purpose of these efforts was to encourage Mexican men to bring their families to Kansas. These houses, which were built in 1905, were located near the beet fields so that workers, often entire families, could be easily transported to work on the nearby fields. The single Mexican men, however, continued to live near the factory in tents. There in "tent city". they tended to gamble and sometimes engage in fights with each other or other workers. The single men who lived near the factory, however, sponsored one of the earliest Mexican Fiestas in Kansas. This Fiesta occurred in September of 1910. These men, who sometimes were identified in local newspapers, started the festivities at a local Mexican restaurant on west Fulton Street where many Mexicans and Mexican Americans still live. Later, first generation Mexican Americans (those who fought in World War II) worked in the factory itself and after the war returned to their old jobs. One disincentive to factory jobs involved a requirement that Mexican applicants have the approval of a local Mexican labor contractor. Also, most labor-intensive work, was seasonal, forcing many Mexican workers to seek work for the railroads or traveling to Nebraska and other states to find agricultural-related work. This cycle of work also began to break down after World War II when many Mexican Americans, due to their contribution in the war effort, found new job opportunities. As a result, local Mexican Americans left the beet fields and, to some extent, railroad labor for good. By the late 1960s Tejanos, migrant Mexican American workers from Texas, replaced local Mexican American beet workers.
Sources
, Kansas State Historical Society. The Maria Rodriquez Story, Read Kansas!. January 1st 2011. Accessed August 30th 2019. https://www.kshs.org/teachers/read_kansas/pdfs/m24card02.pdf.
. La Fiesta, Garden City Community Mexican Fiesta. Accessed August 30th 2019. https://www.gcfiesta.org/history.
Image Sources
CREDIT F. M. STEELE / FINNEY COUNTY HISTORICAL SOCIETY

CREDIT F. M. STEELE / FINNEY COUNTY HISTORICAL SOCIETY

Kansas State Historical Society, Item Number: 224127 Call Number: FK2.F1 G.52 .1938 *1

Photo courtesy of Hank Avila

Photo courtesy of Hank Avila

Additional Information