Nortonia Boarding House
Introduction
Formerly called the Nortonia Boarding House, this historic building is considered one of the best examples of Queen Anne architecture in Reno. The most notable feature of the house includes the attractive circular balustraded porch which is supported with columns. Built around 1904, it is also significant as a reminder of the period in which Reno became known as the "divorce capital of the world." The Nortonia provided temporary housing to individuals seeking a divorce, which was easy to get in Nevada at the time compared to other states. Today, law offices occupy the building.
Images
The Nortonia Boarding House was built around 1904.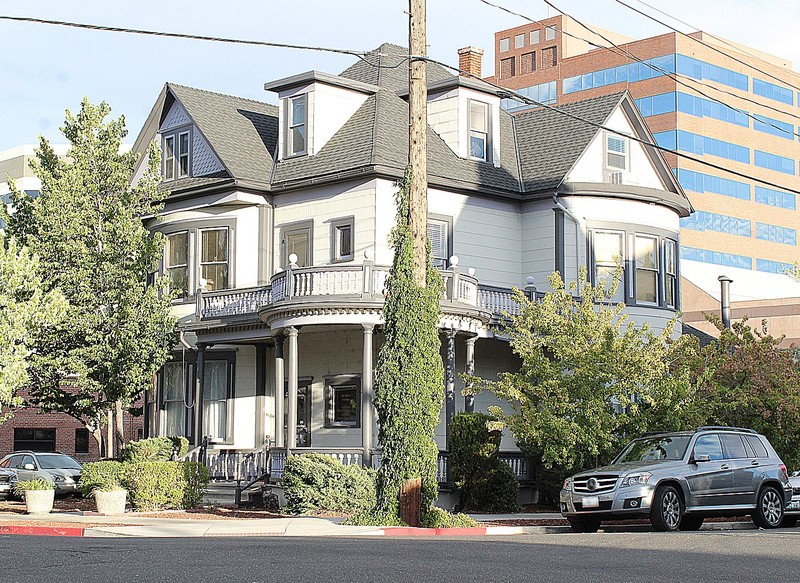 Backstory and Context
It appears that the Nortonia was originally a single-family house built by a woman named Annie Rogers. The next owner, and for whom the house is named, was a man named Norton, who converted it into three flats. The house was officially named the Nortonia Apartment House by 1909 and its manager was S.M. Henley, who advertised that rooms could be rented short-term.
The divorce industry started to boom in Nevada in the early 20th century. Divorce laws stated that one only had to live in Nevada for six months to officially become a resident, which made it faster to legally get a divorce. Also, the laws accepted seven legal grounds for divorce, whereas other states had few or, like in the case of South Carolina, none at all (i.e. divorce was not allowed there). As a result, unhappy couples began to arrive in Nevada in droves, including wealthy people, such as Laura Corey, who was the wife of the president of the United States Steel Corporation and moved to the state in 1905. Her story, and others, garnered nationwide publicity and established the perception that Nevada was the place to go for a divorce. This is how Reno started to become a tourist destination, as not only were apartments were built and rooms put up for rent, but hotels were constructed as well.
At some point an apartment building with eight units was built next to the Nortonia, with a covered passage connecting the two buildings. That building was eventually demolished sometime after the 1960s.
Sources
Boghosian, Paula. "Nortonia Boarding House." National Park Service - National Register of Historic Places Nomination Form. February 24, 1983. https://npgallery.nps.gov/NRHP/GetAsset/NRHP/83001121_text.
Harmon, Bella. "Nortonia Boarding House." Reno Historical. Special Collections, University of Nevada, Reno Libraries. Accessed August 29, 2019. http://renohistorical.org/items/show/11.
Image Sources
Wikimedia Commons: https://en.wikipedia.org/wiki/Nortonia_Boarding_House#/media/File:Nortonia_Boarding_House._Reno,_NV.jpg

Additional Information