Casper Fire Department Station No. 1
Introduction
Erected in 1921, the former Casper Fire Department Station No. 1 is a historic fire station that was constructed at a time when the city was rapidly expanding. The leading local architecture firm Garbutt, Weidner and Sweeney designed it in the Late Gothic Revival style with decorative terra cotta and other ornamental features. The building was added to the National register of Historic Places in 1993. Today, it is home to an architecture firm.
Images
Casper Fire Department Station No. 1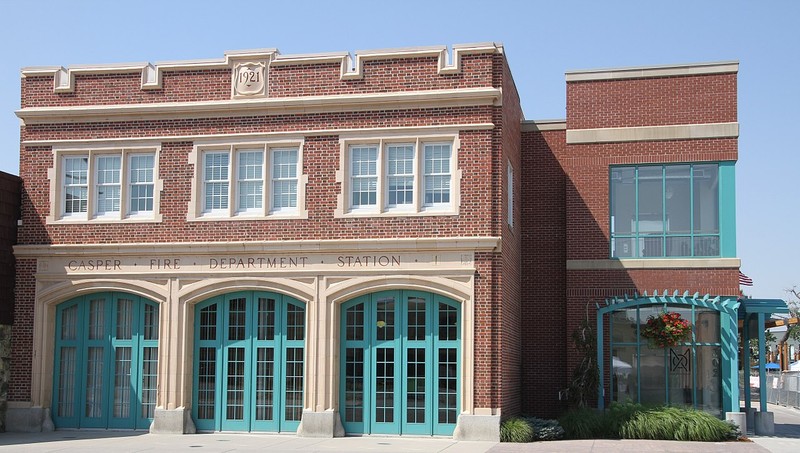 Backstory and Context
Casper was officially founded in the late 1880s and during the first years, volunteer fire fighters served the city. In return for their service, the city allowed them to be exempt from jury duty and did not charge them for the water used at their homes. They eventually bought their fire fighting equipment as well. As the population kept growing, it became apparent that the city needed a firefighting department, which the city established in in 1917. The station was built a few years later in 1921. Its construction was significant in that reflected the growing need for fire protection as the city grew. In 1942, the building became the department headquarters and later designated as Fire Station #2. It is not clear when the department left the building, but it appears that for a time it housed antique firefighting equipment.
Sources
Starr, Eileen. "Casper Fire Department Station No. 1." National Park Service - National Register of Historic Places Nomination Form. November 4, 1993. https://s3.amazonaws.com/NARAprodstorage/lz/electronic-records/rg-079/NPS_WY/93001187.pdf.
Image Sources
Wikimedia Commons: https://en.wikipedia.org/wiki/Casper_Fire_Department_Station_No._1#/media/File:FireDeptStation1CasperWY.jpg