J. P. Schneider Store (Lamberts Downtown Barbecue)
Introduction
Constructed shortly after the end of the Civil War in 1873 in the years before the Second Industrial Revolution propelled Austin's growth, this Victorian retail building stands as a reminder of Austin's early commercial architecture as well as the influence of German immigration. J. P. Schneider operated a dry goods store that became so successful prior to the turn-of-the-century that the proprietor also maintained a fifty-wagon yard to accommodate travelers from far away places. Lamberts Downtown Barbecue is the building's current resident.
Images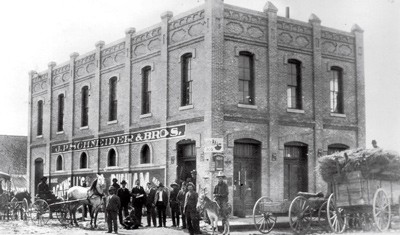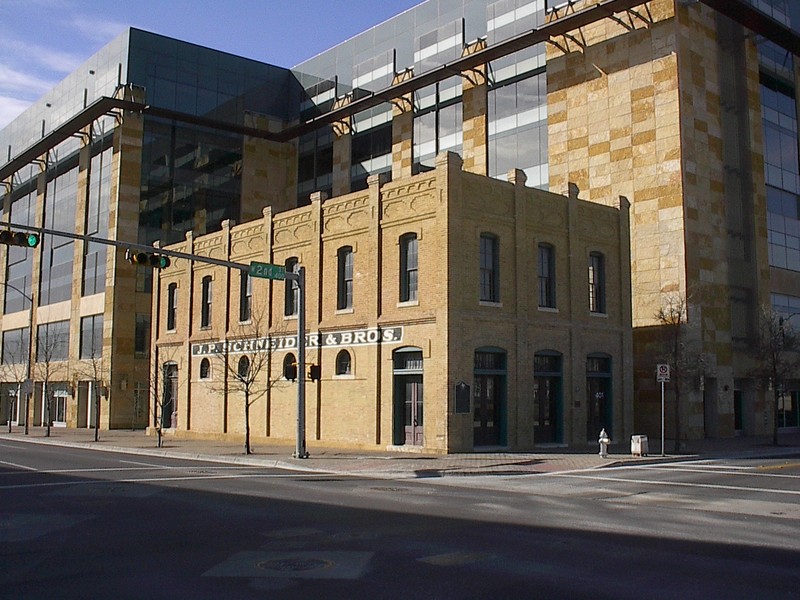 Current Photo - Lamberts Downtown Barbecue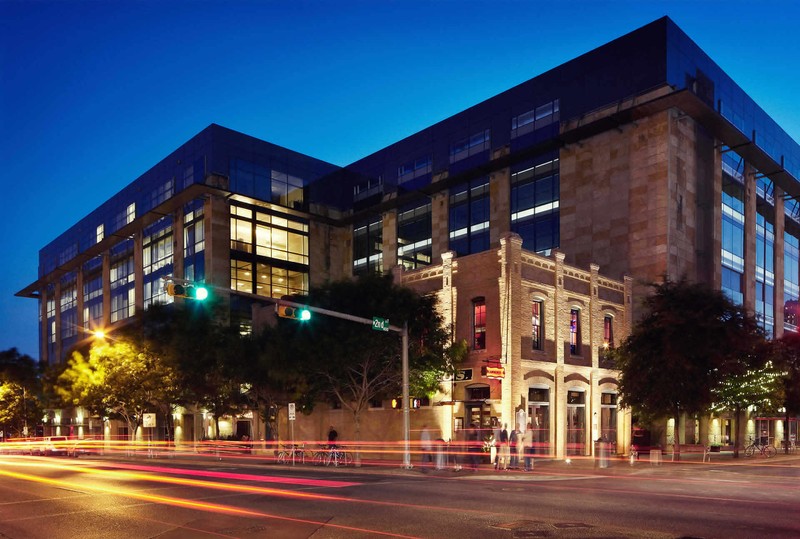 Current Photo -- Landmark Plaque In View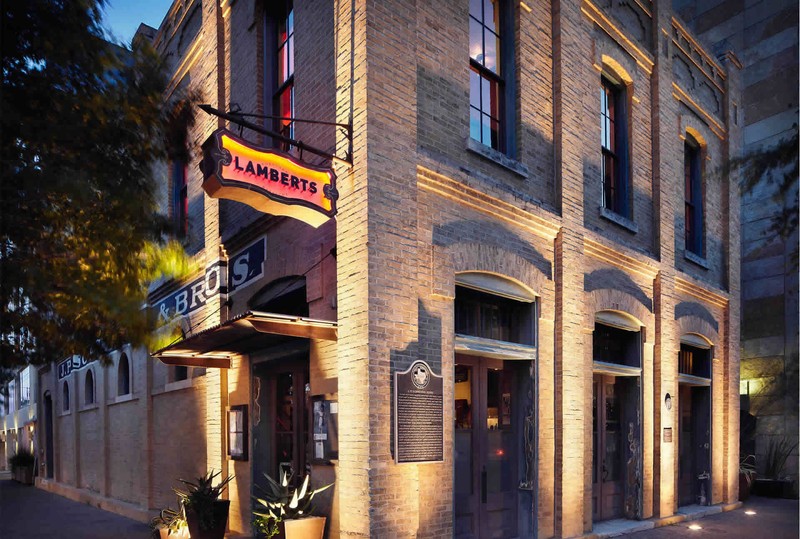 Backstory and Context
The Schneider store (1873) sits across the street from Jacob Schneider's residence, who had moved to Austin from New Braunfels, Texas, with his family when he was a young boy. His parents, however, emigrated to Texas from Germany at a time when several Germans settled into the Texas Hill Country. The Victorian-designed building enjoys geometrically patterned brick cornice and stands as an excellent reminder of Austin's early commercial architecture.
A substantial number of Germans left Germany (often as political refugees) and settled in the Texas Hill Country during the mid-nineteenth century. Though they left their homeland, many German immigrants in Texas felt compelled to maintain German identity, evidenced by local architecture, churches and the practice of passing down businesses to their children.
However, the story of Jacob Schneider differs slightly from that German-immigrant narrative due to the circumstances surrounding his life. Jacob's father passed away when Jacob was only fourteen years old, forcing Jacob to earn money for the family. He started by making Confederate ammunition until the Union Army succeeded in seizing much of Texas. So, Jacob decided to work for the Union Army, instead, as an errand boy. He befriended the Union Army Major of the Company, who arranged for Jacob to work in William Bruegerhoff's mercantile store. Bruegerhoff, in turn, helped Jacob (and his mother, Margarita) open the Schneider Store in 1865, which enjoyed instant success and consequently forced Jacob to open a second store in 1873.
The Schneider Store offered customers a variety of goods such as including cotton and furs, fish and meat, wine and cheese, fruit and vegetables, flour, sugar, and salt, as well as shoes and boots, farm implements, and even tombstones and coffins. Additionally, the store acted as an ipso facto community center where family, friends, and the community gathered for functions, or to discuss simple day-to-day matters of life and politics; Jacob also served as a city alderman from 1884-1896 and again from 1901-1905.
Although no bridge existed across the Colorado River in Texas, people came from long distances to Austin to shop at The Schneider Store (people had to ford the river in wagons). Not unlike modern-day shopping centers, Schneider maintained a parking lot, in a sense; he operated a wagon yard that accommodated fifty wagons.
As was common in Texas among German immigrants, Jacob passed the store to his son Ralph after Jacob died in 1925 (although Jacob's wife and Ralph's mother, Mary, technically owned the store). After prohibition ended in 1933, Ralph added a saloon to the rear of the store. But, in 1935 Ralph opened a new store in another location, which effectively ended the run of Schneider Store.
In the years after it ceased operating as the Schneider family business, it served as the headquarters for an electric company, a lumber operation, an art gallery, and an engraving company. Currently, Lamberts Barbecue resides in the historic building. The building twice suffered damage to fire (most recently in 1971), but subsequent restoration and remodeling projects saved the building from demolition.
Sources
Barnes, Michael. "Seven Generations of Schneiders Helped Shape Austin." Austin American-Statesman (Austin) September 25, 2018 https://www.statesman.com/NEWS/20160924/Seven-generations-of-Schneiders-helped-shape-Austin
Barnett, Susan. "Nomination Form: J.P. Schneider Store." National Register of Historic Places. nps.gov. January 29, 1979. Located digitally at https://atlas.thc.state.tx.us/NR/pdfs/79003014/79003014.pdf
Jordan, Terry G. German Seed in Texas Soil: Immigrant Farmers in Nineteenth-Century Texas. Austin: University of Texas Press, 1966.
"J.P. Schneider Store (Now Lambers Downtown Barbecue)." Texas Time Travel (blog). texastimetravel.com. Accessed August 19, 2019. https://texastimetravel.com/content/jp-schneider-store-now-lamberts-downtown-barbecue
Luebke, Frederick C., ed. Ethnicity on the Plains. Lincoln: University of Nebraska Press, 1980. 
Image Sources
https://texastimetravel.com/content/jp-schneider-store-now-lamberts-downtown-barbecue

David E Hollingsworth - Own work, CC BY-SA 3.0, https://commons.wikimedia.org/w/index.php?curid=1326701

https://lambertsaustin.com/

https://lambertsaustin.com/

Additional Information