Toms Brook Battle
Introduction
Union cavalry in the Shenandoah Valley deal a humiliating defeat to their Confederate counterparts at Toms Brook, Va. On the morning of Oct9, 1864 the Confederate army under the command of Gen. Lunsford L. Lomax was defeated by the Union army under the command of Gen. Wesley Merritt. The Confederate army was so overwhelmed by the Union army that they fled in disorder to Mount Jackson, Va. The running fight that ensued was later called "The Woodstock Races" as they had to travel through Woodstock, Va to get to Mount Jackson. The marker is located in the Shenandoah County Park in Maurertown, Va.
Images
Toms Brook Battle Marker Located at Shenandoah County Park, Maurertown, Va.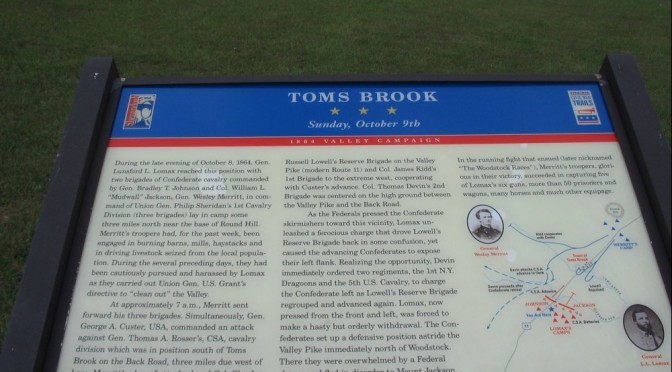 Map showing Toms Brook Battle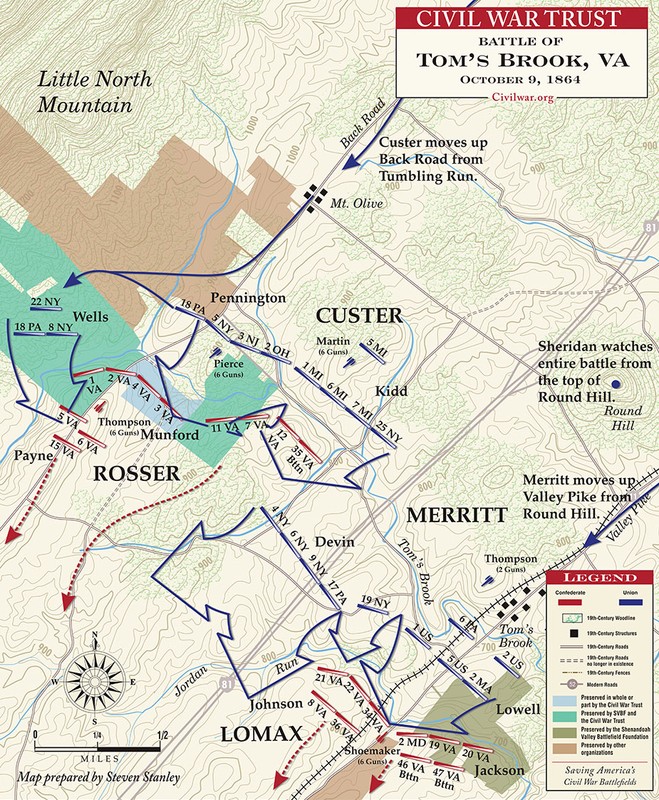 Backstory and Context
Confederate General Jubal Early's force had been operating in and around the Shenandoah area for four months. Early's summer campaign caught the attention of Union General-in-Chief Ulysses S. Grant, who was laying siege to Richmond and Petersburg, Virginia. Grant was determined to neutralize Early and secure the Shenandoah for the North. He dispatched one of his best generals, Philip Sheridan, to pursue the Rebels there.
Sheridan took command in August 1864 but spent over a month gathering his force before moving against Early. He quickly turned the tables on the Confederates, scoring major victories at Winchester and Fischer's Hill in September. Early's battered force sought refuge in the foothills of the Blue Ridge Mountains, while Sheridan began systematically destroying the Shenandoah's rich agricultural resources. Sheridan used his cavalry, under the command of General Alfred Torbert, to guard the foot soldiers as they burned farms and mills and slaughtered livestock. Confederate cavalry chief General Thomas Rosser nipped at the heels of the marauding Yankee force, but Torbert refused to allow his generals, George Custer and Wesley Merritt, to counterattack. He insisted they continue to stick close to the Union infantry. Sheridan heard of this and demanded that Torbert attack.
At dawn on October 9, Custer and Merritt and their respective forces attacked the two wings of the Confederate cavalry. Merritt's 3,500 Yankees overwhelmed General Lunsford Lomax's 1,500 troopers, but Custer had more difficulty. His 2,500 men faced 3,000 men under the command of Rosser, who was, coincidentally, a close friend of Custer's at West Point before the war. Custer observed that the Rebels were protected by the high bank of Tom's Creek, so he sent three of his regiments around Rosser's flank. Both groups of Confederates broke in retreat. The Yankees pursued the defeated Confederates for over 20 miles, a flight called the Woodstock Races. The chase ended only when the Confederates reached the safety of Early's infantry.
The Yankees captured 350 men, 11 artillery pieces, and all of the cavalry's wagons and ambulances. Nine Union troopers were killed, and 48 were wounded. It was the most complete victory of Union cavalry in the eastern theater during the entire war.
Sources
"Battle of Tom's Brook." History.com. A&E Television Networks, n.d. Web. 02 Nov. 2014 "Battle of Tom's Brook Historical Marker." CivilWarGuideinfo. N.p., n.d. Web. 02 Nov. 2014. "Toms Brook Marker." Toms Brook Marker. N.p., n.d. Web. 02 Nov. 2014. Council on Foreign Relations. Council on Foreign Relations, n.d. Web. 02 Nov. 2014. "Battle of Tom's Brook." Wikipedia. Wikimedia Foundation, 18 Oct. 2014. Web. 02 Nov. 2014. United States. National Park Service. "TOM'S BROOK (9 October 1864)." National Parks Service. U.S. Department of the Interior, n.d. Web. 02 Nov. 2014.
Additional Information