Republican Party Birthplace / Under the Oaks
Introduction
Though the naming of the Republican Party was in Wisconsin the birthplace was in Jackson MI. This is where the first nominees were decided by the party to hold office. The term under the oaks came around due to the reason it was a hot July day and they moved there deliberations from inside to outside "under the oaks".
Images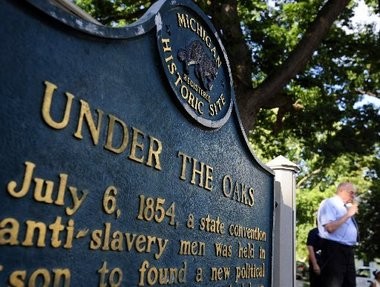 Backstory and Context
Although there is much controversy when it comes to where the actual party was formed the general consensus is this. Ripon, Wisconsin is thought to be were the first talks of the party began through a series of informal meetings. Though the meetings in Ripon were in March three months later in Jackson MI the first Republican State Convention was held .
The month that the meeting was held according to Jackson records is July, however some sources say the meeting could have been June. Due to the time of the year and amount of people in attendance the meeting was moved from inside to a small field "under the oaks". That name became associated with the birth place and mentioned by that name to this date.
In recent news the national republican party no longer list Jackson as the birthplace. it says it happened two years later which has the Michigan republican party angry to say the least. While they haven't named a location of the birthplace. They have also taken Wisconsin off the list saying the origin is traced when a presidential nomination was made in 1856.
Still the Michigan Historical Center and the locals hold true to the history and legacy of the first state meeting of the republican party at this location.
Sources
Gautz, Chris. Michigan Live. Jackson Citizen Patriot, n.d. Web. 21 Oct. 2014. Path: http://blog.mlive.com/jackson-politics/2011/03/republican_national_committee_no_longer_lists_jackson_as_birthplace_of_republican_party.html. The Origins of the Republican party. Independence Hall Association , n.d. Web. 22 Oct. 2014. .