Will Rogers Memorial Museum
Introduction
The Will Rogers Memorial Museum preserves and promotes the life and legacy of Tulsa native Will Rogers (1875-1935), who was one of the country's most popular celebrities during the early 20th century. He was known around the world as a vaudeville performer, actor, writer, public speaker, and radio broadcaster. Audiences loved him for his smart humor and insightful commentary on political and social matters. The museum is located on a piece of property that Rogers and his wife, Betty, had bought with the intention of building a retirement home. Inside, the museum features exhibits with memorabilia, photographs, personal belongings, movie posters, books, correspondence, and Rogers' entire collection of writings. The museum opened on November 4, 1938 with a ceremony that was broadcast around the country; President Franklin D. Roosevelt offered a tribute to Rogers and the memorial. Rogers and his wife buried in a garden in the front of the building. The museum also features a theater, library, and children's play area.
Images
The Will Rogers Memorial Museum opened in 1938.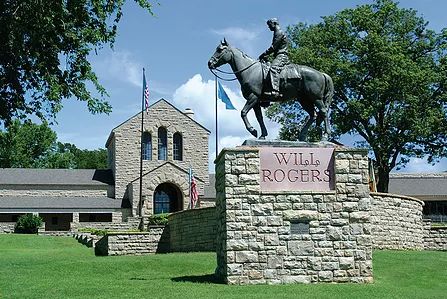 The garden where Will and Mary are interred.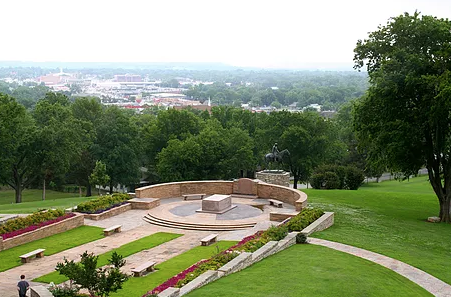 Jo Davidson created this sculpture of Rogers in 1938.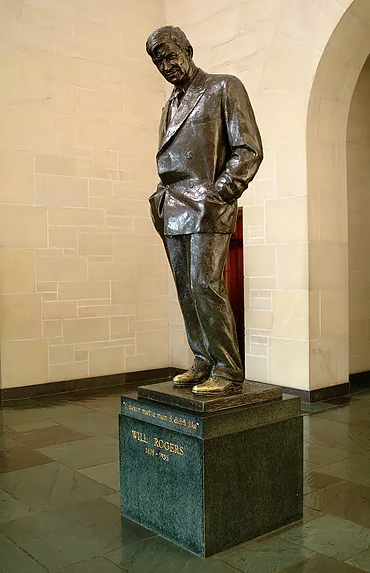 Backstory and Context
Will Rogers was born on November 4, 1879 here in Tulsa. His birthplace ranch home is also museum and a separate Clio entry. He grew up on a large ranch and became a highly skilled cowboy, particularly in lassoing cattle, which was a skill he would later perform as an adult. His popularity as a vaudeville performer enabled him to be cast in silent films but he did not achieved true celebrity status until he starred in movies with sound. In all, Rogers appeared in 71 films. He also wrote around 4,000 syndicated columns read by countless people around the country. Tragically, his life was cut short on August 15, 1935. He was traveling with a friend and pilot, Wiley Post, in northern Alaska when their plane crashed, killing them instantly.
After the incident, there was debate about where a memorial should be located. Texas, New York, California, and Oklahoma were all considered. In the end, Betty decided to built it here on the land she and Rogers owned. Rogers was originally buried in California but was reinterred here after the museum opened. Betty was buried here after she died in 1944. In 1983, an addition was built where the library and office spaces are located. In the main hall of the building stands a statue of Rogers created by artist Jo Davidson.
Sources
"Memorial Museum, Claremore, OK." Will Rogers Memorial Museum & Birthplace Ranch. Accessed August 16, 2019. https://www.willrogers.com/memorial-museum.
Image Sources
Will Rogers Memorial Museum

Will Rogers Memorial Museum

Will Rogers Memorial Museum

Additional Information