Battle of Round Mountain
Introduction
During the Civil War, the Confederacy secured treaties of alliance with the Native American tribes of Indian Territory (modern Oklahoma). Yet many Indians, especially among the Creek and Seminole tribes, disavowed the Confederate alliances in hopes of remaining neutral. Thousands of "Loyal Indians" gathered under Creek chief Opothleyahola in protest. Confederate Colonel Douglas Cooper set out with 1,400 men to defeat these rebellious Indians. On November 19, 1861, Opothleyahola's forces ambushed the vanguard of Cooper's force near the Arkansas River. In the brief but sharp engagement, Loyal Indians clashed with Confederate Indians and Texans amid burning prairies. Nightfall ended the engagement. While the Confederacy won the battle, Opothleyahola's forces survived to fight twice more that winter. Today, the Round Mountain battlefield is thought to be located near Yale, Oklahoma, and a state historical marker stands near the site's historic location.
Images
Battle of Round Mountain Map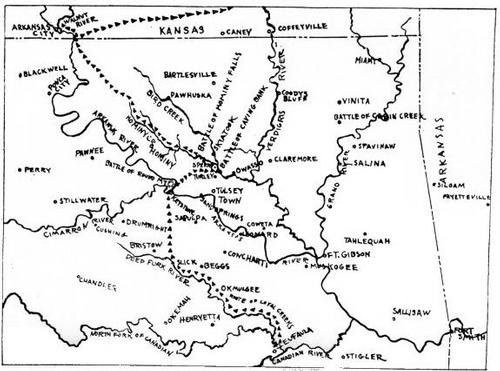 Battle of Round Mountain historical marker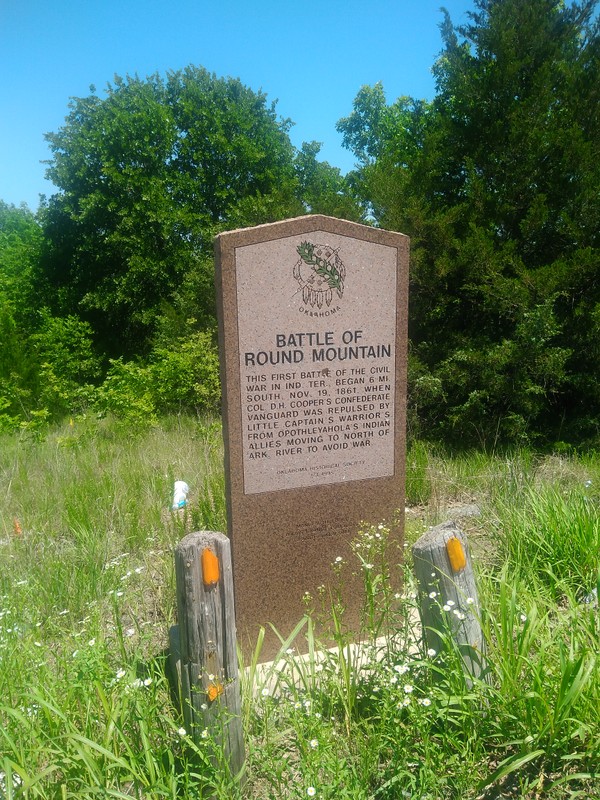 Colonel Douglas Cooper, commander of Confederate forces at Round Mountain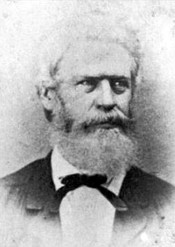 Opothleyahola, pictured here as a young man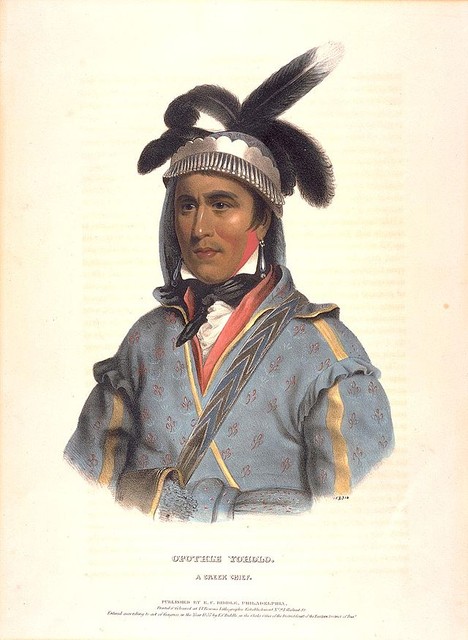 Backstory and Context
At the start of the Civil War, Native-Americans in Indian Territory (present Oklahoma) struggled to determine a political course of action. Although these tribes enjoyed peaceable relations with the United States government, they shared many cultural traits with Southerners, including a primarily agricultural economy based on enslaved Black labor. Many Native-Americans preferred to remain neutral under existing Federal treaties, while others favored allying with the nascent Confederacy.
In May 1861, United States forces evacuated Indian Territory, and into this gap Confederate negotiators worked to secure treaties of alliance with the Five Tribes. Although the Confederacy proved successful in negotiating alliances with all the tribes, they resorted to nebulous tactics in order to do so. In particular, the Confederate perpetrated treaty fraud in dealing with the Creek and Seminole Nations. Despite staunch opposition to a Confederate treaty from many of these tribes' members, the treaties were signed by tribal governments anyway. This treaty fraud, combined with political factions within the Creek Nation, gave rise to a massive anti-Confederate Indian rebellion in the winter of 1861.
The leader of this rebellion was an old Creek chief named Opothleyahola. Refusing to agree to the Confederate-Creek treaty, in the autumn he began to mobilize many Creeks who favored neutrality. Many of these Creeks were traditionalists who spurned the growing influence of white culture among their people. Gathering in camps along the Canadian River, several thousand Creeks along with hundreds of Seminoles joined Opothleyahola. Small bands of many other tribes joined the revolt, as did several hundred runaway slaves. Although the exact number isn't known, probably 4,000-6,000 Native-Americans and Blacks participated in this mobilization, several thousand of whom were warriors.
Opothleyahola likely hoped the United States would arrive to restore order, and indeed, he and Creek leader Oktaharsharjo wrote a letter to President Abraham Lincoln pleading for help:
"Now I write to the President our Great Father who removed us to our present homes, & made a treaty, and you said that in our home we should be defended from all interference from any people and that now white people in the whole world should ever molest unless the come from the sky but the land should be ours as long as grass grew and waters run, and should we be injured by anybody you would come with your soldiers & punish them, but now the wolf has come, men who are strangers tread our soil our children are frightened & the mothers cannot sleep for fear.
I was at Washington when you treated with us, and now White People are trying to take our people away to fight against us and you. I am alive. I well remember the treaty. My ears are open & my memory is good."[1]
Yet faced with a massive rebellion across the South, the United States was in no position to afford Opothleyahola any help.
Local Confederate authorities, including Native American regiments raised for Confederate service, grew increasingly nervous over the size of Opothleyahola's rebellion. When Opothleyahola and the "Loyal Indians" (as they came to be known) refused Confederate negotiation attempts, Confederate Colonel Douglas Cooper determined to "either compel submission…or drive him and his party from the country." Douglas led a force of 1,400 mounted Confederates, including Chickasaws, Choctaws, Creeks, and Texans, to attack Opothleyahola's party.
On November 19, 1861, the Confederates finally found the rebellious Indians near the Red Fork of the Arkansas River. Discovering a recently abandoned campsite, several companies of the 9th Texas Cavalry charged ahead thinking they would catch the enemy. Instead, they rode directly into a trap. Opothleyahola's men were sheltered atop a horseshoe-shaped hill covered with brush and timber. As the Texans rode forward, they were greeted by fire on three sides. As one Rebel private recalled, "We was surrounded with Creaks [sic] except one little space where we marched. It was in the shape of a horse shoe [nearer] than any comparison then [sic] I can make. The enemy was discharging their guns from every side except the side in which we marched in at."[1] Some Creeks were armed with bows and arrows, and Confederate troopers learned the whistling sound an arrow makes as it cuts through the air.
The Texans fell back and rallied, while Colonel Cooper arrived with reinforcements. The Confederate Choctaws and Chickasaws joined the fray, and opposing Indian forces clashed as dusk set in. A sharp firefight ensued, and prairie fires broke out on the battlefield. But the engagement ended abruptly as night fell. Opothleyahola's warriors, having bloodied the enemy and protected the thousands of civilians accompanying their army, retreated into the darkness. The Battle of Round Mountain was over.
The battle proved indecisive. The Confederates suffered six killed, five wounded; relatively light casualties given they were ambushed. Although a tactical Confederate victory, they failed to achieve any meaningful strategic goal. Suffering perhaps 60 killed and wounded, Opothleyahola and his followers lived to fight another day, and indeed, Confederate forces clashed with the Loyal Indians twice more than winter at Chusto-Talasah and Chustenahlah. Finally defeating Opothleyahola at Chustenahlah, the Loyal Indians sought refuge in nearby Kansas. Huddled in stark refugee camps throughout the winter, many of the men later enlisted in the Union Indian Home Guard regiments and helped liberate Indian Territory later in the Civil War.
A notable debate emerged throughout the 20th century as to battlefield's exact location; some argued in occurred in Pawnee County, on land now under the waters of Lake Keystone. Yet most agree it occurred just west of Yale, Oklahoma in Payne County, and a nearby Oklahoma Historical Society marker denotes the battle's importance in local Civil War history.
Sources
1. Zachery C. Cowsert. "The Civil War in Indian Territory, 1861-1865." PhD dissertation. West Virginia University. 2020. https://researchrepository.wvu.edu/etd/7553/
2. Chad Williams. "Round Mountain, Battle of." Encyclopedia of Oklahoma History and Culture. Web. Accessed December 8, 2020. https://www.okhistory.org/publications/enc/entry.php?entry=RO035
3. Mary Jane Warde. When the Wolf Came: The Civil War and the Indian Territory. Fayetteville: University of Arkansas Press, 2014.
4. Christine Schultz White and Benton R. White. Now the Wolf Has Come: The Creek Nation in the Civil War. College Station: Texas A&M University Press, 1996.
5. Richard Lowe, ed. A Texas Cavalry Officer's Civil War: The Diary and Letters of James C. Bates. Baton Rouge: Louisiana State University Press, 1999.
6. Anna Eddings. "Opothleyahola." Encyclopedia of Oklahoma History and Culture. Web. Accessed December 8, 2020. https://www.okhistory.org/publications/enc/entry.php?entry=OP003
Image Sources
Zac Cowsert

Wikipedia: https://en.wikipedia.org/wiki/Douglas_H._Cooper

Wikipedia: https://en.wikipedia.org/wiki/Opothleyahola

Additional Information